iOS 12: Everything you need to know!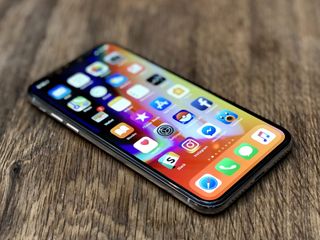 (Image credit: iMore)
Apple has officially unveiled iOS 12, the latest version of its operating system for iPhone and iPad. It comes with changes to the iOS experience both major and minor, and I'm going to run through them with you now.
Here's everything you need to know about iOS 12.
What's new with iOS 12?
Apple has announced that iOS 12 will be available for compatible devices on Monday, September 17.
June 4, 2018: Apple announces iOS 12
Apple has officially announced iOS 12, bringing with it improvements for ARKit, device use management features, and more.
Jump to the new features in iOS 12
What is iOS 12?
iOS 12 is the latest major version of Apple's mobile operating system for iPhone and iPad. Each year, Apple uses these versions to bring important updates to their mobile devices, and this year follows that pattern.
When will iOS 12 be available?
iOS 12 has been available in beta form for developers since right after Apple's WWDC keynote, and the company launched a public beta later in June. Keep in mind that when Apple says 'beta,' they generally mean it: pre-release software, especially in the first few iterations, could play havoc with your device, so install at your own risk. It's best if you have a secondary device to use for the beta if you want to test it out.
The official release of iOS 12 will come on Monday, September 17 as a free update.
How do I upgrade to iOS 12?
Updating your iOS devices to a new version is easy. But if you're unsure of how to get started, we've got a guide for you.
How to upgrade your iPhone and iPad
What devices can run iOS 12?
iOS 12 will run on an extensive list of iPhones and iPads. Here are the devices that Apple's new operating system will run on:
iPhone:
iPhone XS
iPhone XS Max
iPhone XR
iPhone X
iPhone 8
iPhone 8 Plus
iPhone 7
iPhone 7 Plus
iPhone 6s
iPhone 6s Plus
iPhone 6
iPhone 6 Plus
iPhone SE
iPhone 5s
iPad:
12.9-inch iPad Pro 2nd generation
12.9-inch iPad Pro 1st generation
10.5-inch iPad Pro
9.7-inch iPad Pro
iPad Air 2
iPad Air
iPad 6th generation
iPad 5th generation
iPad mini 4
iPad mini 3
iPad mini 2
iPod touch:
iPod touch 6th generation
What's new in iOS 12?
iOS 12 is full of changes, from new controls for managing our time on our devices to updates for ARKit that will allow for more immersive augmented reality experiences. Siri Shortcuts offers a more personalized experience for Siri, and Notifications can now be grouped by both app and type.
Here's what you can expect when you update to iOS 12 later this year.
Apple is putting a lot of emphasis on performance in iOS 12, particularly on older devices, increasing performance on those iPhones and iPads by as much as 40%. You can also expect faster app launches as well as a faster keyboard and more on devices going all the way back to the iPhone 5s.
Performance in iOS 12: Everything you need to know!
Augmented Reality and ARKit 2.0
Apple is introducing a new file format for sharing augmented reality objects, USDZ. The company is working with several companies to make USDZ the standard format for AR object sharing, including Adobe. USDZ can be embedded in stories in News, and you can even find it on the web, viewing objects from the web in AR on your iPhone or iPad.
Apple has also introduced the Measure app, which can us ARKit to measure objects in the real world.
ARKit 2.0 brings support for multiplayer experiences, allowing users to share the same augmented reality playspace with one another. Lego will be bringing out an ARKit 2.0-powered game that lets players build virtual Lego sets, interact with select real sets and have fun adventures together.
AR and ARKit 2: Everything you need to know
Apple is bringing Message effects to the camera inside the Messages app. Add filters, stickers, and even your Animoji other items to the photos and videos you send via the Messages app.
Along with a new name, Apple Books has gotten a complete redesign, looking a lot like iOS 11's redesign of the App Store.
Apple Books: What's new in iOS 12
Apple is adding support for grouped notifications, which will bring notifications together by app and topic. You can swipe multiple notifications away at once. iOS will also stop showing notifications from apps that you don't use.
How Notifications will change in iOS 12
Apple is fine-tuning the Do Not Disturb experience, adding Do Not Disturb at Bedtime, which offers a minimal notifications experience that won't disturb you at night, and will only gently nudge you in the morning. You can also now automate Do Not Disturb based on events or locations.
How Do Not Disturb will change in iOS 12
iPhone X owners will also get an expanded set of Animoji characters to play around with, including Ghost, Koala, Tiger, and T-Rex. Animoji are also getting tongue detection, meaning that when you stick out your tongue, your Animoji will, too.
Apple is also introducing Memoji, letting you build your own, personalized Animoji. You can customize head shape, skin color, hair, accessories, and more.
Animoji and Memoji: Everything you need to know
Apple is introducing Group FaceTime calls, letting you participate with up to, yes, 32 different participants. FaceTime is also now integrated into Messages, letting you go from a group chat to a group FaceTime call. Just as you can with the camera in the Messages app, everyone can add fun effects to their FaceTime calls.
What's new in FaceTime in iOS 12 and macOS Mojave
iOS 12 introduces Siri Shortcuts, which lets all types of apps add shortcuts to Siri, letting you add custom phrases that correspond with a specific app to perform tasks, like adding a phrase with the Tile app for finding your keys.
There will also be a Shortcuts app that lets you create your own custom, multi-step Siri actions. The app seems to be based on Workflow and includes support for HomeKit.
Siri Shortcuts: Everything you need to know!
Siri suggestions will now be more robust, learning your app usage habits in order to be more helpful, offering suggestions on your lock screen and search screen.
Siri Suggestions: What's new in iOS 12
There are some filter, animoji, and Memoji intergrations coming to the Camera app in iOS 12.
The Camera app in iOS 12: Everything you need to know
Apple is adding search suggestions to Photos, which will offer, people, places, and activities when you go to search for photos. Search based on business names, events, and even use multiple search terms.
The new For You tab will contain your Memories, as well as featured photos that you've taken. You'll also see activity for shared albums and get sharing suggestions, which suggests photos to share and people with whom you can share them. People who receive shared suggested photos will be given suggestions for similar photos to share with you from their own albums.
Photos in iOS 12: Everything you need to know!
Apple News is getting a sidebar on iPad, making sections easier to access. The Stocks app is also getting Apple News integration, which offers relevant stories inside the Stocks app.
What's new in the News app for iOS 12 and macOS Mojave
In addition to the aforementioned News integration with curated business stories, the app has been completely rebuilt, adding stock price lines in the list view, and finally coming to iPad.
Stocks in iOS 12 and macOS Mojave: Everything you need to know!
Though the real change with the Home app is that it is coming to macOS Mojave, there are some very subtle differences in the Home app for iOS 12, in that you'll be able to better integrate with Siri and get suggestions for when to turn on the lights, lock the doors, and more.
Home app: What's changed in iOS 12 and macOS Mojave
Screen Time offers detailed breakdowns of how you spend your time on your devices. See how long you spend in apps, how often you pick up your phone, and how much time you spend responding to notifications. You can also set App Limits, which you can set to limit your use of specific apps. Your limits are synced across devices, and parents can see the device activity of their kids, and they can create allowances, including setting when you want your kids to put down their iPhones or iPads or allowing access to certain content at certain times.
Screentime for iPhone and iPad in iOS 12: Everything you need to know!
CarPlay is gaining support for third-party navigation apps.
CarPlay: Everyting you need to know
The bottom line
From multiplayer AR games and apps to custom Siri shortcuts, there's a lot to look forward to when iOS 12 launches later this year. We'll be sure to keep you up to date as we get closer to the public launch.
If you've got any other questions about iOS 12, be sure to leave them in the comments, and we'll answer them as best we can as we learn more about iOS 12.
Master your iPhone in minutes
iMore offers spot-on advice and guidance from our team of experts, with decades of Apple device experience to lean on. Learn more with iMore!
Joseph Keller is the former Editor in Chief of iMore. An Apple user for almost 20 years, he spends his time learning the ins and outs of iOS and macOS, always finding ways of getting the most out of his iPhone, iPad, Apple Watch, and Mac.