Philips Hue Tap vs. Philips Dimmer Switch: Which should you buy?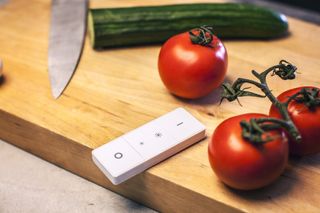 Philips Hue is known for its smart lighting, sure, but it also offers a few accessories that compliment those bulbs. Of those accessories, the Philips Hue Tap and Dimmer Switch are two devices for controlling the lighting in your home without the need for barking out commands to Siri or fiddling with your phone. So how do you choose which of these switches to add to your setup? Do you get a few of both or just stick with one or the other? I can answer that for you! We'll start by explaining what each switch offers.
Hue Dimmer switch
The Philips Hue Dimmer switch is a simple, battery-powered remote that gives you on/off and dimming controls for your Philips Hue Lighting. The dimmer includes a magnetic back plate that you can fasten to your wall with the included screws or adhesive tape, giving you a more traditional look and feel for your smart home controls.
Thanks to the magnetic plate, you can fasten the remote to the wall or remove it and place it anywhere in your home — the device is versatile enough to serve as stationary or mobile control for all or some of your Philips Hue lighting.
Using the Philips Hue app, you can program the switch to do more than simply turn on or off the lights in your home — you can set single- and multiple-tap controls for the on switch, giving you the ability to trigger different lighting scenes: two taps can trigger your dinner scene, three can dim the lights for a movie, etc. It's also worth mentioning Philips Hue recently added HomeKit support for its Philips Hue accessories (opens in new tab), letting you use your Dimmer switch as a controller for your whole HomeKit setup. It's one of my all-time favorite features — I can turn on and off all the lights in living room/dining room/kitchen room area with the tap of a button. I have several scenes mapped to the buttons, giving me control of so much more than just my Philips Hue lights.
Other than the not-as-easily-replaced CR2450 button battery, there's no real downside to this excellent Philips Hue controller. Perhaps best of all, you can get a Philips Hue Dimmer switch for about $25 from Amazon.
See at Amazon (opens in new tab)
Hue Tap switch
The Hue Tap switch is a remote control for your Philips Hue system. The device features four button areas and can hold up to four presets. You could have one button trigger a dinnertime scene, one turn on and off the lights in a specific room, one that dims the lights for movie nights, and one that turns on all the Hue lights in your home — the possibilities are endless!
The coolest thing about the Hue Tap switch is its power source. The tap is literally powered by taps — kinetic energy keeps it running so you never have to worry about changing out batteries! The one downside for the Hue Tap is that it's strictly made to work with your Philips Hue system. If you don't have Hue lights, you'd better get some before snagging this button!
Amazon doesn't currently offer the Philips Hue Tap, but you can snag it directly from Philips for about $50.
See at Philips Hue (opens in new tab)
Which should you buy?
The battery-free magic of the Hue Tap switch is pretty awesome, but not awesome enough to win my full approval. I've read far too many customer reviews and forum posts that suggest the Philips Hue Tap gets buggy and may stop functioning after a period of time. I've had Philips Hue Dimmer switches for quite a while and not only have I not had to replace the battery, I've also yet to experience any connection issues or malfunctions.
The Hue Dimmer switch is also far less expensive than its kinetic-touch counterpart and offers more controls. It also bears mentioning that Amazon itself hasn't offered the Hue Tap for some time — the Hue Dimmer switch, on the other hand, always seems to be in stock.
Put simply, you should buy the Philips Hue Dimmer switch. It's reliable, it's responsive, it's easy to install, it's versatile, and it resembles more traditional lighting controls (a must for less tech savvy guests and live-ins).
Thoughts?
Have you used the Philips Hue Dimmer switch or Tap? Which do you prefer? Share your thoughts in the comments or over on Twitter!
Get the best of iMore in in your inbox, every day!
Mikah Sargent is Senior Editor at Mobile Nations. When he's not bothering his chihuahuas, Mikah spends entirely too much time and money on HomeKit products. You can follow him on Twitter at @mikahsargent if you're so inclined.
I have both. The dimmer controls our bedroom light with the tap controls a variety of lights on our main floor. I've personally have never had an issue with either of them. They have both worked as advertised. I do use some of the Hue labs programs as well for the tap. Makes it far more flexible. My 5 year old is a pro with it as well.

This is a comment about this kind of lighting in general. Makers and reviewers all seem to assume that potential buyers have conventional incandescent medium screw base fixtures. Some years ago there was a push to replace such lighting with low-voltage tungsten halogen fixtures that were more compact, brighter, and longer lasting. Most new homes as well as upgraded older homes have these. Should we have kept the old ceiling cans for future downgrading so we can use the new bulbs? When is Phillips going to make a product for those of us who tried to keep up over the years rather than those who persisted in using their maiden Aunt Bessie's old fashioned bulbs and fixtures.

I definitely feel your pain about not having an option for smart lights. However, most people do have traditional medium base or candelabra base fixtures and lamps. A lot of houses don't have fixtures or can lights at all in the main living areas, and rely on lamps exclusively. Philips just recently released a candelabra-base Hue bulb, which I eagerly bought for my entrance fixture.

I started out with the Hue Tap thinking it was the better option because it didn't rely on batteries. Mine has been buggy. We stopped using ours completely. Our girls' bedrooms each have a dimmer switch and we rely on scheduled routines, motion sensors, and our phones for the main living areas now. I'd definitely recommend the dimmer switch because it's easy to understand and can be used to dim(+/-) any scene. I would not recommend the Tap to anyone; it's good conceptually, but isn't reliable or versatile enough for the price.
Thank you for signing up to iMore. You will receive a verification email shortly.
There was a problem. Please refresh the page and try again.