Philips Hue vs. Z-Wave: Important considerations when choosing a smart lighting platform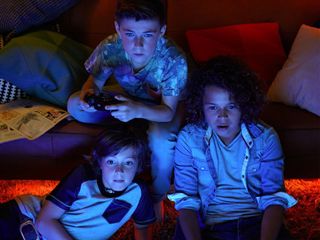 Between ZigBee and Z-Wave, Philips Hue and LIFX, and any number of other platforms, frameworks, and products, it can be tough trying to determine what's right for you. If you find yourself stumped and unsure of which smart bulb, bridge, or hub you should get, this one's for you!
Understanding smart home protocols
Before we dig in to the meat of the comparison, let's take a closer look at the Philips Hue lighting system and the Z-Wave protocol. Firstly, it's important to understand that Philips Hue bulbs communicate using the ZigBee wireless protocol. That means I'll actually be comparing ZigBee and Z-Wave in this guide.
Some smart accessories communicate using more familiar methods like Wi-Fi and Bluetooth. When you open an app and toggle the power on your Bluetooth smart plug, your command is sent over Bluetooth to the plug and it toggles the power. When you open an app and adjust the color of your Philips Hue bulbs, your command is sent over your Wi-Fi router to the Philips Hue Bridge. The Philips Hue Bridge then uses the ZigBee wireless protocol to communicate with your bulbs, telling them to change their color to your specified settings. While Wi-Fi and Bluetooth are well known, relatively ubiquitous technologies, wireless protocols like ZigBee and Z-Wave have their benefits. Let's take a look at how they compare and contrast.
Mesh networking
ZigBee and Z-Wave are both mesh networking technologies. Instead of each individual device having to maintain a connection with your Wi-Fi network or proprietary bridge, the devices can communicate amongst themselves. You can think of it like a web (hence mesh) where each device is connected and communicating with all the other devices in the mesh network.
Most people won't run up against this limit, but it's worth noting that ZigBee supports far more devices on a mesh network than Z-Wave. ZigBee can support more than 64,000 devices on a single network. Z-Wave supports 232. This limit is much more of an issue for commercial properties. I'd like to meet the person who surpasses either of these limits in their home.
Communication and speed
ZigBee and Z-Wave use different frequencies for communicating with your smart devices. ZigBee operates on the 915Mhz band as well as the 2.4GHz band. Z-Wave, on the other hand, operates on the 908.4 MHz and 916 MHz bands. What does that mean in practice? Well, Z-Wave operates on sub-1GHz bands so devices are less likely to run up against interference from Wi-Fi and Bluetooth. Given that ZigBee operates on the 2.4GHz band — that's one of the bands on which your Wi-Fi operates — it is more likely to experience interference.
As for speed, Z-Wave's data rates top out at 100kbps. ZigBee can reach speeds more than two times that amount (~250kbps).
You shouldn't have to worry about this too much given that communication between devices is generally as simple as "turn to this color" and "turn off now." If you were sending huge chunks of data to your smart lighting on a regular basis, the differences would be more apparent.
Range
Thanks to their mesh networking capabilities, range isn't too big an issue. As long as you've got enough individual devices across the network, they should be able to communicate with one another and their node (or bridge) just fine. That said, Z-Wave has ZigBee beat on range. The protocol can communicate with devices up to 100 feet away. ZigBee's reach is about half of that.
Compatibility
The Z-Wave protocol is a private technology licensed by SoC (system-on-a-chip) company Sigma Designs; ZigBee is an open protocol created and maintained by the ZigBee Alliance. Z-Wave says there are more than 2,100 certified products on the market — ZigBee touts about 2,500 certified products. Z-Wave's licensing requirements may be one of the reasons there are more ZigBee certified products on the market.
Here are a few products compatible with ZigBee:
Here are a few products compatible with Z-Wave:
Consider your options
There's quite a bit to consider when you start to dig in to the differences between wireless protocols. My advice? In practice, these tiny differences don't matter all that much in a typical consumer's smart home. The mesh networking capabilities of both protocols limit most issues with range. The simple communication between smart devices and their hubs limit most issues with speed. The massive number of smart devices on the market limits most issues with compatibility — if one type of smart bulb doesn't work for you, there are six more that will.
Have any questions, thoughts, or concerns? Leave me a comment or give me a shout over on Twitter!
Master your iPhone in minutes
iMore offers spot-on advice and guidance from our team of experts, with decades of Apple device experience to lean on. Learn more with iMore!
Mikah Sargent is Senior Editor at Mobile Nations. When he's not bothering his chihuahuas, Mikah spends entirely too much time and money on HomeKit products. You can follow him on Twitter at @mikahsargent if you're so inclined.