Plants vs Zombies 2 gets updated with 'cool stuff,' upgraded map and more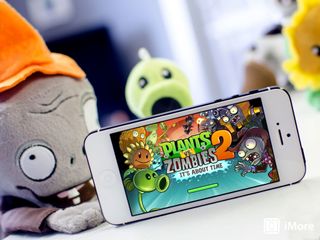 Plants vs Zombies 2 has just gotten a decent looking update that Popcap promises has "loads of cool stuff" in it, and they're possibly right. Upgrades to the map to make progressing through the game quicker and easier is just the start:
Big changes. We've upgraded the map to make game progression quicker and easier.
It's simpler to know how much you've done, where you're going, and what loot you'll get along the way.
Play all-new Piñata Party levels to win cool prizes.
You can invite your friends and send 'em gifts.
Use the Turbo button to speed up your planting – and speed up the zombies.
Be warned: when we were upgrading the map, somebody let in the Gargantuars.
A new enemy and new levels is sure to preserve the life of an already popular mobile game, and it seems that our buddies on other platforms aren't being left out either. Grab it in the App Store now and get planting! And if you need a little help, be sure to check out our top 10 tips guide at the link below.
Get the best of iMore in in your inbox, every day!
I've been spending so much time playing so many other great games I haven't played this in quite a while. Maybe it's time to give it another go?
- I need more storage on my iPhone! Sent from the iMore App

This streamlining could be the much needed thing this games needs. It's irritating to have to collect coins, keys (but only good on 1 level!), stars and have just the right numbers of each to do anything... with, of course, a hand iAP nearby. I had been stuck on world 2 & 3 for awhile now because I did all the main levels but couldn't get the damn keys for the "side levels". I kept getting keys for the first world that I just DID NOT NEED. But of course you couldn't actually use them somewhere else. I considered paying but the poor design of this system made me just go play another game.

Pretty cool. I really need to finish PVZ1 first I think. Sent from the iMore App

What Stephen said. Progression in the game was too slow, so game got boring and I uninstalled. Sent from the iMore App

Yep, what Stephen said. I did all the stars, yet only 1 key ever dropped per world. Now I just have to replay old levels and hope some more stupid keys will eventually drop?! Not that fun. If at least there was some rule or schedule to it. But like this it's just plain annoying. I'll try the update for a bit, maybe they improved it - I really hope so because it would actually be a very fun game, if I had access to those locked levels.

This is one of my favorites, great to see this update. I guess I will to download this app back on my device. Thanks for the update. Sent from the iMore App

It's about time! I was getting tired of hunting Yetis. ... And now we have Gargantuars, awesome update!
Thank you for signing up to iMore. You will receive a verification email shortly.
There was a problem. Please refresh the page and try again.