Plants vs. Zombies 2: Top 10 tips, hints, and cheats to pass levels faster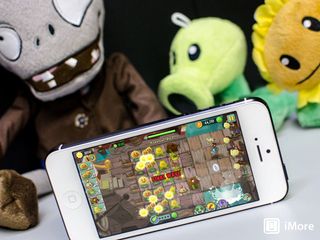 Plants vs. Zombies 2 is the sequel to Popcap's original, amazing, mega-hit, but it's also a completely new, completely different thing. It's freemium now, which means it's free to play, but it tries to encourage you to pay for extras via in-app purchase (IAP). Some people love that model. Some people hate it. We're not here to judge. We're just here to help you make the most of Plants vs. Zombies 2 no matter how you choose to play... or pay. And that means, of course, we're giving you our absolute best tips, tricks, and out-and-out cheats!
1. Maximize your Sunflower plant power!
Just like the first Plants vs. Zombies, Sunflowers are incredibly important. You want to aim for 2 rows of Sunflowers on each level, so they can support all the rest of your plant purchasing. Combine them with Potato Mines to cover your Sunflower planting, and you're pretty much set!
2. When supplies are limited, get the most bang for your plant bucks
On levels where money or plants are limited, place plants that have area-of-effect attacks - Threepeater, Snapdragons, etc. - in lanes 2 and 4 and they'll cover the whole lawn for you.
3. Use plant food on a plant to to get an instant attack
You can use plant food to make a plant that's still in the middle of its refresh time "wake up" and attack immediately. This is especially useful for Coconut Cannons.
Note: This trick won't keep a plant "awake", it'll go back to its refreshing sleep immediately after its attack is over.
4. Kill the app to reshuffle the Purple World deck
Don't like the cards you're dealt in the Purple World level? No problem. Just hit the Home button to exit Plants vs. Zombies 2, then double-click the Home button to open multitasking, then either touch and hold the Plants vs. Zombies 2 icon until it jiggles and tap the X to kill it (iOS 6), or grab the Plants vs. Zombies 2 card and toss it away (iOS 7). Once that's done, re-launch Plants vs. Zombies 2, and you'll have a whole new deck of cards to choose from!
5. Use Bonk Choy and Spikeweeds to survive Pirate World
If you're having trouble surviving Last Stand III in the Pirate World, try this formation. Using only Bonk Choy and Spikeweeds, you'll be able to complete the level without even looking. The Spikeweeds don't get eaten so the damage the zombies without ever having to be replaced. Any zombies that make it to the end get boxed into oblivion by the Bonk Choys.
6. Escape the level to prevent loss of a treasure yeti
If you are about to lose a level with the Treasure Yeti zombie, or if he is about to escape, you can hit Restart to redo the level and the Yeti and his treasure will be waiting for you when you come back.
7. Complete the level to get your Treasure Yetis treasure
Don't think you can simply kill the yeti, get your treasure, and immediately exit the map without completing the level. PVZ2 don't play that. In order to get your happy lunch box of treasure, you need to both kill the yeti and complete the level.
8. Use Kernel-pults plants vs. Seagull Zombies
The best way to knock a Seagull Zombie into the water, if they're flying over the sea, is by using a Kernel-pult. So, if you see Seagull Zombies in the line-up for a level, make sure you arm yourself with a Kernel-pult!
9. Know your zombie patterns
Zombies always attack in the same pattern, so if you make a mistake, remember the pattern for when you set up to replay the level. For example, if a regular zombie starts in lane 1, then another comes in lane 4, then another in lane 6, they'll do the same thing when you replay the level, and you can set up your plants in lane 1, 4, and 6, to take care of them.
10. Always have a roof-top plant catapult, especially a Kernel-pult
In Plants vs. Zombies 2, it's always beneficial to have at least one rooftop plant (Melon-pult, Cabbage-pult, Kernel-pult, etc.) on hand. When you use plant food on them, they will hit every zombie on screen. I usually prefer the Kernel-pult as it launches butter and immobilizes the zombies, giving you more time to implement your other strategies.
Your Plants vs. Zombies 2 tips, hints, and cheats?
So there they are, my top 10 tips, hints, and cheats for Plants vs. Zombies 2. Let me know how they worked for you, and what's more, let me know any great tips, hints, and cheats you come up with!
Get more iMore in your inbox!
Our news, reviews, opinions, and easy to follow guides can turn any iPhone owner into an Apple aficionado
Senior Editor at iMore and a practicing therapist specializing in stress and anxiety. She speaks everywhere from conferences to corporations, co-host of Vector and Isometric podcasts, follow her on Twitter @Georgia_Dow and check out her series at anxiety-videos.com.
my son will be happy that this has finally become available, he's asked me every day since i showed him the advertisement if it's out yet.

Finally, done with the download. Will play later. Thanks for the tips!

Didn't realize it was out yet, so I went to the app store and downloaded it last night. Only problem is that it apparently requires a forward facing camera, so my son's hand me down original iPad and my daughter's hand me down 3rd gen iPod touch can't run it. I know that eventually hardware will be left behind, and I guess that time is now, but I know they are going to be disappointed.

hi there - just curious as to why a forward facing camera is required to play the game? I'm playing it now and don't know of any time that it needed it to play?
Oh I just realized your post is from 2 years ago - lol - you prolly don't even remember posting.

Thanks Georgia! While I'm bummed this didn't make it to the PC it's still fun on my tiny iPhone screen. The IAP seem to be pretty balanced and not pay to win shockingly enough.

Imitator is a special plant in this game. It is well used in the game and wins the people's affection. Many People come up with an idea to buy Plants vs Zombies imitator plush toys at toyswill . com so that they can save time and money.

After playing 9days, 2-3 hours every day, I got some tips to share with all players :-) Egypt:
use cabbage for row with tomb. empty lanes use pea gun.
then pea gun for all lanes for speed.
cabbage+plant food for multi-row attack. Sea:
use spring bean near water. (btw, spring bean seems useless in Egypt or West)
broken rows use: 1. bean on first square for swing pirates; 2. pea with least 1 walnut in front,for seagul pirates. West:
jumping old man, obviously use two-direction pea gun.
stage 6 chicken, have to use lightening reed!! (plant 2 at last row moving seats) the chickens are a lot and damn fast. other stages can use reed at rows 2,4 to cover all rows.
pianist, i found best weapon (cost efficient) is gas bean (red). reserve the gas bean only for the pianist, wait a while till he is not covered by any other zombie.
for bulls, walnut is enough.

The Iceberg Lettuce/Winter Melon cold attacks will put off the fire in the old man's dynamite and he will not be able to jump anymore.

some more tips: General:
use fire dragon (espcially in Sea), put 1-2 layers of walnut in front. notice attack range is 2x3.
can use plant food on sunflower to generate sun fast. (in early stage of game, or for sun generation target to get star.)
try plant food for differnt plants find what you like. I like it on fire dragon, pea gun, walnut, sunflower, coconut. For stars:
If need to kill n number of zombie in 5-10 sec, mostly need lightening or other hand gesture weapon. However, in final wave, with fire dragon+plant food, can kill that fast.
If need to lose <1 plant, mostly need hand gesture weapon.
If need to lose <2 plant, in Sea mode, use fire dragon with walnut,and dragon+food to take out rolling buckets in time (they will crush walnut)
If need to "always keep <12 plants", remember to remove unused ones.
I didn't try to get all starts. Just collect enough (8 and 20) to unlock next section.
Good luck and enjoy the fantastic game ! p.s. I'm stuck on West challenge level 9. Usually complete leve7 in full (5 lawn mower and 3-4 plant food), but level 8 already tough. Any tips welcome :-)

I prefer feeding the Iceberg Lettuce to freeze all zombies on screen. The freeze is much longer than the Kernel-pult's butter and I usually take this time to kill the toughest/most annoying zombies. By the time you used the 3rd or 4th food on the lettuce all zombies will be already dead, well umm, eliminated.

Does PvZ help with anxiety? Good article.

My technique through Pirate Seas:
1 row of normal sun
1 row of cabbage pult
1 row of kernel
1 row of bonk choy
1 row of potato wall or spikeweed or snapdragons or whatever you prefer to protect bonk choys from eaten I ALWAYS keep freeze lettuce thing and/or potato mines just in case

I have noticed a glitch in the endless zone that makes things much easier. After you pick your card but before you pick your plants for the level it gives you the option in the top left corner to enter your zen garden, if you go in here and then return to the level you will now magically be able to pick from any of your plants not just the card ls you have picked from the deck. (Comes in handy when they don't give you the option to pick from plants you actually need) Not sure if this works for android as well but works for the iphone, will test on android later today

Does not work for android

For level 22 of pirate seas try 2 rows of laser beans then 1 row of snap dragons try it over and over again and see what you get

How can i skip the levels that i have to mach the sings

1 layer laser bean+1 layer snapdragon+1 layer bonk choy+1layer walnut+1 layer spike weed Laser Bean - Long range shooter good for attacking from back side
SnapDragon - attack 3x2 area good for backup bonkchoy to attack
bonkchoy - attack 1x2 area fast killer
walnut - defend plant verry good combination with bonk choy and spike
spike weed - this plant will gone if machine roll on it.. it will keep on attack if zombies just step on it

I really like this game, however I'm one of the many that doesn't like how they've changed it so much to involve having to pay for a lot of stuff. I totally understand the company looking to make money from the game, and I actually do make purchases for the other games I play. The issue is that the cost of the upgrades/add-ons are quite high. Why not make it $1.99 instead of $5.99 - I'm pretty sure you'd get a lot more purchases then as opposed to high prices - so they actually would benefit from lowering the costs (significantly).
Anyway- PVZ2 is a great game - I had no idea there even was a sequel until I just happened to come across it one day on the app store.
L

oh yeah, my tip is using the tall walnut with a bok choy behind it - cuz' the bok choy can still punch out the zombie while it's munching away at the walnut.