Play Grand Theft Auto (GTA) on your iPhone and iPad!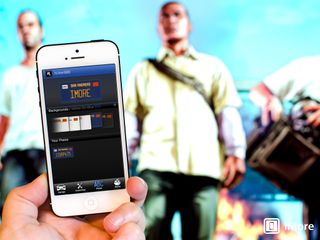 The hot ticket in the gaming world right now is without question Rockstar's latest masterpiece, Grand Theft Auto V. Years in the making, hit by delays, it finally launched to eager gamers the world over just a month ago. The buzz was immense, as was revenue, with GTA V pulling in a cool billion dollars in the first three days. Chances are that if you're reading this, you've already had some time with the console version. But, as mobile gaming continues to take hold, there's understandably folks out there wondering if we'll ever see a mobile version of GTA V on our iPhones and iPads, and likewise what kind of GTA fix you can get.
Right now, it's a no for GTA V, and Rockstar hasn't said anything either way. There's no doubts a raft of technical challenges that would prevent a full port of GTA V, not least the 8GB mandatory install on Xbox 360 and PS3. But, never fear, for there is still plenty of Grand Theft Auto action to be had on your iOS devices. Rockstar has ported some of their past efforts to mobile, and GTA V has its very own companion app and full game manual to run alongside your console experience. So, click on a little further for the full list, tool up, and let's get to it!
Grand Theft Auto III
Originally released back in 2001, Grand Theft Auto was a game changer. Set in the fictitious world of Liberty City, the game offered an explorable world the likes of which hadn't been seen at the time. You play a no-name crook who works his way through crime filled missions, or just goes out and gets up to no good around the city. The launch on iOS coincided with the tenth anniversary of the launch of the game, and is a must play for any GTA fan. Despite being the third game in the series, this is where it all began.
Grand Theft Auto: Vice City
Not a proper sequel to GTA III, Vice City took the same style of open world gameplay to the glorious 80's. Very similar graphically and in gameplay, Vice City launched just a year later. And, as with it's predecessor, it launched on iOS to celebrate the tenth anniversary. It's all the great gameplay of GTA III, but with better hair and costumes.
The Grand Theft Auto V Connection
Rockstar hasn't left out mobile with the launch of their latest flagship release. The game manual and accompanying map of Los Santos and its surrounding area is so large that they dispensed with an included paper copy and released it in the form of a mobile app. An essential for all GTA V players for sure.
iFruit is a fun little companion, that hooks into the Rockstar Social Club. With it you can raise your in-game dog – kinda like a modern Tamagotchi – pimp up your rides and even order custom license plates for delivery to your in-game vehicles. Hint: iMore is taken! Both this and the manual are free to download, so there's no reason not to use them to enhance your game playing experience.
So, thats what we've got, but which is your favorite? Which GTA adventure would you most like to see Rockstar bring to iOS? Let us know in the comments!
Get more iMore in your inbox!
Our news, reviews, opinions, and easy to follow guides can turn any iPhone owner into an Apple aficionado