Why you shouldn't use WD-40 to fix a broken home button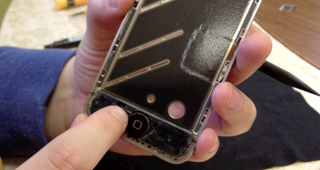 While appealing, this will not fix your Home button and may, in fact, damage it far worse. The idea that repeatedly squirting WD-40 into your iPhone or iPad Home button could fix responsiveness began floating around the internet last month and has gotten some attention -- that needs to be stopped immediately. Keep in mind we're huge fans of DIY repair here at iMore. But putting WD-40 on your iPhone is not DIY repair. It's dangerous, particularly for iPhones and iPads that are built with moving, plastic parts.
WD-40 may be non-conductive but the solvent in it will break down plastic. Your home button is plastic as well as some of the internal parts. Your speaker assembly is plastic and sits directly below your home button. Also, WD-40 is a liquid and you're spraying it dangerously close to where the wiring for the dock -- the place you charge your iPhone or iPad -- sits. The only substance that should ever be applied to an iPhone or iPad is high concentrated alcohol to remove corrosion from a logic board after it has been damaged by another liquid. None of the other components should ever come in contact with liquid. Including WD-40.
To understand what causes a sticky home button you need to understand how the home button works. On an iPhone 4 there is a flex cable that connects to your dock and comes around the front. This piece has a contact on it that is connected to the home button with adhesive. When this button is depressed too many times, the contact starts to wear and get thin. Eventually, this results in a "tacky" home button or clicks not registering as the contact is not thick enough to apply the correct amount of pressure to register to trigger a click. It was bad design on Apple's part, especially after introducing the double-click to launch the Fast App Switcher in iOS 4.
The iPhone 4S Home button was re-designed to fix these problems. The button is actually stuck to the main assembly with a rubber gasket. Then a bracket is put into position behind that, similar to that of the iPad 2.
Your iPhone or iPad Home button isn't a squeaky old spring or noisy hinge that a couple of squirts of grease can easily fix. If the Home button flex cable wears down over time, nothing but replacing the Home button flex cable will solve the issue. Spraying a substance like WD-40 into your device will only make matters worse or damage other components inside of your device. If you're under warranty Apple will swap out your iPhone 4 at no cost. If you're not, you should repair it the correct way or send it into someone who can. Here are some good software fixes to try on your own first:
How to get around a broken home button with AssistiveTouch
So put the WD-40 can down and slowly back away, then tell everyone you know — including the people who post these tips — to do likewise.
Get the best of iMore in in your inbox, every day!
iMore senior editor from 2011 to 2015.
Its sad you have to post this but thanks for doing so.

What's next duct taping it?

Why would anyone EVER do this?!? It's amazing the things people will rationalize and do. I agree with Rick.

Why? Because many, MANY people see WD40 as a lubricant, which is what it is. They don't read the warning labels or fine print, and many people don't understand that the petroleum distillates in WD40 are corrosive to plastics and rubbers. I've seen people seriously screw up their devices or other products by using WD40 on them, then try to return them and then get pissed off when they can't. It's nice to see public service announcements like this so that people who may not know are more informed.

I agree wholeheartedly with the above 2 posters. Why would you do this, and it's just so sad that someone had to do a write-up to save people from themselves.

Some site said to use it in the headphone jax to make a better connection. Bottom line, if the device did not come that way, do not use it. Talk about a dust collector, with lubricant in the jax.

I've had my phone replaced by apple twice. I just got back from the apple store as a matter of fact.

Well, I thought that was a very lovely story, and you tell it so well, with such enthusiasm.

This is the biggest facepalm ever. WD-40 should be outlawed to begin with, it causes untold issues with everything, rust, etc.
It's caustic, horrible and just should not exist. There are alternatives, many of them, that should be considered around the house, but for your iPhone? Use WD-40?

Wow, that did NOT work. Frick. Yeah I feel stupid now. I need a facepalm for myself.

Worry not. I still LoL'd at your failure to post ASCII porn.

It's amazing that some people would think was a good idea!! wow....iDarwin award winner there!

You beat me to it. I was gonna say if one is dumb enough to put WD-40 on an iPhone (or any phone) then they may deserve what comes next...that is all that comes next except effects of putting a highly poisonous substance on an objects that you plant on your face for hours a day. No one deserves that part.

This is natural selection at work: If you're dumb enough to spray WD40 on your iPhone, you probably shouldn't have one anyway.

I always use a few drops of rubbing alcohol. Works perfectly and evaporates after a minute.

The funny thing is that ALL other Apple devices that have a home button that works well, the iPhone 4 is the only one that is badly designed.

Thanks Ally...whoever came up with that idea doesn't know what wd-40 is for. Lol

Ally is pretty much the only person at tipb I can actually listen too, everyone else seems to just state their opinion as fact. This is a fact, backed by proof... So hats off to you my friend.

Best comment thread ever! If someone thought that squirting their phone w/ WD-40 would make the button respond better, they need to be hit over the head with a tack hammer.

Come on you guys could just NOT post it but we know ya gotta get all those daily visits

Who in their right mind is going to squirt greese into an electronic device like a cell phone, to cure a sticky button? That's just daft.

good place to start your own website
https://www.webstarts.com/?aff=Will_m

"Eventually this results in a "tacky" home button or clicks not registering as the contact is not thick enough to apply the correct amount of pressure to register to trigger a click. It was bad design on Apple's part, especially after introducing the double-click to launch the Fast App Switcher in iOS 4."
Lol worlds best phone cant properly design the most used button on their phone.

Oops. Must of rubbed someone the wrong way. Hey maybe I have an iPhone and just find it funny how Apple is considered the best and the they didnt take time to design the main button to take the most abuse. The home button is used twenty times more than any other, I just think they woyld design it to withstand that amount of use. Just my opinion. TOOL

Who says it's not conductive?? New formula maybe.... I accidentally got some on a circuit board of a tape deck I was working on. The deck shorted out and was totally ruined. I kick myself to this day for that one.

What? One of the things it is designed for is driving water out of heavy-duty electrical parts. (Think distributer cap. Assuming anyone still knows what that is.)
WD-40 has never been conductive. Now if you used it on the wrong plastic, it may have dissolved your insulation; causing a short.

I have a questionwhen you play a one deck game, is the running count always the true count???

Gettin Slizzzard! hell yea i be always sayin that now!

This recent growth has led a number of companies to consider developing a SaaS-based solution. As part of the decision process, there is often a significant focus on how long it will take, and how much capital is required to build and market a successful, profitable SaaS solution (particularly in comparison to traditional, licensed software solutions).

So your saying it does all that just by thinking it, I don't think so. Especially not from google.

Make dam sure you get all the screws and nuts and any hardware litterily replaced before you leave the shop, why ? If you drive down the road and the bumper falls right off, he'll say, How do I know you didnt take the screws out yourself ? Get my point ?

I ran into this a while ago on OSX 10.7.1 and fixed it by repairing my Keychain. That could be the same process in permissions repair for all I know, but it's something else to consider if you have a stubborn issue with logins.

The same issue. None of the recommendations have worked on iOS 5.1.

It is perfect time to make some plans for the longer term and it's time to be happy. I've learn this put up and if I could I wish to counsel you few interesting things or tips. Maybe you can write next articles regarding this article. I wish to learn even more things about it!

What about of using WD40 on an aluminium Ipod nano 6G?
Thank you for signing up to iMore. You will receive a verification email shortly.
There was a problem. Please refresh the page and try again.