How to replace a broken screen on an iPhone 6s or 6s Plus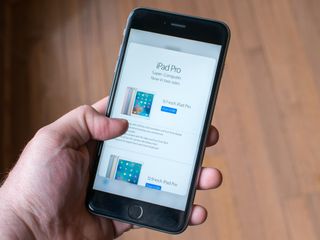 If you've dropped, smashed, or otherwise chipped your iPhone 6s or 6s Plus screen, you likely want to repair it. There are several ways to repair or replace a broken iPhone screen, depending on your monetary situation and free time. Here are a couple, in order of easiest (and cheapest) to most complicated.
Buy a screen protector
If your screen is shattered but relatively intact, you can put off a potentially costly repair by sealing the broken pieces behind a screen protector. I'll note that this is a temporary measure, and one I generally recommend for screens that are cracked, but not completely destroyed — it can keep the cracks from worsening or pieces of the screen from falling apart, but eventually you'll need to replace the screen.
Make an appointment with Apple
The iPhone 6s and 6s Plus screens have complicated technology embedded within them, including the Touch ID sensor, Home Button, 3D Touch display, and FaceTime front-facing camera. As such, a cracked iPhone screen can be a real hassle to replace.
Luckily, if you purchased AppleCare+ with your iPhone, a screen repair is simple and inexpensive — assuming you have the time to send it to Apple. It's just $29 (opens in new tab) to fix a broken iPhone 6s or 6s Plus screen, and any Apple Store or Apple Authorized Service Representative store you visit has the equipment necessary to properly remove, replace, and re-calibrate your iPhone for Touch ID.
Even if you don't have AppleCare+, repairs through Apple are often cheaper than attempting to buy and repair the screen yourself: An out of warranty iPhone 6s repair is $129, while an iPhone 6s Plus repair is $149. (This is also why I always recommend picking up AppleCare+ when you buy a new iPhone.)
Start a repair request (opens in new tab)
Repair it yourself
In past years, I would have recommended this option above making an appointment with Apple, but as the iPhone screen has gotten more complicated — and expensive, a home-brew repair can often hinder your device from full operability.
As for pricing, it varies: If you're replacing an iPhone 6s and 6s Plus screen under the AppleCare+ warranty, Apple's option is much cheaper; if you're out of warranty, however, you may be able to get a slightly better price buying third-party components. An iPhone 6s screen repair currently will run you about $130 between the screen and tools, while an iPhone 6s Plus screen repair costs $140-$150.
As the iPhone 6s ages and screen prices go down, this may change, but for now, I'd only recommend a screen replacement if you don't have an Apple Store near you and feel comfortable repairing your own devices.
If you want a detailed guide on repairing an iPhone 6s and 6s Plus, you can watch JerryRigEverything's how-to explainer below.
Questions?
Have any questions about repairing your iPhone's screen? Have a better option? Let us know below.
Get the best of iMore in your inbox, every day!
Serenity was formerly the Managing Editor at iMore, and now works for Apple. She's been talking, writing about, and tinkering with Apple products since she was old enough to double-click. In her spare time, she sketches, sings, and in her secret superhero life, plays roller derby. Follow her on Twitter @settern.
Keep in mind that Apple will NOT service - under warranty or not - a device that has third party parts or repairs.

That makes sense. If your device has been tampered with, if Apple serviced it, it could still break due to being tampered with, and then consumers would blame Apple despite it not being their fault

True, but then again why would u pay a third party repairer for repairs when the device does not work to your advantage ? Its almost like u'r getting ripped off.

"cheaper" ya, as in Free :D We like that.

Its nice but i think.It's good for the people who's apple iphone 6 or 6s warranty has expired. Still makes me a bit worried about the 3D touch features.Will it be effected by this ?