How to replace a broken iPhone 4 (GSM) screen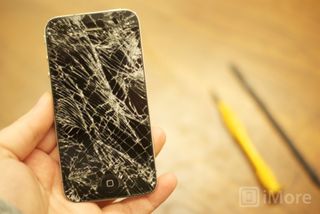 Have a shattered or unresponsive screen on your GSM iPhone 4 and need to know how to DIY repair it? If you don't want to put out the extra cash for a new phone and feel pretty confident in your repair skills, we can walk you through how to fix your iPhone 4 on your own.
Disclaimer: As with any repair, iMore nor PXLFIX can be held responsible for any damage you may do to your device. It's also worth considering that opening up your device to perform any repair or modification can and will void your Apple warranty. If you don't feel comfortable opening your device, don't. Use extreme care and caution when performing a repair on any device.
What you need for a DIY GSM iPhone 4 screen replacement
iMore recommends using only quality and genuine parts from a reputable supplier like iFixYouri. They have quality parts, tools, and much more for all your repair needs.
Note: This guide covers the GSM iPhone 4. There ARE internal differences between the GSM and CDMA models, so if you have a Verizon or Sprint iPhone 4, use that guide instead.
New screen assembly
5-point security screwdriver
Standard #000 Phillips screwdriver
Spudger tool
Razor blade
iSesamo Opening tool (not necessary but awesome for prying up cables and getting under adhesive)
Power off your iPhone 4
Before performing any repair, always power off your device before removing any screws or parts.
Remove the back
First remove the bottom 2 dock connector screws in your iPhone 4. Use either your #00 screwdriver or the five point depending on whether or not your iPhone 4 has security screws in the dock connector. Almost all newer devices will have security screws.
To remove the back simply slide the back upwards and lift it off gently.
Set the back and 2 dock connector screws aside.
Remove your SIM card
Use a SIM removal tool or a paperclip to remove your SIM card and tray. Set them aside.
Remove the battery
To remove the battery you'll need to remove the #00 screw holding the battery clip in place. Remove this screw located to the bottom left of the battery.
The metal clip on the battery is what clips the battery to the logic board. You'll need to pop this clip up with your plastic pry tool. Simply stick the end of your pry tool underneath the clip and gently pull upwards until it unfastens from the logic board.
To remove the battery, I do not recommend using the plastic pull tab. There is quite a bit of adhesive underneath the battery and the tab will normally just rip off or you can bend the battery. Instead, run your pry tool along the right side of the battery and break the adhesive that way. Once the battery is free from the adhesive, you can pull the battery out of the phone. There are no other connectors holding it in.
You will notice a tiny grounding clip sitting underneath where you unscrewed the battery. Set this aside for replacement during reassembly. This is a grounding clip for your antenna. Make sure you put it back in place before reconnecting your battery.
Remove the dock connector shield and disconnect the cable
There is a shield held on with two screws covering the dock connector cable. Remove the two screws holding it in place and set the shield and screws aside, remembering where they came from.
Next, use your pry tool to pry up the actual dock connector cable. Be careful as there is adhesive holding the cable in place as well. Peel back the adhesive gently to free the cable.
Remove the top logic board shield
There are 5 screws holding the logic board shield in place. Remove the 5 screws holding it in place. Just be sure to remember which holes they came out of as the screws are different sizes. I always keep them in order of how they came out.
Next you'll need to remove the shield. There is a tiny clip built into the shield holding it in place. (Refer to the photo above.) Pop it up with your pry tool and you should be able to slide the shield up fairly easily. Just take care not to bend it or break off a clip.
Disconnect the 6 cables from the top of the logic board
There is only one connector holding the camera to the logic board. Remove this cable in the picture above using your pry tool. Gently lift upwards and it will pop right off.
Next gently lift the camera out of the device. You'll notice there is a tiny tab that is seated underneath the LCD and digitizer cables to the right.
Next pop up the LCD and digitizer cables to the right of where the camera cable was connected. You pop them up in the same direction.
The 3 cables further to the right will need to be disconnected as well. They pop up in the opposite direction.
Remove the logic board
Start with the 2 screws holding the logic board down in the middle and at the bottom left. Both use your #00 Phillips screwdriver. They are the same size. The one on the right of the logic board in the middle of the device has a water sensor over it you'll need to remove.
The second screw is located where the logic board meets the speaker assembly towards the bottom left of the device.
The third and final screw holding the logic board in is located at the top of the logic board off to the right. It is the only cross-head screw in your device. Use a small flathead screwdriver to carefully remove it.
You should now be able to remove your logic board. Holding it at the bottom, gently pull it upwards. I use my other hand to lift up at the top where the rear facing camera used to be.
Take note that there is a small rubber piece that sits at the top of the logic board. You will need this for re-assembly so make sure it doesn't fall off. If you lose this, you could see reception issues.
Remove the speaker assembly
To remove the speaker assembly you have one more #00 screw to remove. It sits to the right of the speaker assembly in the bottom right hand corner of your device. Remove it.
The second screw holding the speaker assembly into your iPhone you've already removed when you removed the logic board.
Gently lift the speaker assembly out of your device and set it aside.
Remove the vibrator assembly
Locate your vibrator assembly in the upper right hand corner of your iPhone 4 (assuming you're looking at it from the back).
It is held in with two screws. Use your #00 Phillips screwdriver and remove them. The screw on the left will be significantly longer. Just remember which screw came from where.
Next, gently lift the vibrator assembly out of the device.
Remove the 4 screws in each corner
There are 10 total screws that attach your iPhone 4 LCD/Digitizer assembly to your frame. The 4 in the corners will need to be completely removed. They are all #00 screws.
Loosen the remaining 6 screws
These screws run along the sides of your iPhone and also have washers on them. I find it best to just loosen them opposed to removing them completely. The washers are not fun to put back in. Loosening them will allow you to remove the LCD/Digitizer assembly just as easily. About 2 1/2 to 3 turns for each screw should loosen them up enough to continue. If you feel the washer wobbling back and forth a bit, you've loosened it enough.
Remove the broken LCD & digitizer assembly from your iPhone
This is where it can get a bit tricky. Your screen is held in not only with the 10 screws mentioned above but also with strong adhesive. You will need to break this adhesive in order to remove the front panel.
Hold your iPhone in one hand with the screen facing you. Starting in the top left hand corner, run a pry tool or razor blade in between the frame and front panel. You'll need to pry up quite a bit in order to break the adhesive. Be careful around the front facing camera and speaker area.
Next move your pry tool or razor blade to the bottom of your device and do the same thing, working your way around until the adhesive is broken and the front panel starts to come off. If your screen is cracked, additional glass may break off. That's perfectly normal.
To completely remove the front panel - start at the top of your iPhone and gently pull the assembly away from the frame. Be careful to allow the LCD and digitizer cables to slip through the opening in the frame without getting caught up.
Remove any left over glass or debris from the frame
Before reassembling your iPhone, you'll need to make sure there is no glass stuck to the remaining adhesive or inside the frame. If there is it could cause damage to the new screen or you'll be able to see it through the new assembly, which can be annoying. Just make sure you do a thorough job of picking off all the glass on and around the frame before continuing to reassembly.
Reassemble your iPhone
Once you're sure you've gotten all the glass and leftover debris out of your iPhone, you're ready for reassembly. Watch our reassembly video above or repeat all the steps above in the reverse order.
And... done!
If you followed the above steps correctly you should know have a working and non-broken iPhone 4 again. Have you done this repair yourself? Let us know how it went!
Get the best of iMore in in your inbox, every day!
iMore senior editor from 2011 to 2015.
Holy crap! I'll just give apple th $150 to replace it. And if it's out of warranty, the $200 for a 4gs.

I think the Iphone screen fix will only make us more noted that financial expenditure. So you should sell the Iphone and buy a new one is a wise choice. susu kolostrum

I really liked it.Keep sharing such excellent post like this in future too.Informative and good article.I like it very much.Have very interesting content to read out. Thanks dude mobil bekas semarang

Had both front and back replaced here in Jacksonville
FL by a company called The iPhone 911 for $115

We have similar rates to that here. $125 for back and front :)

Screw that to much work. If my screen ever breaks ill send it to you ally just email me the info.

haha sounds like a plan - hopefully you won't ever need to but if you do, it's just www.pxlfix.com - contact info is on there :)

FYI- Steve Jobs didn't like people to open their Apple iPhones...so please respect his wishes and don't ever perform this task. Thanks. Always. The BIG Dorito

hello there and thanks for your info ? I've definitely picked up anything new from right here. I did then again experience several technical issues the usage of this site, as I experienced to reload the web site a lot of times prior to I could get it to load properly. I had been puzzling over in case your web hosting is OK? No longer that I am complaining, however slow loading circumstances times will very frequently affect your placement in google and can injury your high quality ranking if advertising and marketing with Adwords. Well I'm including this RSS to my email and could glance out for a lot more of your respective exciting content. Make sure you update this once more soon..

We Breezetek Corporation Limited(www.breezetek.com) is a China based company who are dedicated to providing the highest quality repair parts and accessories for iPhone,iPod,iPad,Macbook and Blackberry ,Due to direct sources from factories and professional technician test, we can provide products with our quality guaranteed and best price. Here,we hope to be a partner of your company !
Write me back or call me if you have any inquiry, If Price list is needed, please let me know .thanks !
James Zhang
Contact us at james(at)breezetek.com .

Great article..I used it to replace my screen..
I am having a couple of issues however.
1) wifi connection seems far weaker now. I opened it back up and made sure the wifi was fully plugged in..but now getting 1 bar where I was getting or 3.
2) proximity sensor not working at all...putting a lot of calls on mute or hold!
If you have any suggestions, would love to hear!

redid the wifi connection and back to normal....proximity sensor still not working....
75% success!

You got a bad digitizer that isn't dark enough above the earpiece. Use a piece of clear tape and sharpie and put it in between the glass and sensors and give it a go.

just want to ask : can i change the black color screen with white?? curious todo this, really wanted a white iphone

Not sure if this will be viewed much more, but just wanna add a tip. I was replacing a screen for a GSM iPhone 4 and accidentally ordered a verizon iPhone 4 screen. The digital components are the same, but the screen positions are different. I took out the outter ring from my old phone and snapped it onto the new screen. Everything worked out fine when I powered on the phone after reassembling. One thin gto be careful of. When you remove the ring from the old screen, make sure there is NO small piece of glass stuck. I had a little still in one corner so when I snapped it on to the new screen, there was a chip.

Well my iPhone 4 Broke up like a month ago.. Firstly i recovered its data using the method mentioned in the following link as i didnt had backed it up on iClound or iTunes
Then Teared it down using your technique and got quite nice rates for its parts in the market...!
So if someones iPhone brokes up.. I would advice him to do the same..!

I've read your guide, and you forgot to mention few things:
1. Plastic replacement screen are awful 100% of the time.
2. you can easily destroy connectors.
3. you can easily lose screws.
4. sometimes people don't connect and phone doesn't even boot up.
5. Nothing like a squeaking iPhone, because you never assembled phone in your life.
DIY may not be for you
If you have any more questions http://scottsdalecellular.com/contact/
Thank you for signing up to iMore. You will receive a verification email shortly.
There was a problem. Please refresh the page and try again.