Put your favorite Avenger on your phone with OtterBox's Marvel cases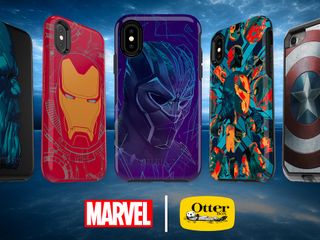 Looking to make your phone more heroic (or perhaps a bit more villainous)? You're in luck — protective phone case manufacturer OtterBox (opens in new tab) just launched a new series of iPhone and Samsung Galaxy cases (opens in new tab) based on Avengers: Infinity War.
The four newly-released cases spotlight Black Panther, Thanos, Iron Man, and Captain America's shield, as well as an illustration featuring all of Avengers aptly called "Assemble!" What's more, the Thanos case combines matte and gloss finishes for a cool 3D effect, and the "I Am Iron Man" case boasts OtterBox's first glow-in-the-dark design ever.
The actual cases themselves are of OtterBox's Defender (opens in new tab) and Symmetry (opens in new tab) series, which guard your smartphone against scrapes, drops, dings, and other signs of wear and tear. Defender cases are comprised of a shell with a rigid exterior and flexible interior, and feature an open screen that makes them fully compatible with OtterBox's Alpha Glass (opens in new tab) screen protectors. Symmetry cases, on the other hand, are for those who value a slim device profile but don't want to sacrifice that buffer between their phone and the world. Their dual-density makeup isn't as bulky as other OtterBox cases, and slips easily in pockets while still protecting your precious X or S9.
If you'd like to get your hands on an Avengers: Infinity War case for yourself, they're available now at otterbox.com (opens in new tab). iPhone 8 and iPhone 7 cases are priced at $44.95; iPhone 8 Plus and iPhone 7 Plus, $54.95; iPhone X, $54.95; Galaxy S9, $44.95; and Galaxy S9+, $54.95.
See at OtterBox (opens in new tab)
Thoughts?
Which case will you pick up? Share in the comments!
Tory Foulk is a writer at Mobile Nations. She lives at the intersection of technology and sorcery and enjoys radio, bees, and houses in small towns. When she isn't working on articles, you'll likely find her listening to her favorite podcasts in a carefully curated blanket nest. You can follow her on Twitter at @tsfoulk.
Thank you for signing up to iMore. You will receive a verification email shortly.
There was a problem. Please refresh the page and try again.