Read this before turning on iCloud Drive in iOS 8!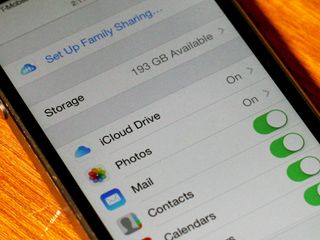 When you upgrade to iOS 8, you're asked if you want to activate iCloud Drive.If you're running other devices that aren't being upgraded to iOS 8, or if you have a Mac, it's best to say no for right now. Here's why.
iCloud Drive enables you to share files in the cloud. But iCloud Drive doesn't have backward compatibility with iOS 7, and on the Mac, iCloud Drive won't be supported until OS X Yosemite is available.
iCloud Drive provides a framework for you to share files in the cloud, and it's also how apps that depend on iCloud will sync their content. That's going to create some problems if you've got software that you depend on — and devices that you depend on — which can't all sync through iCloud Drive.
As an example, Nik Fletcher with Realmac Software posted a FAQ explaining the issue as it affects their Clear software, which relies on iCloud for syncing:
Day One, the popular journaling software that runs on iOS and OS X, has posted a similar warning in their support forums:
Similarly, Ginger Labs, makers of the popular note-taking tool Notability, warned its users that syncing will be disabled between iOS and OS X versions of its app until Yosemite is out:
Bottom line: If you're only using one device, if all your devices have been upgraded to iOS 8, and if you're running the Yosemite Public Beta or a Developer Preview release of Yosemite and you're comfortable with how things are going, then you can probably pull the trigger on iCloud Drive safely.
But if you're still using Mavericks and iOS 7 on some devices and you rely on iCloud to sync data, hold off until you're ready to move everything up to the newest release. And for Mac users, that may be a wait of several weeks as work continues on OS X Yosemite.
What if you have windows 7?

If you're using Windows 7 and all of your iOS devices are working with iOS 8, you're in good shape to upgrade whenever you're ready. iCloud Drive is specific to iOS 8 and Yosemite, and it's also accessible via the iCloud.com web interface (which works the same on OS X and Windows).

Thank you, im uploading pictures to icloud drive now ( on my windows 7 ) from icloud.com, but i cant seem to find the icloud drive app on my 5s

Just stick with Dropbox and Google Drive.... Posted via the Android iMore App!

On a related note, it seems that iCloud Photo Library disables iTunes photo syncing and deletes all your synced photos. There is no explanation of whether, when, or how this functionality will be replaced. I'm assuming that the upcoming Photos app for OS X will allow users to import their iPhoto or Aperture library with all events, albums, and meta data intact, provide the option to upload their collection to iCloud Photo Library, and then allow specific photos, albums, and/or events to be viewed and/or downloaded on to specific OS X and iOS devices. Assuming this assumption is correct, though, we'll have to wait until next year's release of Photos for OS X to regain this functionality.

Hi Peter
The only things I sync are iwork documents. Does this apply to these also?

Readdle has the same warning also. Sent from the iMore App

And how do you turn on iCloud Drive in OS X Yosemite beta ?

System Pref > iCloud > put a check mark in iCloud Drive

Is it possible to move music to your iCloud drive or is that possible?

Hope everything works with pub beta of Yosemite (latest version) because my phone did not ask me if I wanted iCloud drive on, and its on.
Everything is still there but I don't know how to get to iCloud drive on the phone...
guess it's only accessible from within apps that can use it.

If I have upgraded to iCloud Drive and have got problems with Whatsapp Backup now, is there a way I can downgrade to normal iCloud?

So, I downloaded ios8 last night on my iPhone and iPad. Everything is working great, except for the photos. not all of the pictures that I have on my iPad are showing up on my iPhone. Before I took pictures on my iPhone and then transferred them to my ipad, to save space on my iPhone. Could that have anything to do with it? Also, I do not see an option to optimize storage for my photos.

Peter - I am interested in using icloud photo library NOW on my ios8 phone and iPad. Where do I turn it on? I know it is "beta" but it doesn't show up as a choice. I have icloud drive turned on. Thx

Even with iCloud drive, Notes, Mail, Safari bookmarks, etc. all seem to sync OK between iOS 7/8 and Mavericks/Yosemite. It really seems like only Pages and the other iWork apps do *not* sync correctly through iCloud drive across iOS 7/8 and Mavericks/Yosemite. But I'm not sure about 3rd party files created by non-Apple apps (e.g. PDF files, etc.) And, as always, your mileage may vary.

Hi Peter like most iOS 7 users , i was desperately waiting to upgrade to iOS 8, once done, i accepted and enabled everything, it wasn't until now, that i wanted to update my finance sheet in Numbers, and get this OSX Mavericks not supported message.
I have switched OFF the iCloud drive on my iPhone 5s, iOS 8 , but i still get the same error message.
Is there a way do disable this iCloud drive, if not, then is there a way to work on my sheet in Numbers, so it gets updated. I only use it on the iMac and not on the iPhone, i save in iCloud though, so it doesn't get lose or erased by mistake.
Kindly assist.
Thanks.
Get the best of iMore in in your inbox, every day!
Thank you for signing up to iMore. You will receive a verification email shortly.
There was a problem. Please refresh the page and try again.