How to set up and use iCloud Drive on iPhone and iPad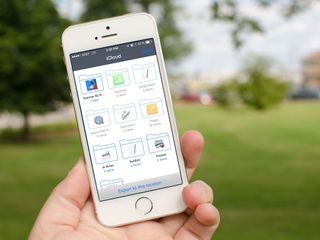 iCloud Drive is Apple's solution to document and file management across iOS and Mac. If you have an iCloud account, you can use iCloud Drive. Subscriptions range from free all the way to $19.99 a month, depending on your storage needs. If you aren't sure where to start, we can walk you through the set up process and how to start using iCloud Drive!
How to enable iCloud Drive manually on iPhone and iPad
When you upgrade to iOS initially, you should be prompted on whether or not you'd like to upgrade to iCloud Drive. If you said yes, you don't need to do anything further and can continue to the next section. However, if you said no, you can enable iCloud Drive in just a few taps by following these steps:
Launch the Settings app on your iPhone or iPad running iOS 8 or higher.
Tap on iCloud.
Tap on iCloud Drive.
Turn On the option for iCloud Drive.
You may receive a popup warning if you have other iOS and OS X devices that aren't currently using iCloud Drive. Remember that all of them must be updated for compatibility to work between all of them. So just repeat this process on all of them.
How to choose an iCloud Drive subscription plan
By default, iCloud Drive comes with 5GB of space for free. This is the same amount you previously received for iCloud backups. If you don't feel this is enough, you can subscribe to more storage. Or if you already are paying for an iCloud subscription, you can change it to best fit your current needs.
Launch the Settings app on your iPhone or iPad.
Tap on iCloud.
Tap on Storage.
Tap on Change Storage Plan.
Choose the storage plan that best suits your needs by tapping on it.
Tap Buy in the upper right hand corner.
Sign in with your iCloud account in order to finish the purchase.
That's it. Your storage space will immediately change to reflect the subscription you've selected. If you aren't exactly sure which storage plan is best for your needs, you can check out our guide on selecting the iCloud Drive plan that's right for you via the link below:
How to use iCloud Drive on your iPhone or iPad
The great thing about iCloud Drive for iOS is that it just works. There's nothing for you to do or configure. As long as you're signed into your iCloud Drive account, any apps that support iCloud Drive will give you options to open and save documents to it. In the example above, you can see that not only can you choose to save documents and files to iCloud Drive from Scanner Pro, you can also navigate through folders and choose where you'd like to save them.
One of the best features of iCloud Drive is how it works in conjunction with Mac and Windows. Dump any documents you want into iCloud Drive and they'll instantly be available to any app that supports them on iOS, and vice versa.
You can find all of your iCloud Drive files, documents, and folders in the iCloud Drive app.
Serenity was formerly the Managing Editor at iMore, and now works for Apple. She's been talking, writing about, and tinkering with Apple products since she was old enough to double-click. In her spare time, she sketches, sings, and in her secret superhero life, plays roller derby. Follow her on Twitter @settern.
Okay maybe I'm over looking it but how do I actually access iCloud drive on my iPhone? I updated to iOS 8 and I added a file on iCloud.com just to see if its working but Im not seeing anywhere on the iPhone where iCloud drive is? Any help

I'm with on you on this one. I don't see any kind of folder or file management on my 5S like the one pictured. I'm confused. Sent from the iMore App

Ya I figured there would maybe be a iCloud drive icon or something to that affect but right now I'm not seeing anything on how to access it on my iPhone 5s...

That's because there is no app. The photo above is icloud drive support in scanner pro. IMore.com/icloud-drive will maybe help you understand more of how to use it.

Okay I read the article, again and I still have no idea how to access the file on my iPhone via iCloud drive. So please can help out the less informed such as myself.
Here is my question-
I just added a short video file on iCloud.com via the website . I made a folder called "movies" in iCloud drive. It uploaded fine.
How can I access this now on my iPhone 5s running iOS 8, I see it nowhere?
Thank you

I did the exact same thing and can't find it! I put a movie clip in a folder called videos and I put one not in any folder and I can't find it. I also did this with pictures. How do we load and access photos and stream videos?

you can't - until and unless you have an iOS app which supports iCloud Drive. That app will then be able to access your files on iCloud Drive. But you can't access files without a compatible app - in this case, an app for streaming photos and videos.

you need an app which has been upgraded to work with iCloud Drive. So for example, for PDF files, you would need an app like GoodReader to work with iCloud Drive, and the app will then be able to view the file system and open any PDF files which are on iCloud Drive. But apps need to be upgraded to iCloud Drive, first.....so it may take time before it's really useable.

Thanks for breaking this down and describing how iCloud Drive works. I appreciate it.

I Hope I Can Understand how to use this

Oay, but when I open the apple app 'pages' of 'key-note', I can only see the document wich are in the folder in icloud drive named 'pages'... on apple.com you can somehow see all the folders... what is I have a pages document stored in another folder then the standard 'pages' folder? Yes, I have iOS8 and upgrated the pages app... can someone help me/us?

U can't see those uploaded files unless u download an app named, " cloud opener" from app store.

I agree. I just got off the chat with Apple and they say you have to use it with Pages or Numbers. Why are we seeing all these pictures of iphones with the icloud drive plainly illustrated app like? Not getting it.

It just feels like OneDrive is the best cloud service of all, by far. There's simply no discussion about it. I can't understand why people are still using dropbox or icloud...

So to access your documents like Pages, Numbers or Keynote documents you'll need the Apps Pages, Numbers and Keynotes for iOS on your iPad or iPhone or iPod touch. Once you get those they connect to the iCloud drive and you'll see the document you desire.

I would be very interested in this if anyone can respond. - Thanks

iCloud Drive stuck on upgrading on my iPad 3rd generation.

I'm not the only one suffering this as well lol everything works fine just that. I feel like it's eating my phone's battery though.

It stayed stuck like that for several hours before stopping.

same here its three days now

Just used the updated Numbers and Keynote which says iCloud drive compatible, but there is literally no option. The document picker is nowhere to be found

I am scratching my head on this as well. On my Mac (with Yosemite) I can see all my files and folders and open any file from any location from the Finder. On the iPhone/iPad I am restricted to only opening docs in the specified folder (Pages/Numbers/Keynote) for the Apple productivity apps. Also there is no option to add a file, such as a picture, from another folder in your iCloud Drive into a document. Seems to have really missed the mark on this because the functionality is there.

Allyson, do you know if there will be an iCloud Drive app?

No. Developers just integrate drive into their apps. You can save to and from with any app that supports it.

Allyson, Thanks for all the clarifications. So it essentially will not replace Dropbox? So if you need to access a document when you are on the go you cannot just open it natively and look at it right?

Actually, it can replace Dropbox once more apps support icloud drive. *cough* Goodreader *cough* for now, Dropbox is better.

I think you missed the previous commenter's point. For that commenter it won't replace dropbox, because they want an specific file browsing application for iCloud Drive. I don't blame them, because I would like to be able to open a file browser, find the file, and then choose which app I want to open that file with. Sometimes I just want to see what files I have in iCloud. Sometimes I would rather open files the other way, but not always. I would also LOVE to have the ability to upload files to iCloud, but NOT have them synced to my device after uploading them - unless I specifically choose do download them. Yet I still want to see those files (at least their names, and an icon) in my iCloud Drive file browser. Unfortunately, DropBox doesn't do this either.

Google Drive. 25 GB free, and much easier to use. Posted via the iMore App for Android

Lol... No kidding Posted via the Android iMore App!

No iCloud Drive app? Sorry, but Apple missed the mark on this one. I had high hopes that it would function like OneDrive and I would happily shell out $3.99/mo for 200gb of space. The concept was good, but I need direct access to my files on the go, not through other 3rd party apps that choose to integrate it.

I wouldn't need a file system, if only if it was integrated properly with Mail so that I could attach a file from iCloud Drive. But as for a file system - it seems like it should be possible for a developer to design an app which allows you to browse your iCloud Drive like Dropbox, just by making the app compatible with multiple file types like PDF etc. - I'd expect to see something like that in the App Store soon. It is a little odd that Apple didn't do it themselves, but I suppose it's because they're determined to move away from the whole idea of a file system. (Which, as I said, would probably be fine if they actually hooked iCloud Drive into every single app including Mail).

Absoluty, without an Icloud App its useless for me. I switch over to OneDrive

Documents by Readdle works great for iCloud access. I can use the app to manage docs/pics on Google Drive, Dropbox, OneDrive and now iCloud.

OK, I am really tired of the way Apple thinks it knows best for us of what we want and what we need. Here they give you Cloud storage and name it Drive which implies it is like any drive on your computer, one you can access, save things to it, file stuff away. Yet there is no way you can access it anywhere on your device (Apple device). You can get to it on your stupid chrombook, but not on your iPad or iPhone.

It was confusing at first, but it's the old apple idea "it just works." It would have been nice if iCloud Drive would work like a good file manager. Sent from the iMore App

I'm sticking with onedrive. So very confusing. Apple sold this as a onedrive/Dropbox replacement. That it is not.

How disappointing, I really thought Apple was going to create a viable alternative to Dropbox and GD, but really it isn't. In my view 'this simply DOESN'T WORK'

And for that crap, i waited so long? No thanks, very disapointing

I am confused. One of my most common needs is the ability to open a PDF in Mail, and then save it to a shared drive so I can access the PDF from anywhere. That seems to be no problem with Dropbox: I open the PDF in Mail, then click the little Export button and I get an option to open in Dropbox - voila, I can now access that PDF anywhere in the world. How does this work with iCloud drive? How do I save PDFs from Mail into iCloud drive, and then access that file again on another iOS8 device?

This is exactly the scenario I'm having. I want to save a PDF that is attached to an email to iCloud drive, but there is no option to save it. In fact i can't find any reference to iCloud drive anywhere except in settings... Am i missing something???

Jobs is truly dead. It doesn't work in the right way. why are they provide us an update ios8 without update of OS X. So there is no any synchranization between ios8 and Mavericks. icloud drive works in a such weird way. there were no any education or something how it should work. anyhow, there is no real Apple anymore.

I hate to say it but this is messy, it makes you wonder if it would have been this bad if Jobs were around. Here are just a sample of issues I'm seeing- 1. No native way of seeing your iCloud drive on your iPhone. You have to use third party apps to do this, why???
2. They took away the camera roll in Photos. Why would they do this? Just do a internet search and there is thread after thread already of people highly upset over this.
3. At the last minute they removed features-i.e Continuity from the release. If iOS 8 is dependent of Yosemite why release them at different times?
4. This is back to iCloud drive but when upgrading to iOS 8 it asks you to upgrade to drive and dosent really break down why you should wait. Yet all over the Internet there are warnings on why you shouldn't upgrade to iCloud drive yet.
5. For some reason this update is huge, in size. My iphone told me I needds 5.9 gb of free space to update? I don't ever remember in the past needing this much space. I really feel for the people with 8gb models.

People with 8GB models have exactly 5.9GB available, when their phones are unboxed.

no icloud app? really? how lame is that? Every other cloud storage service has an app to manage their files. I'll just stick at using icloud for my backups. I save everything else on OneDrive.