How To: Re-Enable Jailbreak/Unlock for Mac OS X 10.5.6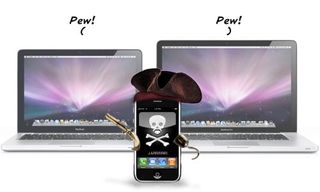 So you say you updated to the latest Mac OS X 10.5.6 and wanted to jailbreak or unlock. Well the update severely hindered your ability to do that. The Dev-Team says it is a simple kernel bug and not a specific countermeasure by Apple, never the less, there is still a work around.
It's a pretty straight forward fix actually, first you need to have administrator privileges. Then download the script file . Got it? Good, now continue on for the detailed instructions after the break!
(opens in new tab)
Get more iMore in your inbox!
Our news, reviews, opinions, and easy to follow guides can turn any iPhone owner into an Apple aficionado
Your source for all things Apple
Was a matter of time for those brilliant people of th Dev Team
I will try this out when i get home.

i tried it and it worked then when i restarted my macbook pro and then the keyboard and mouse did not work, nor the cd drive. had to reinstall at the mac store with an ext. drive. But that might have just been a special case. For clarification it was a previous gen macbook pro not the new one that everyone claims doesnt do the jailbreaking.

Is this intended for the new Macbooks? I have a new MacBook and really want to jailbreak my iPhone but have shyed away from it because of the DFU problems people have been having. But if this fixes it awesome.

Just updated using the file. Have a 1st gen macbook and have not had any issues.
Rebooted quickly and everything is working!

After fretting about not being able to jailbreak my phone, this article was exactly what i needed to read. Thank you!

DO NOT ATTEMPT THIS on a new aluminium macbook.
It will break your USB drivers causing the keyboard and trackpad not to work when you restart, forcing you to reinstall OS X

I tried running this on my macbook pro, and it asked for my password twice as expected, but then the activity bar on the top disappeared and it seemed like it just stopped doing anything... waited for a few minutes and nothing happened at all... afterwords i tried to reopen the software and try again but after i push the ok button at the readme screen it crashes. help?

Yeah, same happened to me.
I opened it and it asked for password, then it like crashed. I restarted my computer and the DFU mode still doesn't work. I tried doing it multiple times but still didn't work. What really confused me is there is a backup folder thing on my desktop like there is supposed to be, but overall it doesn't work.
WHEN IS THE DEV TEAM GOING TO COME UP WITH A SOLUTION TO THIS?

i dont have the new aluminum macbook pro with the black border. I have the one before that. still killed my usb , keyboard and mouse lol until i re installed the os

I just did this and now my keyboard and trackpad dont work at all, dont tell me I've got to re install OSX because of this shit...

Hi,
I followed the above steps. After I accept the terms of use, it asks me for my password and then something runs in the background (I see status updates next to my time machine Icon on the task bar) and then it stops and nothing else happens. I don't get the "Updating Boot Caches" message.
I tried to go through the terminal to the path where its supposed to copy the new files, and those files aren't there.
Any idea on what could be missing? I really want my iPhone back :(
Thanks.

DO NOT TRY THIS SCRIPT. USED ON iMAC OS 10.5.6. All of my USBs are not working including my wireless Keyboard and Mouse.

Don't use this procedure with the new macbook family because it crash!!
I unlocked the iphone 3g 2.2 and jailbroken in 10 minutes!!!!
using the new Macbook pro aluminium and using an external USB hub (very cheap and it works with anyone!!)
ITALIAN:
Ho appena fatto il jailbreak e sbloccaggio per tutte le sim del mio iphone 3g 2.2 usando il mio Macbook pro aluminium della nuova famiglia mac.
Precedentemente non funzionava quickpwn su questo modello di laptop ma provando con un hub USB esterno (porta multipla USB) funziona.
Il mio suggerimento e' di non utlizzare la procedura che utilizzando lo script va a sostituire dei file.
Se avete aggiornato il software mac, non vi azzardate a usare questi script perche' potrebbero bloccare la tastiera e trackpad.
Semplicissimo: usate una porta usb esterna collegate il vostro iphone 3g 2.2 con quickpwn 2.2 e il gioco e' fatto in 10 minuti!!!!!!!!!
ilMarcello

how do you re-install OSX and does it take long, I'm weighing up the risk of a non-working MacBook against a jailbroken iPhone 3G which will void my warrantee. I have to say, doesn't sound appealing...

when's 10.5.7 coming out and will it fix this?

THANKS MARCELLO, I USED AN EXTERNAL USB HUB AFTER TRYING TO FIGURE OUT HOW TO UNLOCK AND JAILBREAK FOR 3 DAYS. IT FINALLY GOT UNLOCKED BECAUSE OF THE USB DRIVES. THANKS

**********WARNING!!!*****************
DO NOT DO THIS IF YOU ARE RUNNING MAC OS X FROM A POWERMAC G5 (PPC)!!!! IT RENDERS YOUR USB DRIVES USELESS, WHICH WILL KILL YOUR KEYBOARD AND MOUSE! YOU WILL HAVE TO REINSTALL FROM THE DVD.
**********WARNING!!!*****************

Hi. Can i use any usb HUB? I have one from logitech, will it do?
Tks

Please delete this site! The trackpad and keyboard will not work the next time you start, and you have to reinstall Mac OSX. VERY IMPORTANT THAT YOU DO NOT DOWNLOAD THIS !!!!

Made the mistake of installing this script...how do I go about uninstalling it?

can't you just copy the 10.5.6 kext files, run the automator action to replace kexts, jailbreak your hpone and then replace the kexts with your 10.5.6 ones again? just thinking out loud...

I screwed up my iMac now too. None of the USB ports work. Is the only way to save my mac by reinstalling OSX? And if so how do I do that without using a keyboard or mouse? And will that get rid of all my saved files and programs on the mac? PLEASE HELP!!

My ex wife changed the password on my mac how can i bypass or reset? I have a macbook os x

Yeah, tried this too, no Updating Cache window appeared, have rebooted without any apparent problems(Fingers crossed) - doesn't appear to have done a thing, I get the impression no one gives a sh*t either.... just another dodgy script.

Same USB freeze on my ppc powermac g5. I lost my Tiger disk years ago. Can anyone point me in the direction of how to install (without keyboard or mouse)? I can boot up in safe mode using a leopard disk for my MacBook pro came with and keyboard mouse work fine - I can even open Disk Utility but don't know why to do there - should I get some sort of disk image that will fix my USB drive? Like an idiot I didn't backup so where would I find? Can I steal it from an iMac or PowerBook Pro install disk? Thanks in advance!!!!!!

How do I re install the Mac OS X without the trackpad and the keyboard, and is there a way I can do it without losing life ´08?

Made the mistake of using this script, is there anyway i can replace the kext files with the backed up ones? Anyone able to give me a quick runthrough on how i might go about doing this? Thanks

@ ALL : Best iphone jailbreaks ( all generations) , downgrades and error fixes With download links of all apps needed on this channel .. all working .http://www.youtube.com/user/iphonemaster777

Hi, I'm a little off topic aol. I love your blog design, got few very good ideas, thanks for nice article.