Rode announces the new iXY microphone for iPhone 5, iPhone 5s, and iPhone 5c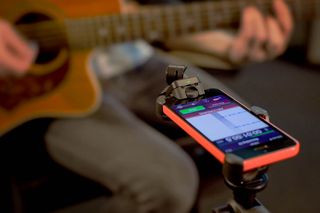 The Rode iXY that launched in early 2013 was the world's first microphone for iOS devices. It has won several awards and has become popular with audio professionals and enthusiasts. On Monday, Rode has updated the product with a Lightning connector to support the iPhone 5, iPhone 5s, and iPhone 5c. It retains the same high-quality recording performance at sample rates up to 24-bit/96kHz.
The Rode iXY features a matched pair of half-inch condenser capsules arranged in a stacked X-Y configuration, with on-board high-fidelity analogue to digital conversion. Interchangeable rubber mounting clamps are included to fit both iPhone 5/5s and 5c, which also provide shock mounting and help to minimize vibration transferring to the microphone capsules.
Watch and listen to the announcement video below so you can get a better idea of its performance.
There are several ways to use the Rode iXY microphone on the field. Music artists can capture music, from local café gigs, to large stadium shows or even recording band rehearsals. You can also use the Rode iXY with the iPhone's headphone output directly connected into your camera mic input for higher quality audio. Students can also the iXY to record lectures.
The Rode iXY has a few accessories that can improve your workflow. There's an included foam windshield for outdoor recording and protective storage pouch. There's also an optional Rodegrip, which is a multi-purpose mounting solution.
iXY works with any iOS audio app that accepts a digital stereo input, but Rode recommends their own app called, Rode Rec. It costs $5.99 at the App Store (opens in new tab). It features real-time waveforms, a suite of non-linear editing capabilities and powerful EQ and gain controls. There's also the Rode Rec LE, a feature-limited free version of Rode Rec.
The new Rode iXY with Lightning connector has already started shipping to dealers. It costs $199. Will you be getting one? Let us know in the comments!
Get the best of iMore in in your inbox, every day!
But first, let me take a selfie.
SOLD! Hopefully my next Birthday present :)

I'd love to use this to record songs in my sun room. Sent from the iMore App

Great-I love Rode mics. Sure looks funny with the dead kitten on the end of the iPhone, though.

This is actually a question.
If making a video via the phone, it seems that this unit can not be twisted around so that the mic unit is actually facing the action? Looks as though this is primary set for professional recording only? Unlike the iQ5 which will swivel.
Can anyone comment on this thanks

I love this mic. Excellent audio quality, works great with the Rode app. I just hope they release an adapter that will fit the iPhone 6. Since the current model ships with a switchable mount for the 5C, I'm optimistic that it's possible.
Thank you for signing up to iMore. You will receive a verification email shortly.
There was a problem. Please refresh the page and try again.