Safe & Sound case looks to pump up the volume of your iPad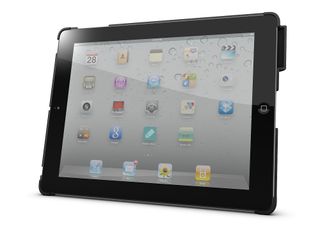 The Safe & Sound is an iPad case that looks to increase the volume of your iPad speaker. It hopes to make listening to music, making FaceTime calls or anything else that you may need the external speaker for a much better experience. The Safe & Sound has just appeared on Kickstarter and is looking for funding to make the case a reality.
If you like the look of the Safe & Sound amplifying case and want to help with its funding you can do that very easily. A pledge of just $15 will secure you one should they make it into production. The Safe & Sound currently has just over $1.2k of pledges but needs to reach at least $12.25k to reach its funding target; there is still 30 days left to go. As with all of these Kickstarter projects, just because a particular item reaches its funding total doesn't guarantee it will be made.
There is no doubt that from my experience that all generations of the iPad suffer from really low audio levels from the external speaker, other tablets and notebooks have seen some tremendous advances in audio over the last few years but not the iPad. Apple seems to ignore the problem hence the need for these types of devices that look to offer improved audio levels.
Do you think the iPad speaker is really poor or are you happy with its volume levels? Would you use a case like this to improve the audio level on your iPad?
Source: Kickstarter
UK editor at iMore, mobile technology lover and air conditioning design engineer.
I don't like terms like reward or if it goes into production, I'd rather hear purchase and guaranteed. That's why I haven't gave any money to kickstarter, I wonder how many people have lost money.

I don't see how you could lose money "donating" to kickstarter. If the project doesn't reach it's goal, you don't get charged. Becoming a backer is only a pledge to give money IF the project is successful. Beyond that, I'd imagine a successful project will then turn around and honor its reward promises.

Ok I thought that they could take your money and then decide not to make the item. Thanks for clearing that up.

This isn't a new idea or anything. Cyganett makes one called smart sound, that does work pretty well. http://us.cygnett.com/ipad/ipad-2/smartsound-2.html

I just wish the iPad had stereo speakers on each side.

I just need a case that is can be used by mo 2 yrs son. I love my clumsy case! http://www.eva-product.com/Ultra-Soft-Foam-iPad-Cover-for-Kids-305.html
Drops are no problem! My son loves it and I have no fear with the casing iPad
Get the best of iMore in in your inbox, every day!
Thank you for signing up to iMore. You will receive a verification email shortly.
There was a problem. Please refresh the page and try again.