Saturday Night Live launches an official app to let you stream your favorite sketches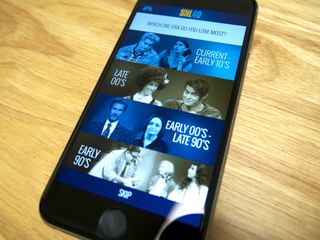 As part of its ongoing 40th anniversary celebration, Saturday Night Live has released an official app for iOS. With the SNL app, you'll be able to stream an extensive backlog of clips, never-aired videos, and even express yourself with SNL-themed emoji.
Here's a rundown of what you'll get with the SNL app:
Search thousands of clips or browse by season, episode or cast member to find favorite monologues, commercial parodies, Weekend Update segments and more.
Swipe from clip to clip for a seamless, continual viewing experience.
Features a new video player that allows you to mark favorite sketches and share them via Facebook. An App that Gets Smarter
Explore and discover new clips with an intuitive recommendation engine. The more sketches you watch and like, the smarter the SNL App becomes in recommending videos for you.
Includes a free, exclusive emoji keyboard featuring favorites like Drunk Uncle, Matt Foley, Mary Katherine Gallagher, the Coneheads and dozens more!
Watch never-aired videos from the vault, including Cut for Time sketches, before they're available on the Saturday Night Live website.
If you want to start streaming your favorite sketches, or simply send a conehead emoji to your friends, you can pick up the app for free at the link below.
Apparently it's not available in the Canadian store. Awesome Sent from the iMore App

It's owned by NBC so that's why it's not available on the iTunes Canadian store Sent from the iMore App

CRAP!!!! Sent from the iMore App

Should we be concerned about the data collection policy for that keyboard? Sent from the iMore App
Thank you for signing up to iMore. You will receive a verification email shortly.
There was a problem. Please refresh the page and try again.