School of Dragons: Top 10 tips, hints, and cheats to need to know!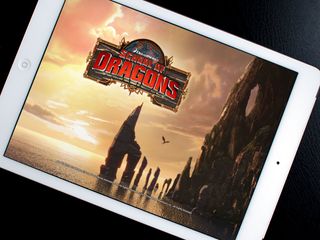 School of Dragons is based off the popular How to Train your Dragon movie series. In the game, you'll prepare to be the ultimate dragon trainer with the help of Hiccup and his winged companion, Toothless. After picking your very own dragon, you'll have to attend flight school, learn how to fish, and most importantly, care for your dragon. Game play involves some patience and in order to excel faster, some smart decisions on your part. That's where iMore comes in! Here are our top tips, hints, and cheats to helping you train your dragon!
1. Don't spend gems on energy
Sometimes you won't be able to complete a quest in School of Dragons if your dragon has low energy. While it may be a huge pain to back out of a mini-game and go find food or other ways to give your dragon energy, it's a much better option than spending precious gems on energy. The game gives you a very easy way to spend a few and keep going but resist it. You'll be glad you did when you need those gems for something more important.
2. Fish and farm regularly
This goes along with the first tip. Make sure you are fishing and farming regularly. This way you always have plenty of food to keep your dragon happy and healthy. At least this way you'll only need to back out of a challenge long enough to tap on your dragon and feed them. Much better than having to find a lake to fish in or travel back to your farm.
3. Pay to turn your dragon into an adult
It takes several levels before your dragon is old enough for you to actual ride them and start really leveling them up. Instead, pay the $5 to buy the gems you need to turn them into an adult early. This also unlocks both Broadwing and Shortwing abilities, instead of having to wait even more levels to shoot fireballs and do other flying tricks.
4. Learn your way around all worlds
Berk and the worlds around it are rather large. A lot of the buildings and landscaping tends to look the same too. Find a few key landmarks and know what areas you have to enter and exit from to come out in a different world. Since there are so many loading screens to get through sometimes, this will help a lot when you want to get places quickly. Nothing's worse than roaming in circles to try and get where you need to be. And sometimes quest arrows just aren't as helpful as you'd like them to be.
5. Complete flight club more than once
Flying is one of the most important skills you need to master in School of Dragons. Flight Club costs you nothing and you're free to repeat lessons as many times as you want. Even if you've unlocked all of them, learning to fly may be easy but learning to fly well is completely different. You'll thank yourself in further quests.
6. Join a clan to earn free gold
If you're looking for competition, there's no better way to get it than to join a clan. School of Dragons has regular competitions that allow clans to compete for the top spot on the leaderboard. Better yet, if your clan wins competitions regularly, you can earn lots of free gold or gems as well.
7. Don't forget to check your quest list
Once you get further into School of Dragons, you may find yourself wandering around and starting multiple quests at once. Sometimes that makes it easy to completely forget about a quest. In some situations, you can't progress without completing them. So be sure to check your quests regularly and make sure you aren't missing anything.
8. Check out chat for tips and help from other players
One of the best part of School of Dragons is the fact that it really is played as a true RPG. That means you've got chat too. You can communicate with all players, people in your friends list, or only people in your clan. Either way, chat is a great place to ask for help when you're stuck or to drop in for tips when you've got some time.
9. Invite your friends to earn gems
Inviting your friends to play School of Dragons can earn you quite a few free gems, which are very rare to find during game play. While RPGs aren't everyone's style, if you know some friends that may like School of Dragons, having them join up will earn you 50 free gems each time.
10. Raise multiple dragons
Once you start getting further into the game, you may find it beneficial to hatch multiple dragons. On occasion you'll either catch them for free or on sale. When one is out of energy, you can always substitute in another one. It's also almost necessary if you want to hit the top of the leaderboards and collect tons of XP and UDT points. If your goal is to become the ultimate dragon trainer, keep an eye on dragon specials when they come up, and take advantage of them.
Your tips and tricks?
If you've been playing School of Dragons, have you come across any tips, hints, or cheats that would help out other players? Be sure to let me know in the comments! If you're part of a clan or want to share your friend ID, be sure to let us know that too!
Master your iPhone in minutes
iMore offers spot-on advice and guidance from our team of experts, with decades of Apple device experience to lean on. Learn more with iMore!
iMore senior editor from 2011 to 2015.