Screenshots showing Microsoft's Outlook 16 for OS X reportedly leaked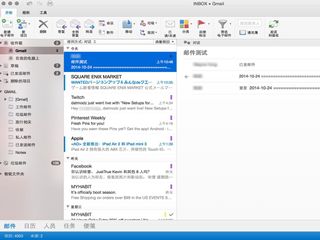 Screenshots that allegedly show what Microsoft's next major version of Outlook might look like with OS X have made their way onto the Internet, showing off some moderate user interface changes.
The screenshots do show a flatter design for icons that have been seen in Microsoft's recent preview builds of Windows 10. If these images are accurate, we can expect similar changes for all of programs in the Microsoft Office suite.
Microsoft is said to be close to launching a public preview of the next version of Office, code named "Office 16", with a plan to release the final version sometime in 2015. It's currently unknown if the Windows and Mac versions of the software will be released at the same time. What do you think of these screenshots and do you think they are the real deal?
Source: CNBeta.com
Get the best of iMore in in your inbox, every day!
I have been writing professionally about technology and gaming news for 14 years.
Just fix the bugs. Puurleeeeeeease!

Well, it's going on 4 years since they have updated Office for Mac 2011, so yeah. about freaking time.. I hope their is some sort of feature parity in the next version... Honestly, the only reason I need/want this is for work. Otherwise, I'd not care one bit.

That's a pretty big reason though.

Right. since 2001, Mac Office has been 1 year after the Windows version. So that would lead Mac Office 2014 as what we should now have. Perhaps with the rise of tablets, Microsoft wisely decided to unify the line, take any possible Office 2014 for mac changes and either send out as an update, or save for this new unified version. Glad to hear.

Yeh, I have to use Office for work, no other Suite will work for me, not even iWork. So I very much appreciate an update to what I currently consider a very ugly suite of software.

But I can't read Chinese! Not sure how I'll be productive. :( (I agree - just fix the bugs already). John S was right, the bar on the left with transparent background looks awful!

Just one question: Will it finally sync with Google Calendar?

As an OSX user in a primarily Windows network (with Office365) the only thing I REALLY care about is Sharepoint Calendar/Contacts integration. This plagues me almost everyday. Keeping fingers crossed.

If it could connect with IBM Traveler like Windows 8 Mail can, I'd be all over it. Stuck with Notes at work.

How many years did it take MS to release the new version for mac? Please fix the bugs and update the current version.

they just release a major update to the current version.

The new Outlook just needs to be able to work with iCloud. I know it works with email but we need calendar, contacts and tasking. I have virtually everything iCloud except their storage. I'm OneDrive all the way.
Thank you for signing up to iMore. You will receive a verification email shortly.
There was a problem. Please refresh the page and try again.