How to add a credit or debit card to Apple Pay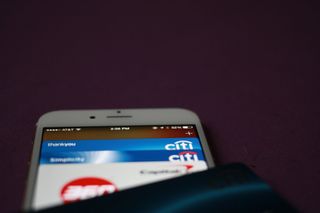 Apple Pay lets you make in-store purchases with your iPhone, and online purchases with your iPhone or iPad, with just a touch of the Home button or the tapping out of a passcode. It makes it easy to start ditching your wallet for your device. All you have to do is add your credit or debit cards.
How to set up your existing iTunes credit or debit card with Apple Pay
Assuming it's supported, adding your existing iTunes credit or debit card to Apple Pay is a breeze.
Launch the Passbook app from your Home screen.
Swipe down to reveal the + button.
Tap on the + button.
Enter the card's three digit security code.
Wait for your bank to authorize the card (see below).
Accept the terms and conditions.
How to set up additional credit or debit cards with Apple Pay.
Launch the Passbook app from your Home screen.
Swipe down to reveal the + button.
Tap on the + button.
Manually enter, or scan with the camera, your credit or debit card information.
Manually enter the three digit security code.
Wait for your bank to authorize the card (see below).
Accept the terms and conditions.
Note: Apple Pay's photo-detection only works on with embossed numbers; if you have a credit or debit card with flat numbers, you'll have to enter it manually.
Bank authorization
Different banks have different procedures when it comes to authorizing cards for Apple Pay. Capital One, for example, automatically adds and activates your card for Apple Pay after you accept your terms and conditions. Citibank, however, requires an activation code; to get it, the bank will robo-call or text the number you have on file.
Troubleshooting Apple Pay
If you're having trouble getting Apple Pay to accept your card, the simplest solution is to just try entering in your information again; I had no luck activating my cards on Monday evening, but entering in the same information on Tuesday morning worked like a charm.
Worst-case, you may just need to call your card issuer. For example, the last card I tried to set up never sent the verification code to my phone number on file, so I had to manually retrieve it through the phone system. That call was pretty painless, however; I had Apple Pay fully up and running on that card within ten minutes.
Serenity was formerly the Managing Editor at iMore, and now works for Apple. She's been talking, writing about, and tinkering with Apple products since she was old enough to double-click. In her spare time, she sketches, sings, and in her secret superhero life, plays roller derby. Follow her on Twitter @settern.
I used Apple Pay at Harris Teeter today... It was amazing... I love that Google Wallet already did the work of getting the NFC payment readers everywhere.

I don't believe it was Google wallet that got the new hardware deployed so much as it was the legislation that is mandating chip and sign to be implemented by 2015 in the US.

Yeah.. Chip & Pin law coming in 2015 has retailers hopping.. they don't want to be responsible for any fraud... and thats exactly what will happen if they still are using swipe only terminals.

I am one that doesn't use a screen lock on my phone. You have to have screen lock enabled if you want to use Apple Pay. Sounds stupid to me...

So I tried to use it yesterday and it didn't work. I had passbook open. Is that why it didn't work?

You don't need to open or prep anything. Just hold the phone next to the terminal (like RIGHT next to it... inches away at most) and the Passbook UI with your card should pop up.

I'm going to have to side with Apple one this one. You need the iPhone 6 or 6 Plus to use Apple Pay anyways, meaning you have Touch ID by default, making it very easy to keep your phone secure without sacrificing convenience. Apple Pay, by its nature, is dealing with extremely sensitive info, you're credit card and payment credentials. Do you /really/ want to leave that vulnerable by not having a lock screen? Honestly, TouchID is such a convenient way to secure your device, there's no excuse to not use it on any device that comes with Apple Pay.

does that mean its going to work at disneyland too?

A coworker tried to add their Amazon Visa, which is Chase, but he gets the message that his bank isn't participating yet. It seems that only direct Chase cards have been added while non of the Chase branded cards are. I wonder if the Disney Visa would work?

I could not add my Amazon Visa either.

Some branded versions from Chase and others are not working yet. I think those cards already have special agreements with those retailers and require some 'extra' work to get on-board.

I used it at home depot today and at my private medical office too. My credit card guy didn't even know it would work but it did

Most credit unions don't support AP yet. It's gonna be a while for everyone to get on board.

Some larger credit unions (like the one I work out) have announced they've already partnered with Apple to become a part of it. I guess they are just waiting on Apple to get them added and ready to go with it.

It looks like an easy set up, easier than I thought. Anyone having issues?

Only issue I'm having is finding the patience to wait for my 6plus to be delivered while all of you get to have fun with ApplePay, lol! Sent from the iMore App

Lol Sent from the iMore App

Ok, so once it's set up, how do you use it? Do you have to open Passbook? Sorry, new iPhone user here.

Yes. Open passbook, and select the card you want to use.

Actually, now I'm reading you just put your phone near the receiver and it will prompt for TouchID.

Nope.. You can do it 2 ways.. 1) If you have multiple cards and don't want to use the default. Put the phone near the terminal WITHOUT putting your finger on TouchID and it will let you select a card first. 2) Put it near the terminal while holding TouchID and it will immediately scan finger and use the default card. No turning on your phone screen, unlocking it.. none of that..

You do NOT have to have Passbook open. You simply place your phone (screen locked or unlocked) near the terminal and Pay kicks in.

Chase business credit cards do not work. Just confirmed with Chase customer service. Bummer... Sent from the iMore App

Not support with all credit card types, even from the same bank. My citi business card wasn't accepted , but my citi personal did.

Yeah, it doesn't look as though business cards are accepted quite yet. Soon, hopefully!

I added my Bank of America debit card, and a Capital One card to my Passbook without trouble, and used the debit card at the Whole Foods yesterday without a hitch. I do find it funny however that you can use Apple Pay at Macy's but, not with their store card. I guess it's up to the bank managing the account.

Mike, I find that ironic too. LOL Sent from the iMore App

Mspikes82, I find that ironic too. LOL Sent from the iMore App

Will it work if you have a case on your phone? Sent from the iMore App

Unless your case is made of aluminum foil, you shouldn't have a problem. Sent from the iMore App

Fairly easy setup. I had to get a code, but that was simple enough. One thing I wasn't sure about is entering the address info. It stated my city and state, but that was it. Since I didn't know for sure if the rest of the info was "behind the scenes", I manually put in the information. Now to try it out and see if it is easier/faster than just using my card!

Quick question. If I have more than one card in passbook will I get to choose which card to use or is there a "default" that it automatically uses and I would have to do some adjusting if I want to use the other?

Wouldn't work with my paypal business MasterCard or usaa debit card. Support for usaa coming soon, not sure about paypal. Those are the only cards I have so I am out of luck for now. Sent from the iMore App

Same here. Sent from the iMore App

I doubt if paypal will ever permit their cards to be used with apple pay...apple pay is a direct competitor to paypal's digit wallet...i wish it would though...i use my paypal business card all the time

I added three cards and went through three different processes that all worked. My Wells Fargo debit card wanted me to download an app which took about an hour to validate but did. My Chase Visa validated a lost instantly. The last card was a BofA debit which I had to call in to BofA which validated before I hung up the phone. The proof was today trying it out getting an iced tea at McDonalds. Worked as advertisd. Can't wait until it gets more widely accepted and Apple Pay accepts Discover.

I watched closely for my bank logos during the announcement. NOW they say 'Later...' :-(

Can I use Apple pay at any contactless terminal like a local supermarket ? Or does the store need to be partnered with Apple . Sent from the iMore App

It should work with any that has the sideways Wi-Fi and hand logo.

Hoping Apple Pay will really expand the nfc terminals. I personally don't have an iPhone, but have been using my Nexus 5 for a year now making payments like this. Hopefully as it expands the terminals will work with both iOS and Android. Posted via the iMore App

So it works on ANY NFC enabled outlet, even ones that aren't mentioned above? I used Softcard's NFC locator, and it has others such as CVS, vending machines and other smaller businesses. Will Apple Pay work with these? I've never really got a definitive answer, as all feedback was from business listed as partners.

I'll be glad when my bank come on board. Sent from the iMore App

Had to call Bank of America and talk to someone, going through a process for each card I added. All this tech but still need to call an 800 number and go through the low-tech hoopla to get it updated. Oh well, at least I got to interact with a person. By this time next year, human interaction will be all but obsolete :-)

I'm probably just being super OCD but has anyone had any luck with Capital One cards showing up as anything other "Capital One MasterCard" ? I have their QuicksilverOne and their Platinum MasterCard. Unfortunately they're both listed as "Capital One Mastercard" and have the generic blue logo. I thought it might have something to do with how they're named online, but the QS One is listed as such online... Sad Panda Sent from the iMore App

@ozix It's just a default icon for that participating card. It's your card number that reflects the type of Capital One card. Who knows, perhaps they'll add more card graphics as time goes on. Edit: I may be wrong. Check it. http://9to5mac.com/2014/10/22/apple-pay-card-display-bug/

Is it available on iPhone5S? Sent from the iMore App

Is it available on iPhone5S? Sent from the iMore App

I believe you can use a 5s for online purchases at retailers that are partnered with ApplePay using the Touch ID, but I haven't tried it yet. The 5s doesn't have an NFC chip so it will not work at the terminals. Sent from the iMore App

No, right now it's 6 and 6+ only. However the 5 and 5S will work with Apple Watch which will support Apple Pay when it's released.

Used at CVS last night. Worked swimmingly.

Got my card entered and working. Here's a dumb question, I see a whole bunch of tabs of merchants on the screen shot above. How do I enter these and why would I do so? First time I'm really using passbook, sorry. Thx!

Golden 1 announced their support for Apple pay. Problem is, their Check card doesn't support it. I imagine their credit card does, though. But I have no interest in signing up for it. The debit card is good enough for me.
Thank you for signing up to iMore. You will receive a verification email shortly.
There was a problem. Please refresh the page and try again.