Seth's most used iPhone and iPad accessories of 2011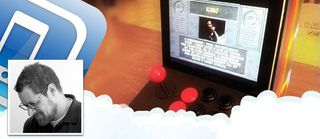 I generally keep things pretty simple and straightforward when it comes to my 2011 most-used accessories. I stick to things that enhance functionality more than form. I think Apple's done a tremendous design job and I tend to lean more toward items that add an ability to do something or improve some part of my workflow (or enjoyment). Here are a few of my favorites.
Apple iPhone 4 Dock
A simple, basic accessory that looks great on any desk. Since going case-less, I've really enjoyed the simple presentation of the standard Apple dock, and since the body of the 4S kept the same style, I'm still using the same dock I bought months ago. There are docks that do more, but very few look as clean and nice as this one.
MiniDock for iPhone
This cool little dock is more of a travel item for me, though I do find myself using it at home too. It's a small USB plug that takes the place of your white cable and allows you to charge your iPhone standing up against a wall wherever you have an outlet. It has a nice, simple profile and is great to throw in a pocket or keep next to your bed and it works with your standard iPhone USB charger.
As I said, I've lost interest in casing my phone and have grown strangely comfortable with having it naked. Mostly. The BOOKback is the only thing I'll use on my iPhone. It adds a wonderful leather texture to the smooth back and adds almost no size or weight to the device. It's just thick enough to keep you from possibly using it with some accessories (something like a Mophie pack may not fit) but the standard Apple dock eventually accepts it after the edges of the leather break in.
This is something I wouldn't ordinarily find myself enjoying, because most of these kinds of things fall short for me. But the Bamboo is the first stylus I actually like. It's not perfect (for me), and my search for the optimal pen experience on the iPad continues, but it's a worthy addition to your bag for now if you like drawing or taking handwritten notes on your iPad. Works exceptionally well with a ton of apps, and feels great in the hand.
$29.99 - Amazon link (opens in new tab)
iCade Arcade Cabinet for iPad
Quite possibly the most fun you can have on a tabletop with your iPad. Birthed from an April Fools' joke on ThinkGeek, the iCade sprang forth into existence, making many of my nerdy fantasies a reality. If you like classic video games, you must own this. It uses a Bluetooth connection to the device and is extremely well-constructed, making playing arcade games a joy. There's an SDK for developers to add support for the device, and more seem to be adding it each day, so it looks like this thing will be a part of my gaming experience for a while to come.
Get the best of iMore in in your inbox, every day!
Seth fights for the users. The CIO of Nickelfish, he helps build apps like Stringer by day and co-hosts the Iterate podcast by night. He's also a lover of classic video games, surfer for life.
I got a dock from staples, I love it, included the cord for like 12 bucks. I want a stylus with a finer tip.

Any tutorials available for getting Mortal Kombat on this thing (as pictured above), may make this thing very enticing.

iMame has been pulled form the App Store, so you'll probably need a Jailbreak MAME emulator now, but here you go!
http://www.imore.com/2011/12/22/daily-tipb-set-games-imame-emulator-ipho...

I use my iPad as an eReader primarily and always have it resting in my lap at an awkward position. You guys did a contest giveaway for TAB Rests last month and I ended up buying one. It has made reading much more comfortable by providing a nice angle and soft base.

I like how you prefer your iPhone to be "naked" most of the time. I read an article the other day about someone who felt since Apple made the back plate glass they should always keep it in a case... to protect the most durable bad ass glass ever made??? I don't get it. I think the idea is to make a device that can be sported either way & I think the glass back allows it to be that way. I got my 4S in November & still not a scratch, nor am I worried.
Anywho, cheers to you. :)

Not sure if it's true but I am sure I read that apple only used the really rough glass on the front

I like how that book back case looks. I had the moshi iGlaze case when I first got my iPhone in May. Then briefly tried a Speck case, no good. Went back to Moshi and now have an ifrogz case that looks cool but I am still leaning towards something that is barely there. Most likely next is the incipio case the really

I like how you claim that you value functionality over form, yet the first three accessories you list don't enhance functionality at all and you use them for purely cosmetic reasons.
Thank you for signing up to iMore. You will receive a verification email shortly.
There was a problem. Please refresh the page and try again.