Should you buy an Echo Show?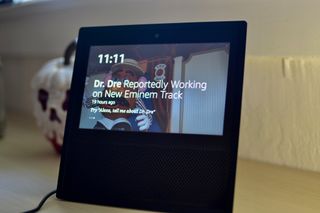 Amazon has added a screen-based version of its Echo products called the Echo Show. It acts pretty much just like an Echo speaker but with the added benefit of that 7-inch touchscreen. You can watch videos, see what you're about to buy on Amazon, and make video chats with anyone using the Alexa app (with or without an Echo product). Should you buy the Show? Or would one of Amazon's other Echo devices make more sense?
Does size matter?
This thing is probably going to be front and center in your house or at least prominently display in one of your rooms, so what it looks like might mean a lot to you.
From straight-on, the Echo Show looks pretty sweet. It's got a nice flatscreen display with a speaker grill right in front. It comes in either black or white, and both look good sitting on your countertop or table.
The 7-inch screen displays movies, TV shows, and photos beautifully. There's also some additional information displayed on the screen that you can customize in the settings section. So your Show can basically be used as a photo frame with the added bonus of also displaying the time, date, your calendar events, or the weather.
When you look at the Echo Show's side profile, that's where things get a little eeehhhhh...
It's incredibly bulky considering this is 2017 and laptops are as thin as tablets. It looks kind of like an old computer monitor from the early 1990s. It's about 3.5 inches deep and has an angled backside. The power plug is on the back, so shoving it into a hollowed out spot in your wall isn't going to be a great idea.
If looks are everything, the Echo Show isn't going to match a lot of people's decor. If you don't have much countertop space or room on your shelves, the Show's footprint is surprisingly large for such a small device.
If what's on the screen matters more than the shape of the device, then you'll be pleased with the Echo Show. My favorite background theme for my Show is my Photos library with my calendar events overlaid on top.
Oh, that touchscreen
If you already have an Echo Dot or the standard Echo, you've probably come across a few times when you've asked Alexa for some information and wished you could actually see what was being talked about. The Show fixes that with a 7-inch touch-capacitive screen.
When you ask Alexa what today's deals are, you can actually see what that 20-pound bag of cheddar chips looks like before you decide to buy. If you want a pair of sunglasses, you can find out what they look like before adding it to your cart.
You can ask Alexa to show you stuff, like your Watchlist on Prime Video or trending on YouTube. You can then watch something from the content that Alexa has presented you. Believe me when I say that seeing your Alexa query results is way better than just hearing them.
If you're a visual person and listening to Alexa describe a CyberPower CP1350PFCLCD to you is just not cutting it, then you will be very happy with the addition of the screen on the Echo Show.
Support for video chats
Sure, you can call your mom using an Echo Dot, but you can see your mom when you call her on an Echo Show. The Show comes with a built-in camera so you can make video calls. The really cool thing is that the person on the other end doesn't have to have a Show. It works with the Alexa app available on iOS and Android. So as long as your mom has the Alexa app installed and has registered with video calling, you can chat just like you would on Skype, Hangouts, or FaceTime, but from your Echo Show instead.
If you've got people in your life that you'd like to see more often, but in-person visits are difficult to come by, take a look at the Echo Show. It's a great way to stay in touch.
Dropping in on the grandparents
Speaking of video chatting: You can also Drop In on anyone on your contacts list that has given you permission. Drop In is a special feature that allows you to video call someone and the person on the other end doesn't even have to answer. It happens automatically. Of course, this feature isn't for most people, and you certainly don't want to give out Drop In permission to just anybody, but it can be really helpful if you're caring for elderly parents or want to be able to check in with your kids while you're at work.
When you use Drop In, the video call goes through automatically. The screen starts out covered by a white filter and slowly fades in. If the person on the other end doesn't want you to Drop In, he or she can tell Alexa to cancel the call and the video feed ends. If you're ready to chat, you don't even have to walk over to your Echo Show. Just start talking.
Drop In is also compatible with the Alexa app, so your family doesn't need a Show to use it. Of course, Drop In on your phone is much less convenient than Drop In on your Show.
If you've got grandparents, grandkids, or home-alone children, you should consider getting the Echo Show so you can Drop In and check up on them without them having to do anything to answer your call.
Watchin' movies
It turns out, one of my favorite things to do on my Echo Show is to watch Amazon Prime Videos. Sometimes, getting Alexa to understand what I'm looking for is difficult (the trick is to say "movie" after the title), but I can just stream content from my Prime Video account or watch movies and TV shows that I've purchased or rented right on the Show.
I keep my Show on my desk, next to my computer, so I can stream movies while I work all day long. I've had a lot of fun catching up on old sci-fi and horror movies while I work. I'm literally watching The Black Hole while writing these words.
If you've got a work space that allows you to have movies on in the background (there's no headphone jack, so you'll need Bluetooth headphones), the Echo Show is a great little screen to provide a healthy distraction without keeping you from being productive.
The louder, the better
The Echo Show has the best speaker of all the Echo line of products, which is honestly strange considering the standard Echo has a 360-degree omnidirectional audio system. But it's true. There's something about the warmth and base that projects from the front speakers on the Show that really make it the best listening experience of any Echo product. It's not going to replace your dedicated Bluetooth sound system or anything, but when it comes to comparing Echo to Echo, the speakers inside the Show surpass everything else before it.
If you want a dedicated Echo device for listening to your tunes and don't want to have to add a secondary speaker to make it sound good (though, you can add a Bluetooth speaker if you want), the Show is the clear winner.
Someday video game support?
Because the Echo Show has a screen, there is definitely a chance there will be some sort of mini game support in the future. Currently, Echo Show skills are limited to such things as news briefings and ambient noise machines, but it'll just be a matter of time before developers create skills specifically to take advantage of the Show's screen, and that might mean video games. You probably won't be able to play epic console-quality adventure games or anything, but I could believe that some time management mini games or side-scrolling one-tap control games might find their way to the Show.
If the potential for what the Echo Show might provide in the future is enticing, you should think about investing early, so you can be the first on the scene when developers come up with fun new skills.
Who should get the Echo Show?
If you're thinking about getting one of Amazon's Echo products, and money isn't an issue, the Show is definitely the winner here. It's got the best sounding speaker overall and has way more features than the standard Echo speakers.
If you are taking care of elderly parents or your kids are on their own after school, you should think about getting the Echo Show just for the Drop In feature.
If you have a subscription to Amazon Prime, you'll get the most out of the Video features than you would on any other device, except maybe the Fire TV and Fire TV Stick (and soon, Apple TV). You can just set it up on your desk and stream movies and TV shows all day.
The Echo Show comes in black or white for $229. Currently, you can buy one of a couple different deals, like the Show with an Arlo camera kit or Philips Hue Smart Lighting starter kit. You can also get $100 off of two Echo Show devices with the code SHOW2PACK.
Still not convinced?
If the Echo Show still doesn't sound like something you think you'd want or need in your house, check out everything there is to know about Amazon's other Echo line of products.
Master your iPhone in minutes
iMore offers spot-on advice and guidance from our team of experts, with decades of Apple device experience to lean on. Learn more with iMore!
Lory is a renaissance woman, writing news, reviews, and how-to guides for iMore. She also fancies herself a bit of a rock star in her town and spends too much time reading comic books. If she's not typing away at her keyboard, you can probably find her at Disneyland or watching Star Wars (or both).