Amazon Echo Show: Everything you need to know!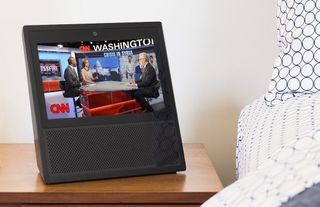 If you're loving your Amazon Echo, Dot, or Tap, you're ready to commit to the relationship even further. It's time to think about meeting in person. That is, it's time to see Alexa and allow it to see you. That's what the Echo Show is all about. It is pretty much the same thing as Amazon's other Echo family, but with a screen and a camera so you can see your query results and video chat with friends and family. Here's everything there is to know about the Amazon Echo Show.
Looking for information about Amazon's other Echo family?
What's new with the Echo Show?
As of June 28, Echo Show is officially available for sale. You can now purchase the 7-inch touch screen device in black or white for $180. If you subscribe to Amazon Prime, it'll be on your doorstep in two days. Have fun!
So, what is the Echo Show all about?
The Echo Show is a screen and speaker device that is outfitted with Amazon's virtual assistant, Alexa. With it, you can play music, watch videos, control smart home gadgets, video chat with friends and family, and a whole lot more.
It sports a 7-inch touch-sensitive screen and two Dolby front-facing speakers, as well as an eight-microphone array, which can hear your query from across the room, even while you're listening to music or watching a video.
The Show also includes a 5MP front-facing camera so you can make video calls to friends and family with the Echo Show, or who have the Alexa app on a video supported device, like an iPhone or iPad.
Similar to the Echo family of speakers, the Show supports Skills, which adds a plethora of possible features, like getting stock market updates, finding out the weather forecast, and viewing your week's schedule. At this time, skills are limited, but developers are currently working on Show-specific apps so you can take advantage of the addition of the screen and camera.
How much is this Show going to set me back?
The Echo Show costs $180. You can buy it outright or pay it off in five-month installments of $36 per month.
How is the Echo Show different from the other Echo products?
The obvious difference is the screen. The Echo, Dot, and Tap are only a speaker with an always-on microphone. The Show has a 7-inch touch sensitive screen and a 5MP always-on front-facing camera.
According to initial reviews, the Show also has a better audio experience than the flagship Echo speaker.
Wait, did you say always-on camera? So it watches me?
Well ... yes. Just like the way the Echo microphone is always listening, the camera is always watching. It doesn't mean there is someone sitting in a room at Amazon's headquarters watching you on a surveillance screen. Similar to the way the microphone works, anything you say before or after saying the wake word, which is Alexa by default, is not sent to Amazon's servers or stored in any way, but things you say when you trigger Alexa, whether intentional or accidental, is sent to Amazon's servers and stored. Wired has a great article about always listening devices that explains more. If you prefer, you can turn off the microphone and camera feature and instead use a manual button on the device to trigger Alexa.
The Echo Show has one additional feature that takes advantage of the always-on camera, and that's Drop In. Drop In is a feature that allows you to set up contacts that you can drop in on or can drop in on you without anyone having to accept the video call. It happens automatically.
So I can remotely check in with my grandparents without needing them to answer the phone?
Exactly. When you set up permissions for Drop In (which is off by default) with specific contacts, you are allowing those contacts the ability to appear on your screen automatically when they call. You don't have to actually answer the call. Your friends and family can enable Drop In on their Echo Show or with the Alexa app. Voice Drop In calling is supported on the Echo, Dot, and Tap, too.
When someone Drops In on you, you'll hear a tone, which lets you know that someone is coming through. The person on the other end will hear audio right away, but the video will slowly fade in. If you're available to talk, just start talking. But, if you're unavailable for some reason, you can say, "Alexa, hang up." and the Drop In call will end.
It might seem a little disturbing for someone to have the ability to just show up in your living room whenever the mood strikes, but it's actually a fantastic feature for very specific circumstances. For example, if your parents are elderly, and you'd like to be able to keep track of them without them having to get up and answer a phone call every time you want to see how they are doing, you can enable Drop In and just pop in to say hi whenever you feel like it. If something is wrong with Pops, you'll be able to see or hear him and respond if he needs help.
It's also a great monitor when your kids come home and you want to make sure they're doing their homework. Drop In from the office and find out, for sure, whether they're watching cartoons or finishing their chores.
Of course, Drop In isn't going to be for everyone, nor will the always-on camera, but these features can be disabled at any time. You're in control of what you allow or don't allow in your home.
Do my friends and family need an Echo Show to have a video chat with me?
Nope! In fact, they don't need any type of Echo device. All they will need is the free Alexa app on their mobile devices, like an iPhone or iPad. You and your friends will need to register for Alexa calling, which puts your phone number into the database. Then, anyone with your phone number can call you via Alexa, including video chatting.
There have been some privacy concerns about signing up with Alexa's calling-to-calling feature. When it first launched, you weren't able to block anyone from calling you. However, Amazon has since added the ability to block contacts.
Do I need to have another Echo device to use it?
You do not. The Echo Show is a stand-alone device and does not require any other Echo device to work. It does need wi-fi connectivity, though. So be sure your local network has wi-fi.
Is it portable? Do I have to keep it plugged in?
Unfortunately, you do have to keep it plugged in. You can take it with you, but it won't work while it's disengaged from its power source and you'll need to plug it back into a power source in order for it to work again.
What about my smart home gadgets, does it work with my camera doorbell?
The Echo Show is compatible with some smart gadgets right out of the box and there are likely to be more smart gadgets that will support Alexa and the Echo Show in the near future.
The popular Ring Video Doorbell Pro is also compatible with the Echo Show. There will likely be more smart home gadgets getting Alexa and Show compatibility soon.
Can I watch movies and TV shows on it?
You can! However, currently, the only video streaming services available on the Echo Show are Amazon Prime Video and YouTube. Hopefully, Amazon can strike deals with other streaming services so you can watch content from Hulu, Netflix, Sling TV, and others.
Right now, though, you're stuck with Amazon Prime Video or YouTube.
What other Amazon account connected services does it support?
The Echo Show connects to your Amazon account to provide a very easy shopping experience with the online retailer. Since the Show has a screen, you can now see what you want before you buy it.
The Show also connects to your Prime Music account so you can listen to your tunes, and your Prime Photos account so you can set your screen as a photo slideshow.
It is unclear at this time whether you can connect to Prime Reading for reading ebooks and listening to audio books.
What about other third-party apps like Skype, Hulu, or Spotify?
At this time, Amazon Prime Video and YouTube are the only video streaming services. Skype is not yet supported. But, you can listen to music via Prime Music, Pandora, Spotify, iHeartRadio, TuneIn, and Sirius XM. You can also find recipes via AllRecipes and connect your iCloud calendar. Many (if not all) of the skills you can use with the Echo, Dot, and Tap also work with the Show You can discover a lot of interesting content in the Skills Store in the Alexa app.
Additionally, there will probably be Echo Show-specific skills heading our way in the near future that take advantage of the screen and camera.
Can I connect the Echo Show to a bigger speaker or monitor?
The Echo Show is Bluetooth-enabled, so you can connect to a supported Bluetooth speaker for a bigger sound (though the built-in speakers are pretty good).
It does not, however, have any other ports. There is no HDMI port, no headphone jack, and no USB port. So, you won't be able to connect the Show to your TV set or computer monitor.
The Echo Show is not AirPlay compatible, either. So you won't be able to stream content from your Show to your TV via Apple TV.
Because it's Bluetooth compatible, though, you can connect your iPhone or iPad and stream music from your iTunes library or Apple Music.
Does it work with my Echo Remote?
Yes, but you'll have to unpair it from the current Echo device before you can pair it with the Echo Show.
Any questions?
Do you have any questions about the Amazon Echo Show or how it works? Put them in the comments and we'll help you out.
Get more iMore in your inbox!
Our news, reviews, opinions, and easy to follow guides can turn any iPhone owner into an Apple aficionado
Lory is a renaissance woman, writing news, reviews, and how-to guides for iMore. She also fancies herself a bit of a rock star in her town and spends too much time reading comic books. If she's not typing away at her keyboard, you can probably find her at Disneyland or watching Star Wars (or both).