Amazon Echo: Everything you need to know!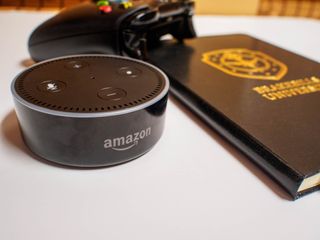 Amazon's virtual assistant, Alexa, is at its most useful when activated from one of the supported home speakers, the Echo, Dot, or Tap. When you connect the Alexa app, you can enable skills, connect smart home gadgets, and sync your email and calendar apps. Then, just ask Alexa to turn off your lights, play a game with you, or read your new emails. It's kind of like a physical version of Siri, but with less support for Apple services and more support for non-Apple services.
If you've got questions about Amazon's Echo, Dot, or Tap, we have the answer you're looking for.
What's new with the Amazon Echo family?
April 18, 2018 - A new Call of Duty skill delivers personalized coaching, tips on objectives to complete, and more
We don't blame you if you never thought of pairing Alexa with Activision's Call of Duty: WWII, but someone apparently did and made a skill just for that.
The new Call of Duty Alexa Skill can connect to your Call of Duty account, and after doing so, you can ask your Echo about how to improve your game based on the last match you just played, get updates on new Contracts you should complete, see which friends are playing, and more. Activison says the skill allows for personalized responses to over 2,500 questions and can dish out 250,000 responses using a custom "solider" voice.
Although it's still in beta, you can start using the skill right now by enabling it and then saying "Alexa, Ask Call of Duty ___"
November 15, 2017 - Amazon brings Alexa and Echo to Canada
Oh, Canada! Amazon has finally decided to grace the True North with support for its virtual assistant, Alexa. The Echo, Echo Dot, and Echo Plus are all now available in the Canadian Amazon retail store and on sale for CDN $99.99, $49.99, and $169.99 respectively. Retail price for the Echo is CDN $129.99, the Dot is $69.99, and the Plus is $199.99.
Additionally, Amazon Prime Music is now available in Canada to Prime members for no additional cost.
Canadians can pre-order an Echo, Echo Dot, or Echo Plus today with a shipping date of December 5, just in time for the holidays. You'll also be able to pick one up in-person at Best Buy, The Source, Staples, TELUS, Bell, Bed Bath & Beyond, and TSC: Today's Shopping Choice.
Which Amazon Echo is right for you? We'll help you pick!
August 29, 2017 - Echo devices out of stock on Amazon - is a new device on its way?
Amazon's flagship personal assistant/stand-alone speaker, the Echo, is no longer available for sale on Amazon. It's not just out of stock. It's currently unavailable, with a note that, "We don't know when or if this item will be back in stock" [emphasis added].
It's likely that Amazon is gearing up for an Echo update in time for the holiday shopping season. Engadget reported that Amazon is working on a new and improved version that will be shorter, slimer, and have a slightly different design.
To further support evidence that Amazon may be trying to get rid of current Echo stock, TechCrunch also noted that Echo devices are being stocked up at Whole Foods retail stores at a heavily discounted price of only $99.99, which is $70 off the original price.
August 29, 2017 - Amazon announces multi-room audio for Amazon Echo devices
Amazon Echo devices now feature rumored multi-room audio.
August 7, 2017 - Amazon Echo may soon support whole-home audio
According to AFTVNews, Amazon may soon announce whole-home audio for its Echo devices. The company has reportedly been testing whole-home audio for some time and tests have been going well. The feature is said to be ready for prime time, and could be released "any day."
How would Amazon Echo whole-home audio work? Well, the feature is rumored to be called "Synchronized Audio" and would play media across Alexa devices throughout your home. Uttering the phrase, "Alexa, play music everywhere," would get things started. Users would be able to make adjustments to the Synchronized Audio feature in the Alexa app, where they could choose which devices to include in the whole-home audio experience.
The site claims you may even be able to address multiple Alexa devices at once:
A feature like this could make the Amazon Echo a serious competitor for the Google Home smart speaker, Sonos speakers, and even Apple's HomePod. All three competing devices offer whole-home audio options, so it's no surprise Amazon is looking to bring the feature to its smart speaker lineup.
July 13, 2017 - The next Echo could be Amazon's answer to Apple's HomePod
Amazon is reportedly working on a new and improved Echo that brings the company's smart speaker more in line with Apple's upcoming HomePod. Engadget cites a a source who says the next Echo will get both a visual redesign and tech upgrade.
Making it shorter, slimmer, rounded, and covered in cloth will, indeed, make it look a whole lot like Apple's upcoming HomePod. It'll also bring it more in line with the Google Home smart speaker which features a fabric base and a softer design. There's no doubting Amazon Echo's popularity or usefulness as a smart speaker, but speaker quality is something the tall tower (and its shorter Echo Dot sibling) will need to improve if it wants to take on Apple's HomePod. With more tweeters and an upgraded microphone system, Amazon may do just that! It's unclear at this point how much the device will cost, but Engadget reports Amazon is planning to release the device this fall.
Curious how the current Amazon Echo compares to Apple's HomePod and the Google Home smart speaker? Check out our comparison guide:
HomePod vs. Google Home vs. Amazon Echo: What's the difference?
May 2017 - Amazon updates Alexa-enabled devices with iCloud Calendar integration
Amazon added support for iCloud Calendar. You can now sign into iCloud using an app-specific password in the Alexa app and add your iCloud Calendar. Once connected, you can ask Alexa about your upcoming schedule.
How to add your iCloud Calendar to Amazon Echo
What is an Amazon Echo device?
Echo is a home hub speaker that connects to supported smart devices in the home. It also supports Amazon's virtual assistant, Alexa, which can connect to supported media services, productivity apps, and more. You can use it to listen to music from a separate device or directly from one of the supported connected services, like Pandora, Spotify, or Amazon Music.
It is always listening for its wake word, which by default is "Alexa." Anything you say before or after saying the wake word is not sent to Amazon's servers or stored in any way, but things you say when you trigger Alexa, whether intentional or accidental, is sent to Amazon's servers and stored. Wired has a great article about always listening devices that explains more. If you prefer, you can turn off the always listening feature and instead use a manual button on the device to trigger Alexa.
What's the difference between Echo, Tap, Dot, and Plus?
Echo comes in three different formats. The standard Echo is just under 10-inches tall and has a built-in 360-degree speaker and microphone array. It has to be plugged into a power source and connected to wi-fi in order to work to its full potential, though it can be used as a Bluetooth speaker outside of wi-fi. It's perfect for people that want to keep their device at home and also listen to music through it.
The Tap is a outdoorsy version of the standard Echo. It is about six inches tall and has a built-in 360-degree speaker and microphone array. It needs to be connected to wi-fi in order to use with Alexa, but works great as a battery-powered Bluetooth speaker. It's called the Tap because, when it first launched, you had to tap the wake button in order to trigger Alexa. The Tap has since received a firmware update that makes it possible for you to wake Alexa with voice activation, so it's basically just a smaller, more rugged version of the Echo. It's perfect for anyone that wants Alexa in the home, but likes to listen to music on the go.
The Dot is the smallest and least expensive in the Echo family. it has a built-in speaker and microphone array, but the speaker is very small. The entire device is only about an inch-and-a-half tall. It needs to be connected to a power source and connected to wi-fi in order to work to its full potential. Because the speaker is so small, I wouldn't recommend using it solely for music listening. You can, however, connect it to a more robust Bluetooth speaker. It's perfect for those who will use it primarily for the Alexa feature, or who have a solid Bluetooth speaker they'd rather use instead.
The Plus takes it to the next level with a built-in ZigBee smart home hub so you can connect your lights and other devices directly to it, instead of through a separate hub. It's also got 360° audio, seven microphones, beamforming technology, and noise cancellation.
How do I get one?
From Amazon, of course.
How do I set up an Echo, Tap, Plus, or Dot?
Once you get your Echo, Plus, Tap, or Dot, you'll need to connect it to your smartphone. Download the Alexa app and then sign in to your Amazon account to get started. You'll be able to manage all of your connected devices and services from the Alexa app.
Then, plug in the Echo, Plus, or Dot (or make sure the Tap is charged up). The light ring around the top will light up and turn blue to let you know it's powered. It will then turn orange and greet you.
Connect your Echo, Plus, Tap, or Dot to your wi-fi network inside the Alexa app. When you're done, just say, "Alexa" to start talking.
The Alexa app is where all of your devices and services are connected. It's also where you complete your Echo set up. Open the Alexa app, tap the menu icon in the upper left corner of the screen, tap Settings, then select your Echo device.
You can change your wi-fi connection, connect a Bluetooth device, or pair a remote device in the device section. You can also schedule Do Not Disturb, change the alarm, timer, and notification sounds, rename your Echo device, manually add your location, change the language, temperature, and distance units, and change your wake word.
You can trigger Alexa by selecting a different wake word than the default. You can change it to Amazon, Echo, or Computer. Let me just warn you that you'll probably say "computer" more often than you'll ever say "Alexa" in casual conversation, which means you'll be more likely to accidentally wake Alexa. Just keep that in mind when you change the wake word.
How do I connect all the things to my Echo, Plus, Tap, or Dot?
One of the best things about having an Echo around the house is all the things you can connect to it, including apps, services, and smart home gadgets. Services you can connect to are listed in the Menu. Tap the menu icon in the upper left corner of the Alexa app to get started.
Add your music, video, and books
In the Menu section, tap Music, Video, & Books to see what services are supported.
Currently, the cable provider Dish is the only video service compatible with Echo and you'll need a Dish Hopper or Wally in order to connect it. If you have all the required equipment and subscriptions, tap Dish TV under the video section, then tap Enable Skill at the bottom of the page. Once connected, you can just ask Alexa to play a movie, change the channel, search for content with specific actors, pause, fast forward, and rewind through content, and more.
Alexa is most compatible with music streaming services. You can stream music from Amazon Music, listen to tunes you've added to Amazon Prime Music, play content from your Spotify Premium account, stream stations from your Pandora or iHeartRadio account, or listen to local radio stations with TuneIn.
You can also connect your Audible or Kindle account to listen to audiobooks.
You can add your calendar to Alexa and have it tell you your schedule by day, date, time, day of the week, or weekend. The Alexa app supports Apple iCloud, Gmail, G Suite, Office 365, and Outlook. To connect a calendar, select Settings from the Menu list, then tap Calendars. Then select which calendar you want to add.
If you want to connect your iCloud Calendar, you'll have to follow a few security-based steps.
How to connect your iCloud Calendar to your Echo
Add your smart home devices
Any smart home gadget that is supported by Alexa can be set up in the Smart Home section of the Alexa app. You can group devices and trigger them all together or create scenes that you can enable with a single word. For example, you could set your Hue lights to red, your thermostat to 90, and the water heater connected to your smart plug to on, and call the scene "hot."
In order to group your smart home devices and create scenes, you'll need to connect them to Alexa using smart home skills, found in the Alexa Skills Store.
How do I get skills for Alexa?
The Alexa Skills Store is where you find all kinds of services that make Alexa and the Echo family more interesting. You can download skills to connect your smart home devices, your email account, and your finance apps. You can add skills that let you play trivia games, make funny songs out of just your voice, and tell Alexa to talk to your cat. There are hundreds of skills created by a variety of developers. Some skills work great, others not so much. It's like an app store for your Echo.
To find skills for Alexa, tap the Menu icon in the upper left corner of the Alexa app, then tap Skills. Browse the content and add whatever you'd like.
How do I buy stuff on Amazon using my Echo, Plus, Tap, or Dot?
When you create an Alexa shopping list, you can access it from the app or from the Amazon website when you sign in. Add simple things, like "tea" or "sugar," and when you are ready to buy something, ask Alexa for help. You can ask Alexa to buy something from your shopping list. It will offer suggestions based on your request and you can say, "buy" to purchase it.
Amazon has daily deals that offer deep discounts on specific items for 24-hours. You can ask Alexa to tell you what the daily deals are. If you want something on sale, say "yes" when Alexa asks if you want to buy it.
You can also ask Alexa to find something by name. For example, if you know you want to buy Star Wars on DVD, you can tell Alexa to order it for you. The virtual assistant will run through your available purchasing options, one at a time, and let you choose the one you want. When you're ready, Alexa will ask if you are sure you want to buy an item and you'll say "yes" to confirm.
If you worry that someone in your family will purchase items from Amazon without your permission, you can enable a passcode or disable Amazon purchases from Alexa entirely.
How to stop Alexa from ordering stuff without your permission
How do I create a shopping or to-do list?
You can create a shopping or to-do list either by asking Alexa to "open a list" or by creating one in the Alexa app. Add items by telling Alexa to add them, or by typing them into the Alexa app. Say, "Alexa, add clean the bathroom to my to-do list" or "Alexa, add sugar to my shopping list."
To access your shopping and to-do lists from the Alexa app, tap the Menu icon in the upper left corner, then tap Lists.
How do I set a timer or alarm?
Just like setting an alarm or timer with the help of Siri, you can add one to your Echo services by asking Alexa. Say, "Alexa, set a timer for 10 minutes," or "Alexa, set an alarm for 6:00 am on weekdays." You can access and edit timers and alarms from the Menu list under Timers and Alarms.
How do I call someone from my Echo, Plus, Tap, or Dot?
You can use the Alexa app to call anyone else that also has the Alexa app and has enabled the calling and messaging feature. You'll have to register for Alexa calling-to-calling in order to enable the feature, and your contacts will need to do so, as well. Not many people even know about the feature right now, so you'll probably have to ask your friends and family to register if you want to talk to them via Alexa. Once you register your account, you can make a call by asking Alexa to call the person in your contacts. Just say, "Alexa, call Mikah."
If you don't want to talk directly to a person, you can also leave a voice message that he or she can listen to from the Alexa app or from an Echo device. Just say, "Alexa, send a message to Serenity." If you receive a message from someone, you can say, "Alexa, play my message" to hear it played back.
There have been some privacy concerns about signing up with Alexa's calling-to-calling feature. At the moment, you can't block anyone from calling you, even if you've previously blocked them on your smart phone. All they need is your phone number. Hopefully, Amazon will allow users to block or edit their contact list
Questions?
If you have any questions about Amazon's Echo family of Alexa supported speakers, put them in the comments and we'll help you out.
Master your iPhone in minutes
iMore offers spot-on advice and guidance from our team of experts, with decades of Apple device experience to lean on. Learn more with iMore!
Lory is a renaissance woman, writing news, reviews, and how-to guides for iMore. She also fancies herself a bit of a rock star in her town and spends too much time reading comic books. If she's not typing away at her keyboard, you can probably find her at Disneyland or watching Star Wars (or both).