Six reasons to sit out the iPhone 6s launch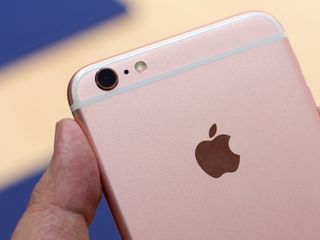 The iPhone 6s looks like a truly remarkable piece of hardware. And as always, iMore is your in-depth resource for all things iPhone 6s. But not everyone is upgrading to the iPhone 6s and iPhone 6s Plus, Do you regret not getting Apple's latest and greatest, or are you on the fence about getting one? Here are a few reasons you shouldn't feel bad about sitting this upgrade out.
The iPhone 6 works great.
The iPhone 6 is still a spectacularly good iPhone. It runs all the latest software effortlessly, supports Apple Pay, works great with the Apple Watch and has a lot of performance headroom left. For many of us, the iPhone 6 is more phone than we actually need right now. Heck, the iPhone 5 and 5S is still more phone than many of us actually need.
It's easy to get caught up in the whirlwind of new features and technology in the iPhone 6s, but that doesn't mean what you have now is any worse than it was yesterday.
3D Touch is cool but is it a must have?
Apple's big UI innovation is 3D touch, which gives you a new way of interacting: Push on the screen and the phone pushes back, letting you "Peek" and "Pop." 3D Touch really cool tech, but it's something that's going to take a while to filter and refine. There's no rush to have it on day one, except to play with the new tech. Do you really need to be the first kid on your block with the new toy?
You're in the middle of your upgrade cycle
Maybe you got an iPhone 6 last fall, or even an iPhone 5S because you got it for a better price. Now you're in the midst of a two-year commitment to your carrier, and you may not be able to get the iPhone 6s without paying an early termination fee.
Obviously the carriers have changed the way they do business a lot over the past few years, especially on iPhone subsidies, so many more of us have different options, like upgrade plans through carriers or just buying the iPhone outright with no strings attached. But none of that means anything if you're still stuck in a two-year upgrade cycle.
The iPhone 6 and 6 Plus are a better value than before
Many of you have iPhone 4 or iPhone 5 models. You appreciate the value of well-made hardware and you see no need to replace it any faster than you have to. Having said that, Apple's made a lot of iPhone improvements and you're ready to enjoy a larger screen, Apple Pay and other new features. With the release of the iPhone 6s and 6s Plus, Apple's lowered the price on the iPhone 6 and 6 Plus by $100.
The iPhone 6 and 6 Plus remain part of Apple's current lineup for $549 and $649 respectively, for 16 GB models. Apple continues to sell the iPhone 6 and 6 Plus in Space Gray or Silver finishes with 64 GB as an option if you're willing to pay more. So you don't get all the storage capacity sizes or the gold finish, but you do get a bit more bang for your buck than you did a couple of weeks ago. That $100 makes a big difference when you're living paycheck to paycheck.
You didn't pre-order
As with all launch days for new Apple products, the early bird gets the worm. Apple and major carriers have already been pre-selling the iPhone 6s well before its launch, so immediate supply has dried up a bit.
If you haven't already pre-ordered your iPhone 6s, you might be waiting a bit for stock to replenish — especially if you ordered through a carrier store, because the carrier stores don't get nearly as much inventory as Apple retail stores do. Having said that, Apple seems to be managing inventory more effectively this year than last.
You just don't want one
The iPhone 6s is cool. The iPhone 6s is the best iPhone ever. Expect us at iMore to continue to post helpful how tos, tips, and other information to help you get the most out of it.
But ultimately no one needs an iPhone 6s. So if the features don't thrill you or the idea of trading in your current phone and buying a new one fills you with a sense of malaise, feel free to sit this one out. The bottom line is that you don't have to get one, and you shouldn't feel pressured to get one.
Master your iPhone in minutes
iMore offers spot-on advice and guidance from our team of experts, with decades of Apple device experience to lean on. Learn more with iMore!