Sonos to officially launch Apple Music support on Feb. 10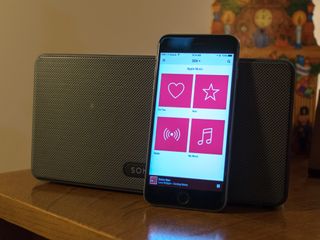 Sonos has announced that it will officially launch Apple Music support for all users of the company's connected speakers starting tomorrow, February 10. The official launch follows a beta testing period that lasted roughly two months after beginning in mid-December.
Speaking with Re/Code, Sonos confirmed that support will launch starting at 9 a.m. on February 10. At that point, all users must do is head to the Sonos Controller app and add Apple Music from the "Add Music Services" option. From there, log in and you'll have access to Apple Music's full catalog, as well as features like the "For You" and "New" sections from within the Sonos Controller app.
Press Release:
Apple Music On Sonos Available Tomorrow
SANTA BARBARA, Calif., Feb. 9, 2016 /PRNewswire/ — Sonos announced today that Apple Music will be available on Sonos systems worldwide starting Wednesday, Feb. 10. Music fans worldwide will have access to Apple Music features like For You, New, Radio, and My Music, and will also be able to stream the entire Apple Music catalog through Sonos smart speakers tuned for great sound in every room of their homes.
Apple Music on Sonos was tested by hundreds of thousands of listeners through a successful beta program that started in early December. To stream Apple Music on Sonos, customers simply select "Add Music Services" from any Sonos controller app, scroll down to the Apple Music icon, and login.
"The feedback from Apple Music members on Sonos during the beta period has been great," said Eddy Cue, Apple's senior vice president of Internet Software and Services. "Sonos plus Apple Music provides an amazing listening experience at home – and we're excited to offer it to all Sonos customers starting tomorrow."
"This partnership has been an excellent example of two companies that truly care about music coming together to deliver a great listening experience," said John MacFarlane, Sonos chief executive officer. "Working with Apple gives us the opportunity to share Apple Music throughout people's homes in a way that's easy, intuitive, and sounds great." Apple Music is all the ways you love music, all in one place, with the expertise of world-class music experts who have programmed playlists for any moment. Curation is at the core of every element of Apple Music, from the handcrafted radio stations and Beats 1, to the suggestions in For You and top albums and songs in New. A Sonos station on Apple Music, curated by artists in collaboration with Sonos, is also launching tomorrow. New users can sign up for a free, three-month trail membership of Apple Music. About Sonos
Founded in 2002, Sonos® creates the leading smart speaker system. Once a tech start-up populated with nerdy engineers and brilliant designers who love music, Sonos has grown into a global music brand dedicated to transforming the experience of listening out loud to music in the home. Its family of wireless smart speakers and home audio products make it easy for everyone to listen to the music they love in every room of their home. To hear their favorites, discover new music, and appreciate it all with the highest sound quality.
Sonos is doing it all over the world – in more than 60 countries, with dozens of streaming music providers, through thousands of retailers, and in millions of homes. With a constant investment in software and services, Sonos is improving the experience customers have with music in the home for years after they buy it. Sonos is changing the way people listen to music – one home at a time.
Sonos, Inc. is a privately held company, headquartered in Santa Barbara, California with additional offices in Boston and Seattle, as well as in the Netherlands, United Kingdom, Australia, Germany and China.
Get the best of iMore in your inbox, every day!
Why does it look like Windows Phone? Sent from the iMore App

It doesn't look like a Windows phone. It looks exactly like an iPhone.

Agreed!!! Sent from the iMore App

Been using the beta since its launch, never had a problem, love Sonos and am music Sent from the iMore App

I've had Sonos since it first came out and still use it daily. Their kit always reminds me of Apple in that there are plenty of competitors that do the same thing but none do it quite as well as Sonos. I was surprised Apple didn't buy them, especially when they spent so much on Beats. I'm not sure if I will use Apple Music though, because it's twice the price I currently pay for Napster, and the reviews that I have read have been very negative. I had been waiting until the Apple Music / Sonos link was out of beta to try the trial, but now I think I'll wait a while longer until Apple Music itself is out of its unofficial beta.