Give your iPhone a BlackBerry-style physical keyboard with Spike TypeSmart, now on Kickstarter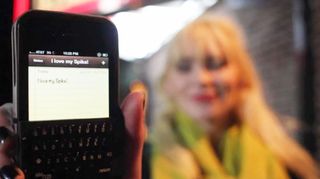 The Spike TypeSmart keyboard case for iPhone looks to address the age-old argument of the hardware keyboard being a better way to input text than a software keyboard, and it looks to do so by offering you the best of both worlds. The Spike gives iPhone users a hardware keyboard which is part of a hard case. Depending on the model, the Spike keyboard can either be switched simply flipped around to use, and then switched or flipped back to discreetly store the keyboard at the rear of the case when not required. The project is now up for backing on Kickstarter.
The Spike TypeSmart keyboard has been in development for more than two years and enables a user to have a full hardware QWERTY keyboard available in an instant without the need for Bluetooth connections or the need to keep it charged. It does this by sitting on top of your iPhone's virtual keyboard in portrait mode and simply triggering a capacitive contact on the screen when the key is pressed.
If you have long fingernails, or wear gloves in colder weather, this could be the solution to your problems.
If you like the look of the Spike TypeSmarrt keyboard case you can become an earlier adopter from as little as $20. This of course is subject to the Spike reaching its Kickstarter funding target of $75,000. As things stand today, it has reached over $37,000 and still has 33 days to go.
Source: Kickstarter
UK editor at iMore, mobile technology lover and air conditioning design engineer.
When I switched from a Treo to an iPhone ~4 years ago, I was amazed at how good the virtual keyboards are. The only reason I have to consider using a physical keyboard on a touch-screen device now is if/when I want a LARGER keyboard. If the keyboard is the same size as the virtual one, there is no reason (IMO) to use it.

I think that looks pretty awesome. Coming from a Palm Pre to an iPhone 4S on release day, I've gotten decent at typing on the screen but for long emails or even text messages I still make a TON of mistakes. I just can't seem to get to a point where I'm error-free (or even close to it). Since I prefer portrait keyboards, this could be perfect for me. I'm considering going for the $99 future-proof version where you get the 4S and iPhone 5 versions when they make them.

If i wanted a physical keyboard then i wouldn't have an iphone. I would have a Blackberry. I always wonder how/why people invent things like these for their iphones. Before i even made the physical switch i had already made my mind over that "hey its a virtual keyboard, its not as a good as a physical keyboard, and meh im ok with that". This reaks of irrelevance to me.

Any update to when this might be available somewhere for purchase? I have been looking with no success. Thanks
Thank you for signing up to iMore. You will receive a verification email shortly.
There was a problem. Please refresh the page and try again.