Sprint is now offering the iPhone 6s for just $1 a month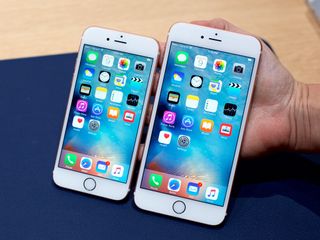 Sprint has announced a new offer for those who want to pick up the iPhone 6s or iPhone 6s Plus to compete against T-Mobile. The US carrier will let you walk away with the new iPhone from just $1 per month. For a limited time only, and starting this Friday morning at Sprint stores, you'll be able to take advantage of the new offer, which is part of Sprint's iPhone Forever program.
The $1 a month is for the 16GB iPhone 6s, while the iPhone 6s Plus will start at $5 per month, when you trade-in an iPhone 6. The company will also take iPhone 5s units, but this will add an extra $9 to each option, meaning you'll pay $10 for the iPhone 6s per month, or $14 for the iPhone 6s Plus. Higher memory configurations will cost slightly more.
It's an interesting offer and one we're sure many will look into this coming weekend. As a reminder, through December 31 of this year, Sprint will also offer anyone who switches from another carrier, or happen to be an existing customer with an eligible upgrade, a promotion of $15 per month for the iPhone 6s 16GB, which is usually $22 a month without a trade-in.
Your move, T-Mobile.
OVERLAND PARK, Kan. (BUSINESS WIRE), September 24, 2015 - Sprint has the world's best offer for iPhone fans who can't wait to get their hands on the iPhone 6s and iPhone 6s Plus. For a limited time, beginning Friday morning in Sprint branded retail stores, Sprint will offer the iPhone 6s 16GB for $1/month and the iPhone 6s Plus for $5/month with the trade-in of an iPhone 6.
This new offer is part of Sprint's iPhone Forever program, which allows new and upgrade-eligible Sprint customers to get the newest iPhone as soon as it is available.
Higher memory configurations of the iPhone 6s are also value-priced at $5.77/month for the 64GB and $10.53 for the 128GB with the trade in of an iPhone 6. For the 6s Plus, higher memory configurations cost $9.77/month for the 64GB and $14.53 for the 128GB with an iPhone 6 trade–in.
"Once again it is clear that the best place to get the new iPhone 6s and iPhone 6s Plus is Sprint," said Sprint CEO Marcelo Claure. "New and existing customers who trade in their current iPhone 6 can now get a device for only $1/month, making it the best way to get the iPhone – and a yearly upgrade is included in this charge. We are certain that more people will continue to switch to Sprint because of the great service and value we offer."
Sprint will also offer a $10/month price on iPhone 6s 16GB or $14/month on iPhone 6s Plus 16GB with the trade-in of an iPhone 5s.
Through Dec. 31, 2015, customers on any other carrier who switch to Sprint or existing Sprint customers who are upgrade-eligible and turn in any other smartphone will get a promotional rate of $15 per month on iPhone 6s 16GB, regularly $22/ month without a trade-in.
Source: Sprint
Good!!, more competition, now lets go AT&T.

Nice response to T-Mobile. John Legere, c'mon. Let's see what you do. Posted via the iMore App for Android

John is gonna come back with 50 cent iPhones LOL. I like competition like this. It forces other carriers to adapt.

Does anyone not get that by trading in your phone and then leasing or paying monthlies that will equal out to the full price of the phone, you're technically losing money on these "deals." Hahaha. Plus having these new plans are more expensive. Having unlimited talk and text is great, but 2-10gigs of 4g is a joke, especially if you have a family plan. Then tacking on an extra $20 for unlimited (or more in some plans that still aren't unlimited). GTFOOH. Sign me up for a contract and I'll take the subsidized price of a phone any day, especially since most carriers pay your etf now anyways.

Don't you pay more for the monthly plan for two years (or however long) until the end of the contract period/time the phone is paid off anyway? I know AT&T and Verizon do this on they're soon-to-be-extinct subsidies. They are going to get full price out of you for the phone one way or another.

Oh Sprint... If only your coverage wasn't terrible and your coverage map wasn't full of shit in my area...

After 4 years with Sprint lousy signal and endless "we're upgrading our towers" Switched our 4 lines to T mo, cheaper and excellent coverage in S F bay area.
Thank you for signing up to iMore. You will receive a verification email shortly.
There was a problem. Please refresh the page and try again.