Stand Out at Starbucks with these 15 MacBook Stickers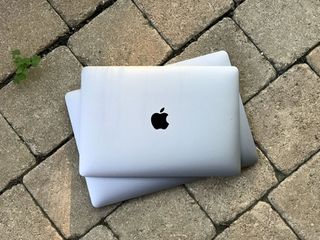 If you're someone who isn't a big fan of toting around your MacBook with a clunky case but still want a li'l extra something to express your personality and creativity, then springing for a MacBook sticker that's minimalist (while still highlighting the Apple on your laptop's cover) might be a great call.
Check out these 15 different MacBook stickers that you can use to really make you — and your MacBook — stand out in a crowd!
Get it?! Like apple juice?!
(All kidding aside, this vinyl sticker is adorable).
Seriously, this design is mesmerizing...
This design is so cute and simple, and if you aren't a fan of all those origami cranes in one spot, then you can always play around with how many you add on.
You can even put them near your keyboard if you want to spice it up a bit!
"Uh, okay… Not sure how I'd do that, but sure…" (The bartender when you order that drink, probably.)
5. Add some cherries, oranges, pineapples, and pears to that fruit salad!
Because Apple on its own isn't a fruit salad. It's an apple. #duh
… A giant Apple logo?!
Back in my day, my Apples were rainbow, not white!
(Get it? Because this decal turns your Apple logo into a pirate? No? I'll see myself out.)
Side note, could you imagine if light bulbs were powered by Apples?
10. Get Deadpool to chill on your Apple logo
I wouldn't bug him: he's looking for Francis.
Apple Logo tried looking super cool with this awesome Poke ball decal: IT WAS EXTREMELY EFFECTIVE!
To put on this sticker,no Force necessary! ba dum tss
Newton's Cradle made out of Apple logos, of course!
14. NO MOAR APPLE LOGO, JUS CAT NAO!!1!
"HI I AM CAT NICE 2 MEET U I ATE LOGO :)". (This cat bursting through your MacBook, probably)
And don't be lured by any glowing apples while you do!
Master your iPhone in minutes
iMore offers spot-on advice and guidance from our team of experts, with decades of Apple device experience to lean on. Learn more with iMore!
Cella writes for iMore on social and photography. She's a true crime enthusiast, bestselling horror author, lipstick collector, buzzkill, and Sicilian. Follow her on Twitter and Instagram: @hellorousseau