Starbucks refreshes its app for its new Rewards program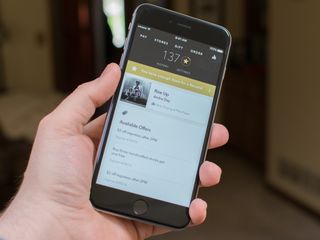 With the latest update to the Starbucks app, the company has paved the way for its revamped Starbucks Rewards program. The app now includes a new dashboard that gathers your stars, rewards, offers, and more.
The latest update to the Starbucks app features the following.
A brand new dashboard where you see your stars, rewards, offers, music and more, all in one place.
Star Balance – keep track of the number of Stars you've earned and how many you need until your next Star Reward.
Redeem offers – now you can redeem offers (like earned free drinks and food!) with your mobile order.
Improved mobile ordering experience for VoiceOver users.
You can grab the latest update for the Starbucks app from the App Store now.
Get the best of iMore in in your inbox, every day!
Joseph Keller is the former Editor in Chief of iMore. An Apple user for almost 20 years, he spends his time learning the ins and outs of iOS and macOS, always finding ways of getting the most out of his iPhone, iPad, Apple Watch, and Mac.
I looks broken to me - their help site reports services is currently under maintenance. Frustrating. Need Coffee.....

There servers must be melting under the load of so many login attempts. My app updated and never refreshed to show the new content. Now I can't even login.

Oh good, it's not just me! I thought that because I'm on the beta for iOS 9.3.2, it was ******** with the updated app's functionality Sent from the iMore App

Would never drink crappy corporate coffee, but the app is good to have for their free app offers! Sent from the iMore App

Your loss. Personally, I love Starbucks. I find that smaller coffe shops don't deliver the drink I want, and I can get the same drink I love anywhere in the world.

Exactly. I also hear you can get the same hamburger & fries anywhere in the world...if you're into boring, corporate, dumbed down etc. I prefer local, small businesses and more responsible business models when possible--but definitely when it comes to what I put in my stomach.

The app is not the biggest fail on this update - it is the program itself. Starbucks, the most coffee around, now makes you purchase $62.50 worth of items before you can get a free cup of coffee. You go into any coffee shop across the country and it will more than likely be the standard "buy 10, get 1 free".

I keep hearing this "ripping us off now" argument, but unless you went in and got something for less than $4 each visit, it is likely to net you faster rewards.

Not really. They made it so you have to spend 100 times more to get the same level of rewards. Sorry but I'm taking my money somewhere else and I've bee a customer for over 12 years. Sent from the iMore App

Read someone comment they used to buy 30 50¢ items as 30 different transactions. Then they were Gold. That is totally gaming the system. If you always asked for separate transactions per item, and got items under $4 then yes, it may take you slightly longer. But not 100 times longer.
The rest of us, that got 1 star for a $20 visit, will do better.

I base my 100% more on buying a large cup of coffee five times a week. It will now take 100% more to get te same reward. I guess if you spend lots of $$ each visit this helps you. As for me I'm moving on to another store. Sent from the iMore App

Depending on what you drink. The beverage I order, 11 will still get me a free one. I also often buy one for others which only registers my multiple drink order with one star (under the old system). The new system rewards my larger spend.

if you use Bing for searching you will have enough points in no time to turn into at least a $5.00 gift card to Starbucks. Transfer it to your phone and in no time with the new rewards program there really is nothing to complain about. Even buying the tall sized drinks with the old rewards program I was Gold now it will keep me at gold with just searching

How about this new app guys? I like how it does not work.

When I updated the app, I ended up with a red "17" badge on my icon. I couldn't find anything causing it to appear, so I ended up changing my notifications to not show badges on the app. That seems to be the only way to eliminate it. Happen to anybody else?

yeah, it happened to me and my sister as well. The home screen of the app was likely blank, or said "all clear" or something. I think it was due to the volume of hits they were getting yesterday. Once the page displayed the "news" items, and things like the "Free App" - and I scrolled through all of those, the red notification circle went away.
Thank you for signing up to iMore. You will receive a verification email shortly.
There was a problem. Please refresh the page and try again.