Steve Jobs to receive special Grammy award for revolutionizing music industry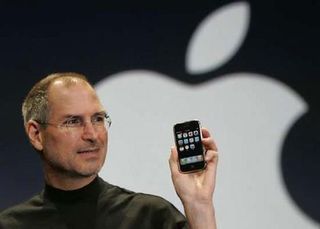 The Recording Academy has announced they'll be honoring Steve Jobs with a Special Merit Grammy Award for revolutionizing the music industry based on the massive success of Apple's iTunes Music Store
The Academy will be holding a special awards ceremony honoring other visionaries with Lifetime Achievement Awards as well as Technical Grammy Awards on Saturday, February 11th, including a special Trustee Award honoring Steve Jobs for his contributions to the music industry at the official Grammy event the following day.

Source: Recording Academy via MacRumors
Andrew Wray is a Salt Lake City, Utah based writer who focuses on news, how-tos, and jailbreak. Andrew also enjoys running, spending time with his daughter, and jamming out on his guitar. He works in a management position for Unisys Technical Services, a subsidiary of Unisys Corporation.
What about the unknown guy responsible for Android revolutionizing music first?
Oh, right... he didn't. That sucks.

When do the original creators of Napster get their awards for being visionaries and having an idea that caused a revolution?

The difference between iTunes and the original Napster is that in the beginning, Napster was a free service which gave no credit to the artist. Remember the whole Metallica suing debacle? iTunes may not have been the first, but it did it the right way. The Music industry is never going to give credit to a service like Napster that, by design - would hurt their industry. Apple not only revolutionized the industry with a song service, but it changed the way we listen to music and made it easy for everyone to enjoy it again. No more bulky CD wallets (or cassettes and/or 8 tracks).... You can have a small device thats easy to use and it sounds great. I now can carry around my whole music collection with me wherever I'm at... Yes, thank you Steve Jobs and I'm glad they are going to honor him - he deserves it!

Orion Antares beat me to it. The guy that made Napster really deserves the credit for the digital revolution.

The creator of Napster revolutionized the way music was distributed. But it was done in a way that savaged the music industry, stealing from music producers and artists. It was sad to see an entire generation began to think incorrectly that stealing music was not stealing and was not harming the artists just because it was convenient and satisfied their need for immediate reward. Steve Jobs saw that happening and reversed it.. The technology he used to do that was iTunes and the iPod. What he did was save the music industry. Hopefully they won't squander that gift.
Thank you for signing up to iMore. You will receive a verification email shortly.
There was a problem. Please refresh the page and try again.