SwiftKey keyboard for iPhone and iPad finally revealed, and it's looking good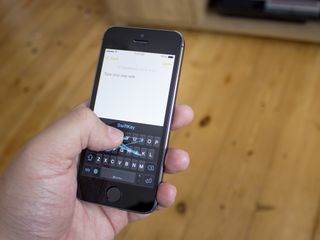 SwiftKey was one of the very first keyboard apps to announce its intentions to launch on iOS 8 back in June, and now for the very first time the finished article has been revealed. The hugely popular Android keyboard has brought some of its core attributes over to the iPhone and iPad in a slick, extremely well designed application. We were fortunate enough to get an exclusive early look at the (almost) finished article and we're impressed with what we see.
If you're not familiar, just what is at the core of SwiftKey that sets it apart from other keyboard apps? There are three key features, all of which are coming to the iPhone and iPad:
Learns from you: SwiftKey learns the way you type and the words and phrases that matter to you, constantly adapting to your personal writing style for a smarter, more accurate keyboard experience.
Mind-reading predictions: SwiftKey's trademark prediction technology learns and proactively suggests what you're most likely to type next before you even finish entering a word. Autocomplete a whole word with a single tap, instead of typing letter by letter.
Better autocorrect: SwiftKey's smarter autocorrect adapts to the way you type, reducing time spent correcting typos. The app even inserts missed spaces for you.
The prediction technology behind SwiftKey is pretty fantastic, as is the way it can learn from your existing typing style by hooking into your Gmail and social media accounts. With SwiftKey Cloud you're even able to bring across – or take the other way – any learnings that SwiftKey has done for you on any Android devices you own. Simply sign into SwiftKey Cloud with your Google or Facebook account – others may be coming down the line – on your iPhone or iPad and you're off. Simple.
Another aspect SwiftKey is bringing to the iPhone only at this point, is SwiftKey Flow. With it you just drag your finger across the keyboard from letter to letter, and it will automagically understand what you're typing. Flow doesn't forget the heart of SwiftKey either and ties into the prediction engine for the ultimate speed typist.
It'll also let you type in two languages on one keyboard, no switching required. The languages supported for that are English (US), English (UK), English (AU), English (CA), Portuguese (BR), Portuguese (PT), French (CA), French (FR), Italian, German, Spanish (ES), Spanish (Latin America) and Spanish (US).
As already mentioned we got a chance to see the real thing in action, and it's pretty impressive. At launch SwiftKey is concentrating on bringing the core experience to the iPhone and iPad and typing is excellent. The predictions and corrections seem every bit as strong as the existing Android keyboard and even on a 4-inch screen, SwiftKey Flow works impeccably well. It won't be the only iOS 8 keyboard app in the App Store, but it's already shaping up to be one of the very best.
Now we have a launch date for iOS 8 we at least know that we're not going to have to wait terribly long for SwiftKey. We're looking forward to getting some proper time with it and you can bet we'll have a review just as soon as we can. Oh, and Stephen Fry helped them put together a little video for you which you can see below.
Windows Phone has had the best one for a while now. It was rated the fastest a while ago but think something surpassed it by a few milliseconds. Posted via iMore App

There's much more to SwiftKey than speed, though it is pretty fast anyway. The prediction engine is at its heart.

That's what I mean by speed. Posted via iMore App

If SwiftKey is only as accurate as the texts I get from my buddy on his Lumia 1020, you can keep your swipe keyboards.

I use whatever WP 8.1 Update has and it's a god send! I've literally swiped a path of near-nonsensical characters and it still figured out what I wanted. The WP version won't do profanity until you tap each letter and send a message with it first. If you've never used this before, you're in for a treat.

The stock keyboard on iOS was so bad. Finally, an alternative!

There is a whole theme store, Some free some not.

(oops...this is a reply to @nnimkar....posted in wrong box) I'm sure they will have themes on IOS much like they do for Android, so it should along with every other color of the rainbow. I get tired of the theme/color on my Android and constantly change out it's look.

I don't believe the theme store is here at launch on iOS.

Bummer. I like to choose high contrasting themes on the Android version so I can see the sub keys (which are tiny to begin with) out in bright sunlight. A white theme would be cool.

Hopefully it has haptic feedback.

Are these 3rd party keyboards going to be installed as apps or just installed within the settings of the OS?

my understanding is the app must be installed, and the app will then ask for permission to install the keyboard. Not sure if you can then delete the app but keep the keyboard, but my guess is no.

To my understanding, the app will house setting options for the keyboard, if any. And deleting the app uninstalls the keyboard, just like a regular app being deleted.

Can't wait for this keyboard to come out on the 17th! I'm so ready

As a Swift Key user for the last 4 years (on Android) I am glad to see these benefits coming to iOS. I hope you all enjoy it.

SwiftKey is great. I've been using for the past couple years on Android. I wonder if all my predictions and dictionary it's amassed over the past couple years will come right over when I get the 6 Plus? I know they integrated a cloud save system maybe a year ago or less. Posted via the iMore App for Android

Yes, see the post ;-) SwiftKey Cloud is coming to iOS

thanks Richard! Sorry, I must have scanned right over that in the post! that makes it at least a million times more awesome!

I can't wait to use it! I've been a long user on Android using Swiftkey!!!! Sent from the iMore App

SwiftKey may very well be the best keyboard ever made when it comes to predictive text. Been using it for about three years now (sorry Apple, I wanted a larger screen and had to go Android to get it) and it's amazing.
Hopefully their cloud does cross over to iOS.

Swiftkey Cloud is coming to iOS. It's in the post ;-)

i just realised are these keyboard 'apps' going to take up a space on the home screen?

Yup. Until Apple lets you hide them. They also show up in the app drawer on Android phones, but Google does let you hide them.

Will SwiftKey incorporate apple's emojis or use their own SwiftKey ones like in Android? Posted via the iMore App for Android

Swift key uses whatever the phones stock font uses for emoji. So i assume it will use apples. ಠ益ಠ

As a former Swiftkey for android user, when I found out that it was coming to iOS 8 I jumped for joy!!!! I LOVE swiftkey, I hate the stock apple keyboard! I can't wait!!!

I use Swiftkey on Android, and I'm using it to type this comment right now. It's awesome that this is coming to iOS. I hope you all enjoy it. Posted via the iMore App for Android

Great keyboard, hoping it is allowed to work on all native apps. Without a doubt the fastest and most accurate keyboard in the mobile industry.

The one thing that makes me sad is that on the Android version you can type in 3 languages without switching. Being a native of English living in Barcelona (where both Spanish and Catalan are spoken), being able to type in all three has been wonderful. I certainly hope this will be updated (not too far) down the road!! It's an excellent keyboard!! Sent from the iMore App

That looks like the same LAME keyboard Apple has now. What about the ability to long press for punctuation marks, numbers etc? I hope that's not the best they are going to allow Swiftkey to offer.

You have to try it. All keyboards look pretty much the same. ಠ益ಠ

The voice of the narrator and the way the script is design kind of reminds me of Jony Ive. Posted via the iMore App for Android

That video was terrible! There was only about three seconds of the keyboard in action.

I agree, how about some actual video showing the keyboard in use-like will I be able to long press a key and use punctuation marks and numbers?

Awesome news! Love SwiftKey...!

SwiftKey Flow is not exclusive to the iPhone. It's been available on the Android version for years. http://swiftkey.com/en/blog/introducing-swiftkey-flow/

I can't wait for this! So excited!

Can you hunt and peck with this keyboard?

Can't believe it actually has "SwiftKey" stamped on the the spacebar. Kinda hoping Apple bans that nonsense.

Can it pull my Swiftkey history from the cloud that I've already racked up on Android?

Jesus will you people RTFA.

That video makes NO sense. WTF%#!@

I can't wait. I love the possibility to use two different languages without having to change keyboard. Really great feature!

This will probably be the best keyboard for iPhone like it was on android!! Can't wait to buy this keyboard. Honestly I'll probably buy Flesky and Minuum too. I'm not interested in the touch pal keyboard. Sent from the iMore App

But I cant write text on my language(Bangla) with this keyboard! :-( Posted via the iMore App for Android

Hey. Of course you can write Bangla, but probably not with above mentioned keyboard. You may use Ridmik Keyboard for iPhone if you have iPhone 6 or 6+ (http://www.mymobiletips.com/2014/11/Write-Bangla-iPhone-Ridmik-Keyboard....). If your device is iPhone 4S and higher, then you have to first update your device to iOS 8 and then you can use iPhone's default Bangla keyboard to write Bangla in your device - (http://www.mymobiletips.com/2012/07/Write-Bangla-iPhone-Bangla-Keyboard....)
Thank you for signing up to iMore. You will receive a verification email shortly.
There was a problem. Please refresh the page and try again.