Swype comes to iPhone and iPad to help you type faster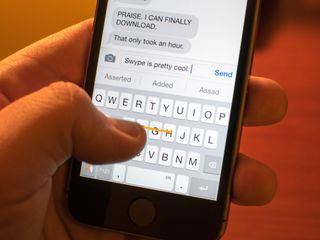 The Swype tracing keyboard is now available for iPhone and iPad. Swype allows you to trace around the keys to spell what you are saying, using a autocorrect to guess what you're trying to type.
As you spell out your words on Swype, you'll see its orange tracer following your finger around. You don't need to worry about hitting the space bar, as lifting your finger and putting it down again starts the new word. Swype learns how you type, and you can add and remove words from your personal Swype dictionary. The prediction boxes on top of the keyboard change as you swipe through, responding to where your finger travels.
Swype lets you choose from a number of themes, including Dark, Light, Earth, and Sun. All of these themes are available for free. Swype is currently available in English, French, Italian, German and Spanish.
You can download Swype from the App Store now.
Get more iMore in your inbox!
Our news, reviews, opinions, and easy to follow guides can turn any iPhone owner into an Apple aficionado
Joseph Keller is the former Editor in Chief of iMore. An Apple user for almost 20 years, he spends his time learning the ins and outs of iOS and macOS, always finding ways of getting the most out of his iPhone, iPad, Apple Watch, and Mac.
lol...Apple made it to 2009... Posted via the Android iMore App!

Is that really necessary? Posted via the iMore App for Android

Yep Posted via the Android iMore App!

Never been a fan myself. I have always found that I can type more accurately using the standard keyboard. I have tried it on android and windows phones but still prefer Apples keyboard with autocorrect. Sent from the iMore App

1+1 equals 2, and that is only because Apple says so. Sheep! I have been using SwiftKey for years. M8 FTW!

Who cares? Posted via the iMore App for Android

Obviously, you do. Posted via the Android iMore App!

Typical Fandroids.... Spend more time hating on what others have vs. enjoying their own. Not a selling point... Bitter and thoughtlessly trolling. Sure makes me want to become an android user. :rolls eyes: I'll stick with better and usable over first every time. But in case that doesn't resonate... 64bit?

+1 Well said, fellow Gopher fan!

64bit? Android made it to 2014.

You have no 64 bit apps, so who cares other than apple fans? We have HD on all our phones... Posted via iMore App

So why, when you go to the App Store, and search for swype, doesn't it show up? Apple really needs to fix search and discovery on the store.

I agree, this is very odd. SwiftKey doesn't show up either.

Like Swype even better than SwiftKey!

My own preference leans toward SwiftKey mainly because it has its own keyboard design so it's easier to tell the difference between the default keyboard and 3rd party. You can swipe using SwiftKey as well. Which is what I'm doing now. Sent from the iMore App

That's because neither have been officially released yet. iMore is using a dev version and a very poor job of reporting since an assumption was made on the release time. The self proclaimed reporter is on par with the National Enquirer. Sent from the iMore App

Anyone else have their keyboard entirely dissapear when Swype is activated? I've had to delete the app twice to get my normal keyboard back. The Swype website help forum seems to be down for me, but the App Store reviews show other people have this problem too. Anyone have a fix?

You may need to give it full access if you didn't do so.. After installing and going to the settings and choosing the keyboard, you still have to click on it again and choose 'allow full access'.. Happened to me as well...

I feel like a total goon now. It still won't work. I found the keyboard under settings, I have English, Emojo, and Swype. I can rearrange the order of the keyboards, but I cannot select the Swype keyboard to find anything that I would click to allow full access. I'm sure this is so simple - I'm just extra dumb these past couple days, eh?

I had that problem this morning with SwiftKey. I fixed it by removing the SwiftKey keyboard them installing it again. Haven't had it dupe yet. My husband is pro android and I am pro iPhone. He is an HP and I am a mac. He laughs until his programs crash and he has to reinstall... Sent from the iMore App

This app is free in every other phone!!
Why do they have to charge to download it into my iPhone!!
Ugh! Totally disagree!!