Talk to your Viber friends on your iPhone, iPad and now your Mac with the all new desktop app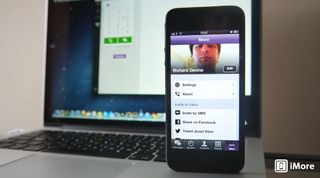 Viber, the massively popular VoIP service that allows users to send free texts and pictures and make free calls worldwide for free, has pushed out a huge update to their iOS app. But, that's not all. Along with the update to v3.0, Viber is launching for the first time a desktop client, so Viber users can get the same great service from their Mac as well as their iOS devices.
First up, the iOS app. There's a pretty big list of changes, but there's a few standout features. Firstly, the app has full support for the new desktop app, both Windows and Mac variants. A great example of the two working hand-in-hand is the ability to transfer live calls between the app on your iOS device and the desktop client. Sound quality has been improved for both poor and high quality signals, and you can now send video messages to your friends.
The iOS app update also brings us stickers, a better looking contact information screen, an online status indicator, accessibility features and localization to a host of languages.
The new Viber Desktop client is very much the same experience, but on your Mac. It utilises the same phone number you set up on your iOS device, so the two remain perfectly in sync. You also can't activate Viber Desktop without already being set up via a mobile account, so if you want to try it out you'll need it on your iPhone first. Following this, setup is as simple as typing in your phone number, entering the activation code you're sent, and you're set!
With Viber Desktop comes the opportunity to make video calls to other Viber users. It's a desktop-to-desktop experience for now, and it is in beta, so it may not be exactly what you're looking for just yet. But, it's a huge step forward for the service, and brings it yet further into the realms of Skype. Grab a copy of the latest Viber apps from the links below, and if you try out the desktop client, be sure to tell us how you found it.
Get the best of iMore in your inbox, every day!
What are the privacy and security concerns with this sort of app, if any? Thanks.

There's no iPad version, if you install the iPhone version in your ipad and activate it the app is deactivated in your iPhone.

Hi there,
This is an official rep. from Viber. :)
We are thrilled about our new releases, and we hope that our users and fans out there will make the most out of them! As usual, we're here to address our users' questions and doubts directly. If you need assistance, please don't hesitate to let us know :) Best regards,
the Viber Team.