Tenikle combines multiple tech accessories into one suction-y package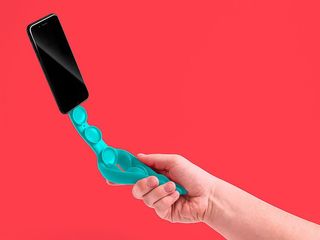 Surf Designer Hans Dose recently launched an Indiegogo campaign for Tenikle (opens in new tab), a single bendable accessory that serves as a car mount, a phone stand, a tripod, a selfie stick and more so you can carry less stuff around (and according to Dose, pollute the ocean less):
Tenikle looks like some adorable but forbidden cross between an octopus and a starfish, and is made of ultra-durable 100% recycled thermoplastic that suctions to smooth surfaces like glass and wood. Due to the combination of the plastic material and "geometry," the suction cups are really strong and designed to hold your device for long periods of time. The Indiegogo page claims the suction cups will stick for 2+ weeks dry, and 4+ weeks if you lick them (or, you know, wet them in a non-gross way) first. Each suction cup will hold up to eight pounds. The "arms" can wrap around things in your environment, too, so you can, for example, hang it from your bike's handlebars to capture a video. If you fear using the suction cups to secure your tech to Tenikle, it also comes equipped with a 1/4-20" thread for universal mounting. If you're the traveling sort, Tenikle is super portable: it rolls up into a little ball that would take up very little space in any gear bag.
According to Tenikle's press releases, it can also function as a "millennial" (ugh) fidget toy, and was designed to captivate and entertain as well as serve its tech-related purposes.
Tenikle comes in Coral, Stingray Gray and Lagoon Blue, and it's already production-ready so you won't have to wait for one. You can support the project and get Tenikle at a reduced price by giving $25, or you can opt for the $40 "ShutterBug" package that includes a Tenikle, a Bluetooth selfie button, a 1/4-20" adapter screw, a solid phone clip (for if you have a phone case on your phone that won't suction), and a GoPro adapter.
Note: Backing crowdfunded projects involves a certain level of risk. Though this project has been completely funded, please know that there's still a chance it may never come to fruition.
Thoughts?
Would you use a Tenikle? Let us know in the comments!
Get the best of iMore in your inbox, every day!
Tory Foulk is a writer at Mobile Nations. She lives at the intersection of technology and sorcery and enjoys radio, bees, and houses in small towns. When she isn't working on articles, you'll likely find her listening to her favorite podcasts in a carefully curated blanket nest. You can follow her on Twitter at @tsfoulk.