Best Battery Cases for iPhone 6s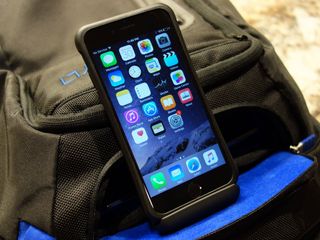 For those days when battery life becomes an issue, you can't always rely on a wall or car charger to give you the boost you need. Having a reliable iPhone 6s battery case on hand can make the difference between a dead device and one that will keep on keepin' on — no matter what. While some manufacturers are still crafting their battery cases, there are already a handful of options available for your new iPhone 6s that are worth scooping up early.
And, if you're unsure about investing in a battery case, you can check out some easy fixes for subar battery life on the iPhone 6s that may be of some help in the meantime.
Supcase Beetle Power Battery Case for iPhone 6s
Our first and favorite of the bunch is the MFI-certified Supcase Unicorn Beetle Power Case for iPhone 6s, packed with enough battery life to suit the most demanding power users. This iPhone 6s battery case manages to provide enough protection against impacts while enhancing grip to prevent them in the first place. Inside is a 3,200mAh battery that keeps things going, covered by a dual-layer casing that features an interchangeable bumper for swapping colors on the fly. It recharges by a microUSB port on the bottom and comes bundled with a handy holster for clipping to a belt or pocket. You can't argue with the easy access to ports and buttons of the iPhone 6s, either.
The Unicorn Beetle Power Case comes at a reasonable $49.99, which is substantially cheaper than some of the big-name competition.
Buy for $49.99 on Amazon (opens in new tab)
PhoneSuit Elite Battery Case for iPhone 6s
Surprisingly thin for an iPhone 6s battery case is the PhoneSuit 3,000mAh Elite. This cover has been crafted to be incredibly sleek with a reinforced construction, strong polycarbonate, and metallic rubber composite materials. On the back is an LED battery indicator that lights up to show how much of the 3,000mAh inside remains. You'll get at least a couple extra charges from this iPhone 6s battery case and enjoy its low-profile design when you see how comfortable it is to use despite packing a battery beneath.
The PhoneSuite Elite for iPhone 6s comes in black, blue, or red for slightly steeper $97.
Buy for $97 on Amazon (opens in new tab)
Trianium Battery Case for iPhone 6s
Trianium has built-up quite the reputation on Amazon with its MFI-certified 3,100mAh iPhone 6/6s battery case, and for good reason — it works and it's affordable. Its durable build doesn't have many frills, but rather sports a more simplistic design that does its job of keeping your iPhone 6s going for the long haul. There's a handy LED battery indicator on the back that lights up by tapping the power button beside it, and the special sync-through technology allows you to connect to a computer without popping the battery case off your iPhone 6s. There's even a microUSB charging cable and 3.5mm headphone extension adapter included for good measure.
The Trianium 3,100mAh Battery Case for iPhone 6s comes in a handful of colors to choose from starting at $35.99.
Buy for $35.99 on Amazon (opens in new tab)
Spigen Volt Pack Battery Case for iPhone 6s
Next up is Spigen's Volt Pack Battery Case for iPhone 6s that uses a 3,100mAh battery inside to provide an extra 150% of battery life. The strong polycarbonate shell is great for mitigating damage if and when your iPhone 6s takes a tumble while wearing the battery case. The frame is actually detachable if you decide you want to change colors and the 4 LED lights on the back give a clear approximation of how much battery life is left at any time. Measuring only 15mm in thickness, it's not overly bulky and still leaves access to the ports and buttons of the iPhone 6s.
You can snag the Spigen Volt Pack for iPhone 6s for $35.99, which includes a microUSB charging cable and 3.5mm headphone extension adapter.
Buy for $35.99 on Amazon (opens in new tab)
Anker Ultra Slim Battery Case for iPhone 6s
Packing a 2850mAh battery inside its amazingly slim polycarbonate shell is Anker's Ultra Slim Battery Case for the iPhone 6s. It's MFi certified and able to used for syncing up to your PC or laptop through the case without removing it. The matte exterior enhances grip, helping to prevent unwanted drops, and charging LED's light up on the back to show how much battery life remains after use. Included with the case is a microUSB charging cable, 3.5mm headphone extension cable and welcome guide.
The Anker Ultra Slim Battery Case for iPhone 6s is currently available on Amazon for $39.99 that includes an 18-month warranty.
Buy for $39.99 on Amazon (opens in new tab)
Your friendly neighborhood accessories guru
I'd love for one to charge using a lightening cable so I wouldn't need to carry multiple cables for multiple devices.

I found this one for $24 - I emailed the seller and she confirms that it charges via lightening cable. https://www.imore.com/e?link=https2F2Fdeepl...

No Lifeproof Fre Power case?

Yeah this case beats all of these without question.

I spoke with Mophie yesterday and their cases do not officially support the 6s yet. They are still reviewing what they are going to do. I have read several reviews where people they said the Mophie case fit extremely tight on their 6S.

The Mophie is very tight but it fits fine and the mute switch I find is better actually because it is so snug. I just leave it in the battery case. I don't even really care about the added weight. I like a little heft to it. I can't live without a battery case now. I love not having to worry about charging the phone on weekends or trips. Sent from the iMore App

I just switch my 6 to 6s and I have the mophie battery case it is tight but it work fine ! Sent from the iMore App

Hey Brent, this is a helpful article, but did you actually test that the 6S fit in all of these things? I personally have tried the Mophie case, and there is absolutely no way a reputable site should be recommending that people use the Mophie iPhone6 juice pack for use with the 6S. It's way too tight - even if people can squeeze the 6S in there and make it work, they're putting a $1000 item at risk of being damaged over time. The phone should not be put under that kind of constant pressure. Where did this information come from? ... "it has been tested and proved to work without any issues" Who tested it? What do you mean "proved" to work without any issues? The phone has been out for just over a week. I don't think you can prove that jamming a phone into a case that's too small will not have issues. Please update the article with something editorial about whether or not you just republished something written for the iPhone 6. If so, take this thing down man. You're going to encourage people to damage their new phones.

I have one one on my iPhone 6s Plus right now and it fits fine. No pressure that I can tell. It is slightly tighter than my 6 Plus but nothing I'd be concerned with. That said, manufacturing tolerances vary and you may have a collision between the thickest iPhone and tightest case :(

Rene, I've tried my phone and seen other people attempt it with theirs, but I posted about the 6 vs 6S, not the 6 plus vs 6S plus. I believe the 6S plus is bigger than the 6 plus, but I haven't personally tested it. My point here is that the author should be testing each device instead of reposting an old article, assuming they will not damage the new phones.

How can i get free iphone 6s

Best battery case is the case you had for your iPhone 6, before Apple decided to tweak the size just enough so that a good majority of the older battery cases won't fit the iPhone 6S. Marketing gimmick, as screen size on both phones is identical! Sent from the iMore App

The Anker Ultra Slim has an issue with the power button. I've had it for 3 months and for the first two,,it worked great. But it started going on without touching the power button, and now it WON'T go on with the power button, unless you first plug in the case, even if it's fully charged. It's a shame, because otherwise it's a great battery case. But not if you have to carry an external battery just to jump start it!

Everybody wants extra battery life, but there's no way to get it without adding considerable bulk, and when your battery case drains you're left with a lump of dead weight. PTron 3500mAh power case and bootcase 2700 mAh has a solution. There's a slim protective shell with accurately cut openings for all the phone's controls, which provides a safeguard against scratches and knocks. The clever part is you can slide it into a larger enclosure that houses a 3500mAh battery.
Thank you for signing up to iMore. You will receive a verification email shortly.
There was a problem. Please refresh the page and try again.