These are the iPhones and iPads that will run iOS 10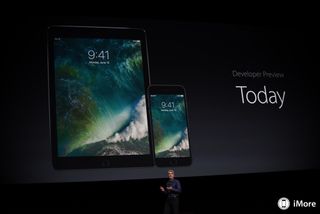 Apple plans to release iOS 10 to the public this fall, and has detailed which devices will be able to use its latest mobile operating system. It appears that this release cuts off support for the Apple A 5 system-on-a-chip, and will function on an iPhone 5, iPad 4, and newer.
Here's the complete list of iOS 10-compatible devices:
iPad 4
iPad Air
iPad Air 2
iPad Pro
iPad Mini 2
iPad Mini 3
iPad Mini 4
iPod Touch 6
iPhone 5
iPhone 5c
iPhone 5s
iPhone SE
iPhone 6
iPhone 6 Plus
iPhone 6s
iPhone 6s Plus
Apple will release iOS 10 in developer preview today, with a public beta coming in July.
○ Everything about WWDC 2020
○ WWDC 2020 remote lineup
○ Download the Apple Developer app (opens in new tab)
○ iOS/iPadOS 14
○ macOS 10.16
○ watchOS 7
○ tvOS 14
○ Discussion forums

Get the best of iMore in your inbox, every day!
Joseph Keller is the former Editor in Chief of iMore. An Apple user for almost 20 years, he spends his time learning the ins and outs of iOS and macOS, always finding ways of getting the most out of his iPhone, iPad, Apple Watch, and Mac.
I like the wallpaper! Sent from the iMore App

Yes, it will make iOS 10 run that much better..

Yes, I know. Sent from the iMore App

Here you go - https://www.dropbox.com/s/84c6fdwe23xsbhl/83dee7475b49cc81ce15eee3b4b02d...

On Apple's website it says that ios10 will be available for iPad mini
https://www.apple.com/ios/ios10-preview/#mn_p Sent from the iMore App

It takes a lot to disappoint me, but can't believe there was NO mention of a dark theme. Based on the signage, I thought this would a for sure thing this time. Maybe next year. Argh.

I guess that was teased only for tvOS

Finally. I've been searing my corneas out every time I access my Apple TV through my projector. That big, white, grid icon interface just wasn't meant for anything larger than 50".

I thought the same thing but I thought it was going to be more of a true dark theme for macOS because the sign looked sort of like a Terminal command line. It may make it into the final release of one or the other.

I knew that the 4s wouldn't be included. It only makes sense.

From my time with one, it should not have even received iOS 7 much less iOS 8 & 9.

Do you guys think that the oldest device on this list will be cut out year after year?
I mean, 5 and 5c will not receive ios 11, then 5s will not receive ios 12 then will 6s and 6s plus will be left out from ios 14?

you somehow skipped the 6 and 6 plus. I think those would go off first before the 6s and 6s plus do. Just like how the 6 and 6 plus will probably stop being sold by Apple when the 7 is released.

I skipped to not say ios 13. Said 6s and ios 14.

Oh I see. My mistake. Sorry for misreading your words.

Nope the 6 and 6 Plus will stop being sold when next year's iPhone's are sold. Sent from the iMore App

I could see the 5 and 5c dropped next year, to only support 64 bit devices.

That the 5 and 5C being dropped next year for iOS 11 is most likely to happen. The fact is they should have dropped the 5 and 5C this year. Sent from the iMore App

It seriously says it right there

What about the iPhone 6S?

Nope, Apple is only supporting the iPhone 6S Plus.

The original iPad mini is listed as supported on the apple preview page

Your list is incomplete. 5 devices are missing, including the iPad 2. That's right. A 5-year old device will run the latest iOS. I'm not even sure the point of it, tbh. http://imgur.com/2tXEJDU

The education segment has a lot of these in use since they kept it available so long.

A lot of articles seem to be missing the iPad 2/3, iPod touch 5g and iPad mini (original). I'm thinking that's what the PR said. That image is the first mention I hear of the iPod 5g being able to run iOS 10 (which is good news, since I have a 5g). One even skipped the iPhone 6s and the SE, now, those aren't hard to guess since they're the newest ones.

If you watched the keynote then you'd realise that the list is accurate and that neither the iPad 2, the original iPad mini or iPhone 4S will be getting iOS 10, which the none of those devices should have got iOS 9. Sent from the iMore App

Apple updated their page. You are correct. http://imgur.com/P1rHDrt

Update: Apple has updated the list from the screenshot I shared yesterday. iPad 2 does not make the cut. http://imgur.com/P1rHDrt Source: https://www.apple.com/ios/ios10-preview/#mn_p

Also sad that our Ipad 3 retina did not make the cut this time.

oops, according to the apple site I stand corrected.

The iPad 3 is ancient so it no surprise it doesn't make the cut for iOS 10, especially if it was sluggish with iOS 9 as it most likely was. Sent from the iMore App

The iPad 4 can be sluggish with iOS 9. Then again, my mother-in-law doesn't understand the concept of closing a tab in Safari when she is done. Instead she decides to constantly crash it by having 20+ tabs open all the time (some are of the same websites), it drives me insane.

A $600 4 year old machine is not ancient.....and it did make the cut.

I doubt the ancient iPad 3 made the cut, why put users of that device from that? Especially after iOS 9. Sent from the iMore App

Wow, you're right... It was listed on apples site earlier but no longer there.

Lot of legency there. Hope everything runs ok with it.