How to download iOS 10.3.3 public beta 6 to your iPhone or iPad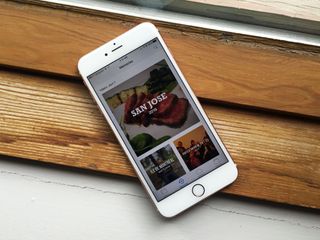 iOS 10.3.3 is coming down the road with a number of new features — features that need real-world testing before the software officially launches. As such, Apple is letting interested users check out iOS 10.3.3 and provide feedback before it goes into wide release.
If you're one of those interested users, however, you will have to go through the public beta download and install process. While it's not complicated, it is different. So, we're going to walk you through it and give you a place to ask questions if you need extra help.
Apple occasionally offers updates to iOS, iPadOS, watchOS, tvOS, and macOS as closed developer previews or public betas (opens in new tab). While the betas contain new features, they also contain pre-release bugs that can prevent the normal use of your iPhone, iPad, Apple Watch, Apple TV, or Mac, and are not intended for everyday use on a primary device. That's why we strongly recommend staying away from developer previews unless you need them for software development, and using the public betas with caution. If you depend on your devices, wait for the final release.
How to make an archived backup of your iPhone or iPad
Before you begin, make sure you back up your iPhone or iPad. While the beta process is fairly straight forward, any time you make any significant change to your device you risk problems. And with your personal data, it's always — always! — better to be safe than sorry. Even if you back up every night, you'll want to make sure it's absolutely up-to-date.
Plug iPhone or iPad into your Mac or Windows PC.
Launch iTunes.
Click on the iPhone or iPad icon in the menu bar when it appears.
Make sure backup is set to This Computer. (And enable Encrypted backup — it's worth it!)
Click on Back Up Now. (Click on Encrypt Backup and add a password — you want the security.)
Back up Apps, if asked.



Press Command, to open Preferences. (Or go to iTunes in the menu bar and click on Preferences.
Click on the Devices tab.
Option-click on your Backup and choose Archive.



Archiving will prevent your current backup from being overwritten by an iOS 10 backup in the future, should you want to revert for any reason.
How to register your account for the iOS 10.3.2 public beta
If you've already joined an Apple public beta in the past, you shouldn't need to register again for iOS 10.3.2; simply sign in with the same Apple ID. If you've never joined a public beta before, you'll start by signing up with your Apple ID.
Go to beta.apple.com

(opens in new tab)

on the iPhone or iPad you want to enroll in the beta.
Tap on Sign up to get started. (If you've already signed up for a previous public beta, tap on Sign in and skip to our "How to enroll your device" section below.)
Enter you Apple ID email address and password.
Tap Sign in.
Tap Accept to agree to the terms and conditions.
Once you're signed up and signed in, it's time to start downloading.
How to enroll your iPhone or iPad in the iOS 10.3.2 public beta
Unlike regular iOS updates, where you just tap and start downloading, Apple is using configuration profiles to validate devices for the iOS 10.2.1 public beta. Here's how to install it.
Note: If you've been on a previous iOS public beta, you may need to remove the previous beta profile before installing the iOS 10 version. You can do so by going to Settings > General > Profile, selecting the iOS Beta Software Profile, and pressing Delete Profile.
Go to beta.apple.com

(opens in new tab)

, if you're not there already.
Tap the iOS tab, if it's not highlighted already.
Tap on Download profile.
Tap on Install in the upper right corner.
Enter your Passcode.
Tap on Install, this time to consent to the beta agreement. (Read it: There are risks to any beta.)
Tap on Install at the bottom to confirm. (Yes, you need to be really sure.)
Tap on Restart to reboot your device.
Once your iPhone or iPad has finished rebooting, it should start to download iOS 10.3.2 automatically. From this point on, the process is the same as any other iOS update.
How to install the iOS 10.3.2 public beta
To install the iOS 10.3.2 beta, you'll need to visit Software Update on your iPhone or iPad.
Launch Settings from your Home screen, tap on General, then tap on Software Update.
Once the update appears, tap on Download and Install.
Enter your Passcode.
Tap Agree to the Terms and Conditions.
Tap Agree again to confirm.
Your iPhone or iPad will reboot to install iOS 10.3.2. There will be a couple progress bars going across the screen. Sit tight, and let everything finish.
How to get started with iOS 10.3.2 public beta
Once your iPhone or iPad reboots, it'll be running iOS 10.3.2. There's a brief bit of setup you'll need to go through, however, as the system will have changed enough that it'll need your login to complete the update.
Tap Continue.
Enter your Apple ID password. iCloud settings will update, so give it a minute.
Tap Get Started.
Once that's done, you'll be on the Home screen and ready to rock iOS 10.3.2
What if I want to go back to iOS 10.3?
Note that iOS 10.3 brings with it Apple's new file system, APFS, and as such downgrading to an earlier version of the OS will be highly difficult, if not outright impossible.
What's new in iOS 10.3?
So much! We've written a bunch about the new operating system, including a detailed FAQ and sections on its new user interface, Lock screen, Messages app, and lots more.
Update July 5, 2017: Apple has released iOS 10.3.3 public beta 6 for members of the Beta Software Program. If you already have a version of the iOS 10 public beta installed, proceed to Settings > General > Software Updates and download away. If you've been waiting for beta 6 to get started on the public beta train keep reading and we'll walk you through the setup!
○ FAQ: Apple's beta software
○ Should you run beta software?
○ iOS 14 public beta: The ultimate guide
○ iPadOS 14 public beta: The ultimate guide
○ macOS Big Sur public beta: The ultimate guide
○ iOS 14: Everything you need to know
○ iPadOS 14: Everything you need to know
○ macOS Big Sur: Everything you need to know
○ watchOS 7: Everything you need to know
○ tvOS 14: Everything you need to know

Get the best of iMore in in your inbox, every day!
Serenity was formerly the Managing Editor at iMore, and now works for Apple. She's been talking, writing about, and tinkering with Apple products since she was old enough to double-click. In her spare time, she sketches, sings, and in her secret superhero life, plays roller derby. Follow her on Twitter @settern.
I was on iOS 9.3.3 beta 5 and had to download the profile again before it would install iOS 10 beta I don't know if that's the case for everyone on iOS 9.3.3 beta 5, I just thought I would point it out if others are having trouble updating

I've been trying to download the profile again, but it's not letting me.i may try and deleted the US 9 pb from my phone and try again.

I simply removed the iOS 9 public beta profile, and installed the iOS 10 public beta profile. iOS 10 seems to be installing just fine so far.

Thank you for pointing this out. I had to delete it too. I only knew this because of you so thank you. I also had to try downloading the profile twice before the iOS 10 beta showed up to download. Sent from the iMore App

Same here. Is there a way to remove the downloaded iOS 9.3.3 beta5? Sent from the iMore App

I had no issues updating to iOS 10 public beta 1, I just had to remove the iOS 9 profile and then proceeded to install the iOS 10 profile and after that I installed iOS 10 public beta 1, so far so good. Sent from the iMore App

Yes, having used these Public Betas since the beginning, I know you have to re-enroll every year to get the new version. You will be instructed to remove the profile you still have for the previous version before you can download and install the new profile for the new version.

Have been stuck on beta 10.0 since day one would not update any of the other betas on my pro. Finally upgraded to beta 4 by redown loading the the registration file and letting it find my iPad. It immediately started downloading iOS 10.4 beta. Glad I came back to read the article. Thanks Serenity!

Does iOS 10 work with watchOS 2? I don't want to update the watch since it can't be easily rolled back.

I very much like to try out watchOS 3. Will installing iOS10 public beta automatically download watchOS 3 or can we even get watchOS 3 as a public beta?

I have watchOS 3 on my watch and it works fine for me. There is no public beta for it, but there are ways you can get it. To answer your other question no downloading iOS 10 won't give you watchOS 3. You would still have to get the watchOS 3 profile and install it.

I've heard there's no Public Beta for watchOS because it's such a hassle to downgrade to the previous version if you have to. Basically it requires sending the Watch back to Apple!

It's not the end of the world if you run into issues on the Watch considering it's more of an accessory than its own device. Eventually you will end up on the stable release

Played with it for a couple mins. Really is the least exciting update I can remember. Posted via the iMore App for Android

What were you expecting? I would've liked a dark mode and being able to set default apps, but apart from that I like the update. Expecting things like being able to access the file system is silly because Apple seem very against doing that. Maybe a few more releases ahead, but I don't know

I partially agree. While part of me agrees to set your expectations to what is likely to actually happen, I'm also kind of thinking you're saying that because Apple won't add features we want, we should stop wanting them. Posted via the iMore App for Android

I'm not saying you should stop wanting them, but you shouldn't say the update is boring because they're not there, it's basically setting yourself for a downfall. We all want them, and all we can do is hope they come, but we can't expect them then get disappointed

Opinions are opinions. If the update doesn't have the things that a particular user desires or cares for, then the update will be boring TO THEM. To say that people should change their expectations is silly. People have a right to be let down and vocalize that. Maybe then their desired features will be introduced.

Been waiting for years for Google to create a real iMessage and FaceTime competitor on Android, lost hope and gave up a long time ago. Point is, you don't always get what you want and the best thing to hope for with these updates are bug fixes and performance enhancements. All these devices already do way more than is really necessary.

I can understand why you see it that way. It's not bringing new capabilities like 8 and 9 did, but is more of a "great rethink" release where Apple gets to refine the design language introduced in 7. But it doesn't really do anything new! It's just that to me, I absolutely adore the refinements and changes!

Loving the look of the notifications Sent from the iMore App

Same. They are probably the thing I am liking the most from the update.

Here is the link to iMore's article about the sticker packs you can download for the iOS 10 beta, http://www.imore.com/apple-offers-sticker-packs-ios-10-beta-testers. Sent from the iMore App

Why does almost no article in the web mention that "archive backup" can't be done on a windows PC? I spent half hour Googling, thinking something is wrong with my backup or my iTunes installation.

Same here. Posted via the iMore App for Android

Am I the only one who thinks iOS 10 is a busy mess? Tried it for a few hours and felt so glad to be back on 9.3.2. I'm sure it'll be refined... Sent from the iMore App

What do you mean by a busy mess? The UI design or the fact that too many features are thrown in at once?

Perhaps a little of both? Widgets via a lock screen gesture and the notification panel seem redundant. Notifications seem to take up more space, making it a bit difficult to go through the new bubble-style list. Don't get me wrong, I'm all about improvement and features.
I'm one of those folks that has a bit of nostalgia for the simpler, more easy to read interface of the pre-iOS 7 days. It seems to be that iOS 10 is more about making each existing feature really, really dense with functionality...almost to a fault. Just my opinion

I agree. The UI in iOS 10 looks childish with these stupid bubbles! iOS 9 is much more sleek and elegant looking. And they totally messed up Apple Music. It looks like crap now. Do they think we all have bad eyesight or something? What's with the enormous fonts and buttons? I liked the music player interface better in iOS 9. The way it pulled in color from the album art for the controls was so nice looking making the whole interface really gel. Now we got this awful white and sorta pinkish-red and smaller album art? Ugh. Not good Apple. Not good at all. Sent from the iMore App

I agree with your point about Apple music. But I personally enjoy the bubbles. I like being able to open the bubble and hold a quick conversation (view past responses if needed) and then go back to what I was doing.

I find it to be clunky on the orig iPad Air...an older device misses out 3D Touch, but everything else was just okay. It's quite sluggish on that device right now....not a fan of all the changes to Messages, I will probably not use most of them ever. I do agree about notifications...love the look and feel of those.

It's running like buttah on my mini 2. Smooth and quick, but I've been doing full resets with every other release. I didn't feel like I needed to with this one. Try a reset and see if that fixes the sluggishness.

Mine is stuck on estimating time any help to get out of this? I've never had problems downloading betas. I've tried deleting profile and reinstalling, even a reset still stuck on that screen

I've turned wifi off and even cellular data and still stuck on that screen

Well it's definitely not going to get anywhere if you disable every way of accessing the internet. Try restarting your phone, or trying again later on

I had to roll back to iOS 9 as iOS 10 has a lot of issues (I know it's an early beta but it isn't quite as stable yet. Sent from the iMore App

It would be nice if you had directions for the windows version of iTunes. That is where I do my backups because my Macbook has limited space.

I would've thought the UI was all the same, at least from the a glance it looks that way (Obviously the menu bar is attached to the window on Windows, and at the top on macOS)

Is Public Beta 2 equivalent to Dev Beta 3?

Wow, that was fast! Installed in about 15 minutes. Rest finger works now. When looking at widgets in lock screen and scrolling, time moves to the status bar! First 2 things I've noticed. Smooth as Beta 1 as far as I can tell thus far.

Question for you… Since iOS 10 beta-1 Apple no longer has today's date in the drop-down notification shade. In iOS 9 and earlier you can drop it down, swipe to the widget screen, and it displays today's date right at the top. Do you know how to bring that back? Or is it a bug? Sent from the iMore App

In beta 2 they brought them back.. Sent from the iMore App

Nice! Seems I always have to watch for announcements like this to remind me to go looking for the new beta. Thanks!!

When I upgraded from iOS 10 PB 1 to iOS 10 PB 2 I am have TONS of trouble with messages, DO NOT UPGRADE YET!
Anyone else having this problem?

I haven't had any problems yet. This Beta has fixed an issue with the app Bills Monitor. It now opens and I can use it again. The Bank of America app still crashing when trying to open.

Updating now. I hope this fixes my slew of issues with PB1 (iPhone6, 64GB). = Everything was ridiculously SLOOOOW. Siri crashes. No suggested apps. Rest finger to unlock never worked. Widgets hardly worked, maybe once after a reboot then never again until another reboot. Bluetooth connectivity issues. Apple Watch connectivity issues. Excessive Apple Watch battery drain (likely the Bluetooth problem). Phone.app issues- screen wouldn't brighten when a call was coming in, nor would my Apple Watch show who was calling. Swipe to answer wouldn't work. In-car Bluetooth juggling during calls. And probably a few other things I'm forgetting. Update almost complete after writing all this! Fingers crossed!
.
Remember, beta testers- REPORT, REPORT, REPORT!!! Or else your complains and issue will go unanswered. Sent from the iMore App

Two issues with Beta 2. My battery is draining fast. I lost 4 percent in the time it took me to fill out the feedback form. I was losing battery even as it was plugged in. The second issue is that the phone won't charge via Macbook Pro. Sent from the iMore App

serious battery drain after most recent update ( public beta ) never had an issue b4 and been running iOS 10 public betas from day 1

It doesn't seem to be a problem for anybody else, but I had to Control-click to get the Archive selection, instead of Option-click. That might be because I'm on an older version of iTunes.

So far so good. They fixed a lot of my issues from public beta 1. In some ways stability it's also better than 9.3.3. Posted via the iMore App for Android

Anyone else please give me link to download ios 10 beta 3? Sent from the iMore App

Sign up for beta through apple.com

It is public beta 3, not 4. Dev beta was 4

I don't understand what's the rush? But i'm not so hungry yet besides so excited to see what's new for iPad Pro?

I'm having issues with replying to messages on my lock screen. When I press to reply the box just comes up blank Sent from the iMore App

I'm having the same issue. It worked great on Beta 2, but i get the blank screen whenever I go tot do a quick reply regardless of what screen I'm on

Is there a way to go back to beta 2? Sent from the iMore App

Ditto Sent from the iMore App

Anyone able to answer this please ! Is there a difference between Dev IOS10 and public IOS10 I have used both but right now I'm on dev betas ? Sent from the iMore App

If you are installing Public Beta 3, careful, it does not work with Apple Watch OS 2.2.2, watch doesnt read phone and vice versa.

I'm on PB 3 and my Watch (OS 2.2.2) works fine. All notifications show up, phone app works fine. The only thing I had to do was to reset "unlock with iPhone", which was turned off.

I just did a hard reset on my phone and it's working again, so I take it back. Sorry. Sent from the iMore App

Can we download watch os 3? Sent from the iMore App

10.0.3 Beta fixes the lagg!!!YESS!!!!!

Not for me. Slower than ever. Unlocking with or without touchID takes literally more than 5 seconds 90% of the time. Launching the camera app and actually taking a picture: upwards of 30 seconds. Apps & folder opens open like I'm using an iPhone 3G. Springboard crashes when I pull down notifications. Just painful through & through. Sent from the iMore App

Working pretty smooth on an old 5c. Like the dark mode on the clock apps, but where has the option to change the digital clock to to the analogue one gone. Sent from the iMore App

PB4, TouchID still super slow. At least 4 seconds, as long as 10 seconds. Horrid. iPhone 6. Sent from the iMore App

PB5. Down to 3 seconds, but it's inconsistent. Sent from the iMore App

PB6. Still slow unlocks. 3-8 seconds. TouchID or passcode (start counting after I tap "Done"). iPhone 6, 64gb.
.
Is no one else experiencing this? Sent from the iMore App

Correction : the button to accept my passcode is "OK", not "done".
The EDIT button on iMore hasn't been working lately.

PB7. 10 seconds from pressing the home button to home screen. Takes super long to even wake the screen, then it's slow to unlock.
Anyone else??? Sent from the iMore App

The touch id on iphone 6 is normally slow. I have iphone 6 on iOS 9.3.4 and the touch id is itself slow. So don`t worry about it

It was no where near this slow with iOS 8 or 9. Not even iOS 10 pb 1 or 2.

I had to swap out my iP6 today at the Apple Store due to a bloated battery - screen bezel was separating from the aluminum, and there was a battery-shaped fuzzy blue line in the middle of my screen: damage from an overheated battery.
.
I first set it up with no Apple account info. I then installed iOS 10 pb7. So, new phone, fresh OS: TouchID is super fast. Faster than it ever was to my recollection; faster than my iPad Pro (same TouchID rev1 hardware). I'm in process of restoring the new iPhone with the encrypted iTunes backup from two hours ago. If it is then slow to unlock, we know it's some other setting or software mucking it up. If it's fast, we'll know it was either the hardware or something mucked up in the OS that didn't carry over with the restore. The biggest variable there is that this phone went straight from iOS 9 gm to iOS 10 pb7. The old phone went through each pb, and the TouchID slow down didn't happen until pb3, for me.

Slow again after restore. Ugh. I guess I'll have to do a fresh install, gonna wait for the GM (next week?). Gonna take so long to get set back up... :'-(

is anybody else missing their visual voicemail (voicemail altogether really)??? Sent from the iMore App

All of my visual voicemails are there. The latest is from when I had PB3, now have PB4.
What is your phone model & mobile carrier? Did yours disappear after an update to pb4? Have you rebooted since update?
Maybe you can call your carrier's voicemail service like back in the day.
(iPhone 6, 64gb. AT&T. iOS 10 pb4) Sent from the iMore App

I have 6plus 128 GB on T-Mobile. visual voicemail hasn't worked since the first beta really. when I hit the voicemail button in the phone app, it dials the voicemail number. it asks to type in my ten digit number but says it's invalid. I've rebooted a number of times. with each beta release, I hope it gets fixed but still no luck. most likely going to return to stock OS at this point Sent from the iMore App

I have the same type of phone but on AT&T and the visual voicemail has been working for me. It's not perfect at times, but other times it has been very good. Hopefully, the issue will be corrected for you soon.

Happy to say the issue I have is it put all my playlists into shuffle Sent from the iMore App

Is the new beta better then the last one Sent from the iMore App

I'm trying to download the iOS 10 profile. It keeps prompting me to use google drive, nothing is happening. It's not letting me download the profile. What am I doing wrong?

Two betas in the same week. Haven't seen that before. Have to wait until this evening to download it. Sent from the iMore App

I still don't ge many of the iOS features on my ipad- Lyrics in the music app, the Memories tab in Photos...Are these features limited to newer models/ some countries only?

So how does the iOS 10 beta work with the current OS's? I use an Apple Watch, and iMac. When my iPhone 6s Plus talks to them or iCloud is it going to freak out? I've made an encrypted backup in iTunes and I don't store anything locally on my iPhone so it doesn't matter if it gets wiped, but could I lose iCloud data for example? Photos, workout app data, email, contacts, calendar?

Just want to confirm. No dark theme in 10?

Seems not Sent from the iMore App

Hi, I am trying to register my iphone for ios10 beta, but I couldnt see Dowload Profile option. Can anyone advice me? 1. Go to beta.apple.com, if you're not there already. - Done
2. Tap the iOS tab, if it's not highlighted already. - Done
3. Tap on Download profile. - I couldnt see this option

I'm having the exact same issue. No idea if Apple simply closed down new enrollments for this beta??

Opps - just realized my comment was already added - I tried the same thing and could not find this link either. Did Apple limit or close new entries for public beta testers?

I have the same issue. There is no "Download profile" button. I was on 9 and it stopped updating @ 9.3.5

Why is the GM big? Its 2GB... Isn't that redundant for anyone who has been on a previous version?

Anybody had any luck installing this? my 6s Plus has been showing "Downloading" for the last half hour.

At 2GB, will we still need the release version next week?
I have an Apple Watch and haven't got to try Watch OS3 because I'm on the public beta.
Will GM allow Watch OS3? Sent from the iMore App

GM is the final release and will work with Watch OS3. We should not need to download anything next week unless they make some changes between now and then of course.

i am on public beta and have been for quite some time. For some reason when I go to update OTA it says my software is up to date at 10.0. Why won't the GM show up for me?

Golden Master Installed on my iPad Air.
"Add to iCloud Drive" added to Safari Share Sheet - happy with that!

Just updated to 10.01.1 beta and my T-mobile version is now showing 25.5.1. Not sure what the update contains but the phone actually seems a bit snappier when moving from App to App and from screen to screen.

Is it possible to have a new comment thread when a new beta (or otherwise) announcement article is released rather than have a long thread encompassing months?

Totally agree... Having to run through posts that are weeks old is not good!

Just installing 10.1 beta 2 now and will report back

I have a feeling that 10.1 Beta 4 has the cellular connectivity issue fix in it that 10.03 has in it for the general consumer. Not coincidental that they came out on the same day. I have been having calls drop for no reason lately.... hopefully this will fix the issue on my iPhone 7. Now it will be interesting to see if T-Mobile come out with a carrier update as well.

Apple lock screen watch... Sent from the iMore App

Not showing for me iPad Mini 4 Sent from the iMore App

You neglected to mention 10.1 beta 5 is for iPhone 7/7plus users only. Sent from the iMore App

how is it that i install the beta profile on my new iPhone 7 plus and it never sees the new beta? try to update and it says already updated at 10.0.3. Trying all different ways to get it to see the new 10.1 because my old iPhone was on the beta and my back up is from 10.1 any ideas?

Same here. Just got my 7 Plus in and can't install my backup because it won't download the new beta and that's what my backup from today was on.

Any luck with this, I have the same problem.

Nope I gave up. Not worth the hassle I guess they should release 10.1 this week I am hoping. If not I'll try again. Weird thing is in my old phone it took 5 mins to get setup and download the beta but the new I7P I tried for hours and it wouldn't work. Soft test hard reset factory default reset up phone a ton of times with no luck.

Yup in the same boat here with my new iPhone 7 Plus that arrived yesterday. Need the portrait mode so I can play with it. Tried all of the above methods along with profile deletion and reinstalls as well. Has anyone on the IP7 been successful, if so, then how?!

Found the solution (albeit temporary) credit to iamjordanharris Just finished dealing with this issue with a new iPhone 7+. Here is how I got around the problem. Download the corresponding IPSW for your iPhone.
https://beta.applebetas.tk/?ipsw=iOS&data=10p1b4 Plug in phone, go to iTunes Hold option and hit restore, choose the downloaded file. You will get a fresh install and the ability to restore from your 10.1 backup. No promises it's a long term solution, but it's a fix.

You could use an iPhone back up extractor and extract your entire backup. Then, find the .plist file and change the iOS version to the one you are trying to restore to. Finally, repack the backup and restore the phone. Should work.

Yes thanks G-luv, you too! Oh and I found the name...It's called "goStrap". I use it on both my e-reader and my phone, which are both phablet-sized and make them easy to operate single-handedly. It definitely has stopped the dropping problem but probably just as importantly, it has given me back the use of my hand!!! Their website's kind of dinky but you can also get them at Bed Bath and Beyond. Hope this helps and best of luck!

Dumb, ignorant question about the Public Betas: They do include security updates? A phone running betas is as protected as one running the current OS?

They do, but bare in mind that a beta could have a bug which could allow for a security exploit, unlikely but possible

Downloaded.... everything went well. The phone seems a bit snappier and responsive. One funny thing however, when I close out an App I see a very small picture of the App on a black screen just before the App closes. I have never seen that before.... anyone know what that might be?

I'm trying to download it and it's not letting me Sent from the iMore App

I've noticed improve battery life with IOS 10.3 beta 1 on iPhone 7.. Sent from the iMore App

Have to say that after downloading Public Beta 6 my Music app started acting up. Cover art was not showing up and Car Play wasn't working properly either. And, the memory on the phone was being highly effected by the Music app. Wonder if this became a known issue with Beta 6 and why Apple released Beta 7 so closely on the heals of 6. Am downloading 7 now and we'll see if their are any improvements in how Music and Car Play are acting. And, the use of memory as well.

My Pioneer 8100NEX had an OS update about 10 days ago that added better support for iOS9/10 and fixed a bunch of issues with Apple Music and how it handled music generally. Not sure what deck you are using or if it's aftermarket but I had no issues with PB6 and Apple Music. It may be either PB6 or the Carplay companion software running on your car stereo. Hopefully PB7 sorts it. I'd still check to see if your deck is upgradable and if there is an upgrade for it.

So many betas in so little time. Are they having major issues, or is 10.3 coming very soon, or...?

Possibly, though the main thing is that it's stable when it's out of beta

I'm beta'd out. Give me some new features or stop wasting my time.

This is a minor update, minor updates never really contain new features. They consist of small tweaks, bug fixes and performance improvements. If you want to see new features then wait for the iOS 11 beta

You guys are usually a bit let on betas. iOS 10.3.2 public beta 3 came out an hour or 2 after the developer beta yesterday
Thank you for signing up to iMore. You will receive a verification email shortly.
There was a problem. Please refresh the page and try again.