How to check which applications are still 32-bit on iPhone and iPad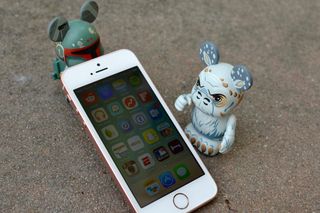 As iOS 11 rolls out to the public today, 32-bit apps will not work in iOS 11. What does this mean for you? Well, it could mean nothing. You may not use any apps that are still 32-bit, meaning the developers have kept their apps updated to Apple's newest specs. If you're concerned that an app you love or use often may be affected and you want to make sure you know what you're getting into before downloading iOS 11, you can quickly check if the apps on your phone are 32-bit or not.
How to check which applications are still 32-bit on iPhone and iPad
The steps below will only work if you have iOS 10.3 installed.
Launch the Settings app from your Home screen.
Tap General.
Tap About.
Tap Applications.
Here you will be given a list of the applications that are still 32-bit. These are the apps that aren't compatible with iOS 11.
NOTE: If you tap on Applications, and no list of apps shows up, it means you don't have any apps that are 32-bit.
What can I do if an app I love is 32-bit currently?
Unfortunately, not a whole lot. It's really up to the developers to maintain and update their apps, so there is nothing you can do directly to fix the issue.
That being said, look at the App Store description of the app and see when the last update was made available. If you notice an update hasn't been pushed in a fairly long time (a year or more let's say), it may be an indication that the developers have decided to stop supporting that particular app. Of course, nothing is for certain, but I would encourage you to pay attention to any news coming from the developers to see if they plan on addressing your concerns.
Which games won't work in iOS 11?
If you play a lot of games on your iPhone or iPad you're probably concerned that some of your favorite games may not work in iOS 11, and I don't blame you. As it stands right now, there are plenty of popular games that have not been updated to function in the newest iOS including games like Call of Duty: Zombies, Midway Arcade, LEGO Batman: DC Super Heroes, Blazing Star, and Doom Classic.
If you're looking for a more comprehensive list of games that won't work in iOS 11, you can head over to Modojo and see their list. Even though Modojo claims that list is every game that won't work, remember that they are hundreds of thousands of games on the App Store, it is entirely possible they have missed a few. Keep reading below to find out how to check if any game or app on your phone is still 32-bit!
Any other questions?
Let us know in the comments below.
Updated September 2017: Updated for the launch of iOS 11.
Luke Filipowicz has been a writer at iMore, covering Apple for nearly a decade now. He writes a lot about Apple Watch and iPad but covers the iPhone and Mac as well. He often describes himself as an "Apple user on a budget" and firmly believes that great technology can be affordable if you know where to look. Luke also heads up the iMore Show — a weekly podcast focusing on Apple news, rumors, and products but likes to have some fun along the way.
Luke knows he spends more time on Twitter than he probably should, so feel free to follow him or give him a shout on social media @LukeFilipowicz.
And? I have hundreds of apps installed in this category. Mostly games. A few examples: Crazy Taxi, Zen Bound 1 and 2, Risk, Shanghai, You don't know Jack, Yahtzee, Denki Blocks, Soul Calibur, all games by Jeff Minter, UNO, Wolfenstein 3D, R-Type, LoneWolf, Fruit Ninja, Midway Arcade, SimCity Deluxe, Death Rally, Scotland Yard, Talisman, Who want's to be a millionaire, Fieldrunners 1 and 2, Peggle, Boggle, Speedball 2, Duke Nukem 3D, Mirror's Edge, World of Goo, Cut the Rope, Game of Life, Trivial Pursuit, Canabalt, Osmos. All of theses games are considered classics and still work very well on current iOS devices like an iPad Pro. Why should they all be killed with the release of iOS 11?

They shouldn't, but this isn't Apple's problem if they are. Apple gives developers way more than enough notice to update their apps, if they choose not to, then complain to the developers, not Apple.

Agreed. This day has been coming since 64-bit came... Will be interesting to see stats on how many apps get a last minute update once ios11 stops sales revenue flow.

I am pretty sure, none of these. Games make money in the first months after their release. Do you know any famous game that gets continuously updates? Well, Minecraft, but this is an exception. It's no more the problem of the developers, because they already have the money. It's the problem of the buyers, who are no longer able to use paid games any longer for no obvious reason!

"It's the problem of the buyers" Well done, this is called "victim blaming", and it's the lowest of the low kind of blame you can do. It's the problem of the developers, end of. The developers should've made enough money off their app to be able to keep maintaining it, and why isn't this a problem on platforms such as the PC with Steam? iOS games work just the same, you pay a one-off purchase and get the game. Whether you continue to play the game or stop playing it, you're not paying any more either way. People do this with games on Steam and these games get updated years later, even if just to make sure they still work. I'm sorry, but this is just iOS developers being lazy, and the buyers aren't to blame, they're the victims here

He's not "blaming" the app buyers, he's saying that this decision only hurts the buyers. Very different concept.
Call them lazy but developers aren't hurt by this move, only the buyers are.There is no incentive for developers to update old apps since there is little to no money to be earned by doing so. Their efforts are better spent developing new apps, where people are more likely to spend money.

He said "problem of", not "problem for". Re-read what he wrote: "It's no more the problem of the developers, because they already have the money. It's the problem of the buyers" This sounds to me like he's blaming the buyers for not being able to fund the product as they've only paid for it once, which is silly because that's just how buying things works.

No app issues, but is the ability to do field test mode for dBm reading toast in ios11?

If it was there in iOS 10 I can't see why it wouldn't be in 11, I've not checked though

Maybe a dumb question, but will iPhone 5 (32-bit) be able to update to iOS 11, continuing to use 32-bit apps?

I believe iPhone 5 was the oldest phone to support iOS 10, and as such it probably won't be able to update to iOS 11. It's time to buy a new phone

There are no dumb questions, only dumb answers... ;)
But to answer yours; the iPhone 5 nor the iPhone 5c wouldn't be able to update to iOS 11, iPhone 5S will be the oldest device.

That would be why this options always seemed to be broken for me. I have zero 32 bit apps. Sent from the iMore App

Checking in settlngs on a 32 bit phone (iPhone 5) looks very different. It even shows a lot of system services.

You blame the developers as much as you want, but nothing in iOS 11 justifies the upgrade if hundreds of apps suddenly stop working. It's not a must-have upgrade at all. But that won't stop Apple nagging users to update everyday.

The developers are blamed because… they're at fault, no one else is. Apple have given plenty of notice for developers to update to 64 bit, if they have still chosen not to after all this time, then aim your complaints at the developers.

64 Bit is the natural evolution for a phone OS. How long do you expect them to maintain backwards compatibility. None of the 32 apps I have were paid for so they are gone. BTW one of them was USA Today. You would think they would have updated a long time ago.

Going through these steps does not work for me.
I cannot click on applications or anything in that list for that matter, to observe what's on my phone.

+1. Any apps that haven't updated aren't worth keeping because that means the developer probably hasn't updated it in a very long time, and has just forgotten about the app. The great thing about iOS is that there are plenty of equally good or better alternatives

You should be able to do two things from this list:
1. "This developer needs to update..." Add a button to 'please let them know.'
2. Let me left swipe to delete the offending outdated app that I probably no longer need.

Number 1 was already done by Apple, a long time ago. Apple notify developers way in advance of changes they need to make. It's just pure incompetence of the developers if they do nothing after all this time

My point was if a device got a lot of requests to update an app perhaps they would reconsider abandoning it.

Although the developer doesn't need manual intervention to see this. They can see how many people are actively using their app, even if anonymously

Thanks - and unbelievable - Goodreader is not a 64 bit App, and there isn't an update.

So I followed your steps (on my iPad Pro) to check on compatability of apps, got as far as apps ... this does not "click" ... it just shows how many apps I have. Is ther another way to find which are ios 11 compatable?

If you can't click on apps, that means none of the apps you have installed on your iPad Pro are 32-bit. Basically, all your apps will work just fine with iOS 11 and you don't need to worry about it. Hope this helps!

Great article, exactly what I needed to know! Thanks.
Get the best of iMore in in your inbox, every day!
Thank you for signing up to iMore. You will receive a verification email shortly.
There was a problem. Please refresh the page and try again.