iOS 10 FAQ: Everything you need to know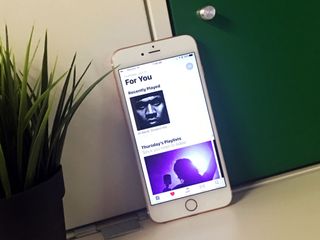 Apple has announced iOS 10, the tenth version of its mobile operating system for iPhone and iPad. As always, there are a few big, new tentpole features, and a ton of smaller changes, additions, and updates. It's available for developers now, public beta testers soon, and everyone later this fall. It's iOS 10, and here's everything you need to know about it.
What, when, and how to get iOS 10
What, exactly, is iOS 10? When can you get it? And what do you need to know about it, really? We've got the deets.
iOS 10 is the tenth generation of what Apple calls the most advanced operating system in the world. It runs on iPhone, iPod touch, and iPad, and handles everything from setup to apps.
And it's just called iOS 10? No fancy name like macOS?
Just iOS 10. Apple uses ski resorts for the iOS code names but for the publicly marketed version, the company sticks to the numbers.
iOS 10 is available for developers and on public beta program right now. For everyone else, the release version will be available Sept. 13, just a few days before the next iPhone ships.
How will I be able to upgrade to iOS 10?
Come release, you'll get a notification and it'll show up in Settings > General > Software Update on your iPhone, iPad, or iPod touch. You'll be able to download and install it from there over your Wi-Fi network.
If you're a traditionalist and prefer cables, you'll also be able to check for and install the update using iTunes on your Mac or Windows PC.
Will iOS 10 run on my iPhone, iPod touch, or iPad?
Apple has announced that iOS 10 will run on the following iPhone, iPod touch, and iPad devices:
iPhone 6s
iPhone 6s Plus
iPhone 6
iPhone 6 Plus
iPhone SE
iPhone 5s
iPhone 5c
iPhone 5
iPad Pro 12.9-inch
iPad Pro 9.7-inch
iPad Air 2
iPad Air
iPad 4th generation
iPad mini 4
iPad mini 3
iPad mini 2
iPod touch 6th generation
Will I have enough storage space to download and install iOS 10 on my iPhone, iPod touch, and iPad?
Very likely! Since last year, Apple has been working hard to make iOS updates smaller and easier to download and install. While iOS 8 was over 4.5 GB in size, iOS 9 was just 1.3 GB. If you're almost at your storage limit, you might have to remove some apps or media. Most people, though, should be fine.
What about older iPhones, iPods touch, and iPads? Will iOS 10 slow down my device?
Betas are betas. There can be all sorts of bugs and code that affect performance. If you're at all worried, stay away from the betas. As for the release version, Apple has been working hard to make sure iOS 10 works great on all compatible devices. Still, we'll have to wait for the fall and test it when it ships.
And iOS 10 is still free, right?
Right! iOS 10 is a free update for all iPhone, iPod touch, and iPad owners with compatible devices.
Big. Bold. Beautiful.
Apple has completely redesigned its Messages app for iOS 10. The biggest features include animated responses, app extensions, and plenty of changes that make iMessages a lot more fun to play with.
New formatting - Messages got a minor redesign that will put a picture of the person or people you are messaging with in a bubble at the top of the screen.
Rich links - Now, when you share a link in Messages, you'll see pictures, videos, and more right inline.
Camera and Photos - When accessing the Camera or Photos in Messages, you see a new layout with quicker access to each feature.
3X Emoji - Emojis just got bigger. Three times bigger.
Message bubble animations + full-screen animations - When you send a message, you can choose an animation to go with your bubble response. Different bubble types produce different animations, like a jiggling bubble or one that shakes the whole screen. You can also send full screen animations, like fireworks, confetti or floating balloons, that take over the entire screen for a few seconds within a message.
Handwriting animation in realtime - Similar to the way Digital Touch sketching works, you ca handwrite small notes that appear, just as you wrote it, to the recipient.
Invisible Ink for photos and messages - You can choose to hide a message from the recipient that they have to reveal by swiping across it. So, if you want to surprise someone with big news, send a message with Invisible Ink to keep it a secret right up until the moment they are ready to read it. Similarly, you can obscure a photo that has to be physically revealed by the recipient.
Tapback - If you just want to send a quick response to someone's comment in Messages, you can now send a "Tapback." Tap a comment to call up the six different Tapback responses, including heart, thumbs up, thumbs down, Ha Ha, exclamation point, and question mark.
Digital touch - Messages now has the same sketching features as Apple Watch. You can send fireballs, heartbeats, sketches, and can draw over videos and audio.
App Store for iMessage - Similar to the way Facebook Messenger has a sticker store where you can download new and adorable illustrations to share, Apple has an app store specifically for iMessage filled with lots of adorable cartoons and sayings. You can send a sticker as a response, or you can even "peel" one off and stick it on a previously sent response by dragging and dropping the illustration where you want it to go.
Emojification - You can turn text into emojis by opening the emoji keyboard in Messages and then tapping the words that are highlighted. When you tap a word, it will automagically transform into an emoji.
Sticker pack app extension - You can send stickers in the Messages app, and even "peel" them off and place them on others' messages by dragging and dropping the sticker where you want it.
iMessage app extensions - With app extensions for iMessage, developers can create extensions are accessible right inside the app, like making funny videos in Jib Jab or sending money in Square Cash. Oh, and Giphy.
Apple is making it easier for developers to help you use their apps more conveniently, like with access to the QuickType keyboard feature, location suggestions for Maps and CarPlay, and content suggestions between apps.
Contextual predictions in QuickType When you type using the built-in keyboard, you'll see QuickType suggestions for contacts, recent addresses, and more based on what you are writing about. For example, if you want to tell someone where today's meeting is, the contextual predictions will call up the address for the meeting if it is in your calendar.
Suggested apps in the keyboard - When you are typing with the built-in keyboard, you might get suggestions for apps that you can quickly jump to in QuickType.
Suggested locations - Developers can send location information from their apps to the Maps app so that, when you open it, you'll automatically get a suggestion for that address.
Suggested content between apps - When switching between apps, you can carry over content from one to the other.
Ride-sharing apps in the app switcher - Apple is opening up ride-sharing apps in the app switcher, which can be designed to pop up when you are likely to call for a ride.
Siri is getting some serious love in iOS 10. The personal assistant is accessible within third-party apps, can search within apps, and more.
Third-party app integration - Siri works with third-party apps for such things as getting a car from Uber or Lyft, searching for pictures in Pinterest or Instagram, or sending money to someone using Square Cash.
SiriKit - Siri is now open to developers to make services available inside the Messages app. At launch, it works with services that provide audio or video calling, messaging, sending and receiving payments, searching photos, booking rides, and managing workouts.
CarPlay apps Siri can control CarPlay apps and access certain features of your car, like temperature and radio settings. You can also use VoIP calls in CarPlay via Siri.
Apple has updated the built-in Maps app with plenty of new useful features, like suggestions for places you could stop while you are on your route, search results in a better place, and a few more things.
New interface - Apple has redesigned the look of the Maps app to be more intuitive using a bold interface for arrival, total minutes, and total miles. It is easier to access controls and details of locations. On CarPlay, turn-by-turn navigation is available right in the instrumentation cluster of your car.
Dynamic view - When you are using turn-by-turn navigation, the map zooms in and out depending on short turns or long straightaways. Plus, you can manual zoom in and out to check the traffic ahead while on your route.
Quick controls - When using turn-by-turn navigation, you can see details on restaurants, gas stations, and other businesses you might want to stop at on your trip. Maps also tells you how much longer it will take if you make a detour. Search filters - You can filter searches based on categories. For example, if you searched for restaurants, you could then select "Breakfast" and will only see places that serve breakfast on the map.
App extensions - With MapKit, developers can create app extensions that are accessible right inside the Maps app. For example, if you searched inside Maps for a restaurant, you could make reservations using OpenTable. When you tap to get directions, you'll also be given the option to book a ride.
More proactive - When you slide up from the bottom, you'll automatically see suggestions. It recognizes what time you normally leave for work, or can look up a calendar event and show you locations based on that information. If there is a faster route while you are driving, Maps will suggest the new route and tell you how much time you will save.
The biggest news in HomeKit is that Apple is finally launching a dedicated Home app. But, that's not the only thing we have to look forward to for the connected home in iOS 10.
New categories - HomeKit now supports new types of accessories, like cameras, door locks, air conditioners, doorbells, air purifiers, and humidifiers.
Home app - Apple now has an app for iOS that brings together all of your connected home accessories under one user-friendly interface that has the bold design of the rest of iOS 10. The Home app supports scene creations, favorite accessories, Siri integration, Control Center, Lock screen notifications, and more.
Apple TV support - Integrates with Apple TV for remote access so you can turn on lights, even when you are not at home. It also supports automated geofencing so you can trigger connected gadgets as you pull up to your house.
Apple Watch support - the Home app comes with built-in home control support for Apple Watch so you can do such things as tap your wrist to lock the front door.
Apple heard our pleas for a more intuitive user interface and has "burned it to the ground" and rebuilt Apple Music's look with clearer sections, new discovery features, and a better way to Connect artists and fans.
New look - Apple Music has a new, bolder design with brighter graphics and bigger features. The Now Playing window has a more minimalist look with some interesting shadow effects.
Sections - The Music app is now distinctly divided into different sections for the Library, For You, Browse, Radio, and Search. At the top of each section, you can quickly filter your search for content by playlists, artists, albums, and songs. There is also a new filter section called Downloaded Music, where all music that you've downloaded onto your device can be found.
Lyrics - Every song that has lyrics in the digital coding is available right in the Music app under the Now Playing window.
Connect - Apple Music's social networking feature has been moved into the For You section.
New For You features - in the For You section of Apple Music, you can find tunes to rock out to by using the new Discovery Mix, My Favorites Mix, and Daily Playlist features.
Lock Screen, Notifications, and 3D Touch
If your iPhone has 3D Touch capabilities, you can take advantage of some great new features on the Home screen and in Notification Center.
Redesign - Instead of swiping up from the bottom of the Lock screen, you can slide to the right. Widgets are now accessible from the Lock screen by sliding to the left.
Rich notifications - when you get notifications on your Lock screen, you can see live info, like calendar events, responding to messages, and more. You can also see live videos and get real-time scores from sporting apps like ESPN.
New Control Center panel - There is now a secondary Now Playing panel in Control Center that you can swipe over to access.
Raise to wake for notifications - Lets you see what's on your Lock screen without ever having to touch a button.
Expanded notifications for 3D Touch - You can use 3D touch to clear all notifications at once.
3D Touch on Home screen - You can use 3D Touch on apps to get more access to useful information. Adding widgets from the 3D Touch Peek to the Today View adds real-time updates for apps.
If you are a News reader, you get some new features to help you find what you are looking for easier. Plus, you can access your news and magazine subscriptions right inside News.
Redesign - The News app has been redesigned with the same, bold look that Apple is implementing with its built-in apps. The bolder interface makes it easier for readers to find content they want to read.
For You - The daily rundown has been separated into four sections under the For You page. The sections are called Top Stories, Trending Stories, your chosen topics and new topics based on what you read, and Featured Stories.
Subscriptions - You can subscribe to magazines and newspapers inside the News app and access them alongside the other News content that you read.
Breaking news notifications - You can add breaking news articles to your lock screen via Notification Center.
Photos
There are a few big additions to the Photos app for iOS. The Photos update will also be available on Mac and viewable on Apple TV.
Facial recognition - Photos on the iPhone and iPad support the same facial recognition technology available in Photos on the Mac. People will be sorted into "people albums" for you. You can filter the people albums by favorites.
Object and scene recognition - The same deep learning technology has been implemented for detecting objects, like horses, and scenes, like mountain ranges.
Memories - You'll be able to view photos based on locations, people involved, scenes, dates, and more. Memories are automatically clustered into slideshow style memory movies, complete with video clips and themed soundtracks.You can reedit your memory movie by size (short, medium, long) or mood (dreamy, uplifting, epic, etc.).
When you copy anything on your iPhone, you can immediately paste it into something on your iPad or Mac thanks to a Continuity update.
Phone
Thanks to third-party APIs, we get some pretty cool extensions to use with phone calls and VOIP apps.
Voicemail transcripts - You can get your voicemails transcribed so you don't have to stop what you are doing to listen to messages left from a phone call.
VoIP extension - Third-party calling apps, like WhatsApp and Skype look more like regular phone calls. They can be integrated into your Lock screen, Phone recents, and Phone favorites. The Contacts app also features additional ways to connect with your friends and family with quick access to the way you typically contact them.
Spam extensions - Phone numbers will automatically be scanned for possible spam from Tencent Security.
At WWDC, Apple took a moment to speak on its security and privacy policies.
Privacy - Built-in apps like FaceTime, Messages, and Home all use end-to-end encryption.
Deep Learning - Built-in services that use deep learning, like Photos object recognition and QuickType proactive suggestions are on-device only intelligence. No information is sent to Apple.
Profiling - When you perform searches in built-in apps like Maps and Spotlight, Apple does not build a user profile.
Differential privacy - Differential privacy is, in a nutshell, a way to learn about a group about typical activities while trying to avoid learning anything at all about the individual. -- Apple Pay on the web
APIs
Apple is releasing developer tools for deeper integration on iOS.
Speech recognition API - Transcription of both real-time and recorded audio. Access requires user permission.
User notifications - Developers can customize the appearance of notifications that appear on devices.
Wide Color - System-wide graphics frameworks support extended-range pixel formats and wide-gamut color spaces.
True Tone adapting - Developers can use the True Tone framework to adapt their apps to shifting lighting conditions.
App search - Siri can make searches while you are in apps (using Core Spotlight APIs). search continuation (start searching in Spotlight, switch to Yelp, search continues), crowdsourcing deep link popularity with differential privacy, visualization of validation results
Differential privacy and deep linking - The differential privacy data collection lets Apple count frequency without associating users with links.
Barely mentioned features
There wasn't enough time to get through everything, so Apple quickly ran down a list of a few more big features that we can look forward to this fall, when iOS 10 hits.
Notes collaborations - You can work live with others in the same note.
Conversation view for Mail - You can scroll from message to message in a single thread.
Live Photos - Your Live Photos now have Digital video image stability and full editing.
Split view in Safari (iPad only) - You can have two Safari windows open side-by-side.
The bottom line
We'll be updating this FAQ as Apple announces more information about iOS 10. Bookmark, save, and share it, and check back often for more.
Meanwhile, if you have any questions, ask away in the comments and we'll answer as best as we can!
Master your iPhone in minutes
iMore offers spot-on advice and guidance from our team of experts, with decades of Apple device experience to lean on. Learn more with iMore!
Daniel Bader is a Senior Editor at iMore, offering his Canadian analysis on Apple and its awesome products. In addition to writing and producing, Daniel regularly appears on Canadian networks CBC and CTV as a technology analyst.