How to download iOS 10.3.3 developer beta 6 to your iPhone or iPad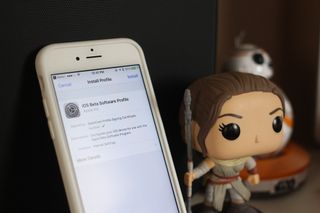 iOS 10.3.3 is on its way with new features, several that require lots of third-party developer input. As such, the company is releasing developer betas so that software engineers can get a head start on making great software for you.
How to make an archived backup of your iPhone or iPad
Before you begin, make sure you back up your iPhone or iPad. While the beta process is fairly straight forward, any time you make any significant change to your device you risk problems. And with your personal data, it's always — always! — better to be safe than sorry. Even if you back up every night, you'll want to make sure it's absolutely up-to-date.
Plug iPhone or iPad into your Mac or Windows PC.
Launch iTunes.
Click on the iPhone or iPad icon in the menu bar when it appears.
Make sure backup is set to This Computer. (And enable Encrypted backup — it's worth it!)
Click on Back Up Now. (Click on Encrypt Backup and add a password — you want the security.)
Back up Apps, if asked.



Press Command, to open Preferences. (Or go to iTunes in the menu bar and click on Preferences.
Click on the Devices tab.
Option-click on your Backup and choose Archive.



Archiving will prevent your current backup from being overwritten by an iOS 10 backup in the future, should you want to revert for any reason.
How to register your account for the iOS 10.3 beta
Before you do anything else, make sure you have a developer account with Apple — without a paid account, you won't be able to download any non-Xcode betas.
Thanks to Apple's configuration profile, you can download iOS betas directly on your iPhone or iPad, no Mac required! (You can still install iOS 10 on your iPhone or iPad by connecting your device to iTunes (opens in new tab), but you'll need to be running the Xcode beta first. The method listed below is generally a lot faster, with fewer wires.)
Go to developer.apple.com on your iPhone or iPad.
Click on the "Download New Betas"

(opens in new tab)

tab.
Log in with your developer account's username and password.
Go to the iOS 10.3 beta section and tap download. This will begin the process of installing the beta software profile onto your iPhone.
The Beta software profile will appear on your phone. Tap Install. You may need to enter your Passcode.
Agree to the Consent form and press Install once in the upper right corner, and once at the bottom of the screen.
Press Restart to apply the changes to your iPhone.
How to install the iOS 10.3 beta
To install the iOS 10.3 beta, you'll need to visit Software Update on your iPhone or iPad.
Launch Settings from your Home screen, tap on General, then tap on Software Update.
Once the update appears, tap on Download and Install.
Enter your Passcode.
Tap Agree to the Terms and Conditions.
Tap Agree again to confirm.
Your iPhone or iPad will reboot to install iOS 10.3. There will be a couple progress bars going across the screen. Sit tight, and let everything finish.
How to get started with iOS 10.3 beta
Once your iPhone or iPad reboots, it'll be running iOS 10.3. There's a brief bit of setup you'll need to go through, however, as the system will have changed enough that it'll need your login to complete the update.
Tap Continue.
Enter your Apple ID password. iCloud settings will update, so give it a minute.
Tap Get Started.
Once that's done, you'll be on the Home screen and ready to rock iOS 10.
What if I want to go back to iOS 10.2.1?
iOS 10.3 beta 1 updates your device's file system to the new Apple File System (APFS). As such, you won't be able to downgrade once the update is complete.
What's new in iOS 10?
So much! We've written a bunch about the new operating system, including a detailed FAQ and sections on its new user interface, Lock screen, Messages app, and lots more.
Update July 5, 2017: Apple has just released iOS 10.3.3 beta 6 for developers. If you have a previous iOS 10 beta installed, you can head to Settings > General > Software Updates and get started downloading. If you were waiting for beta 6 to get started with iOS 10.3.3, keep reading and we'll help you get set up.
Get the best of iMore in in your inbox, every day!
Serenity was formerly the Managing Editor at iMore, and now works for Apple. She's been talking, writing about, and tinkering with Apple products since she was old enough to double-click. In her spare time, she sketches, sings, and in her secret superhero life, plays roller derby. Follow her on Twitter @settern.
Is this an update for Pokemon Go? Will it make my Pokemon Go run better? If it is not Pokemon Go related I don't care.

How old are you, like 5? Sent from the iMore App

You don't get sarcasm, do you.

I guess you don't either. Lol

9.3.3 actually did seem to make my Pokémon Go run better

Has anybody else had major app incompatibility with 10? Obviously it's a beta and I expect some, but it seems like I've had a lot more issues with the iOS 10 beta and the apps I use than prior large betas. Just curious!

I did have massive problems with the initial developer beta but since the second beta it has been fine, just installing the third one now so hopefully that works just as well

Thanks. Did you have to reinstall the apps or did they just start working again?

No they just started working, I did note a few had made minor updates to help with the iOS beta

I haven't had many issues on the public beta, actually has worked a lot better than previous beta versions of IOS.

I have had problems with the YouTube application, menus disapear all the time on beta 2. I also run into streaming issues, where music and videos randomly stop. It's a beta, some trouble is expected. I have reported these bugs.

Delete the YouTube app and reinstall it. Problem fixed. It happened to me Sent from the iMore App

I'm on public beta. iPhone 6, 64gb AT&T. My 3rd party apps have been fine but the system stuff and the OS in general has been slow and crashy.
Stay away until further betas or gold master. Sent from the iMore App

Yup! Sent from the iMore App

I just had a problem with my Banks app in Beta 2 which is now fixed in Beta 3. Sent from the iMore App

Just installed a little while ago. So far so good. Animations still seem laggy but widgets are back to working fine! Hope it stays this way!

This is still developer only isn't it? Would be nice for clarification on these. Sent from the iMore App

First sentence says it, "Update July 18, 2016: Apple has just released iOS 10 beta 3 for developers. If you already have iOS 10 beta installed, proceed to Settings > General > Software Updates and download away. If you've been waiting for beta 3 to get in on iOS 10, keep reading and we'll walk you through the set up!"

Question for you guys… Since iOS 10 beta-1 Apple no longer has today's date in the drop-down notification shade. In iOS 9 and earlier you can drop it down, swipe to the widget screen, and it displays today's date right at the top. Do you know how to bring that back? Or is it a bug? Sent from the iMore App

The date shows in the up next widget. Sent from the iMore App

Not for me. There's no date anywhere. Sent from the iMore App

Hey, I've been using the iOS 10 beta and just got wind of iOS 10 beta 3. When I go to General > Software Update it say's "Your software is up to date" and has iOS 10.0. Does this mean the update automatically installed? Is there any way for me to identify beta 3 over beta 2?

I think it's only available to developers only right now. Sent from the iMore App

I think I down loaded beta 3 but when I go to beta it says iOS 10.0 is this correct or did I do something wrong? I also have a developer account.

This happened to me too. Hope somebody answered!

The best beta for ios 10 so far smoother and faster :) Sent from the iMore App

Thanks, getting it now! Sent from the iMore App

HEY... Anyone know how to update with a broken Touch ID. Am I stuck!?

Disable Touch ID. Unlock your phone with the PIN and remove your saved fingerprint(s)

They still have a lot of work to do. I have bugs everywhere Sent from the iMore App

Very tempted to try out beta but I will wait for final version.

Just do it! You'll be excited you did. Sent from the iMore App

Anyone having issues with downloading it? I keep getting error messages Sent from the iMore App

I hope they fix the Bluetooth issues in the master. So far that's been the worst part of the beta. Iffy blue tooth connectivity.

is the GM available for Public Betas also or just for developers ?

I can't see any updates and I'm on the Sierra Public Beta so I assume it's just for developers

I just got iOS 10.0.1 and I'm on the public beta Sent from the iMore App

The Portrait mode in the 7plus is turned on in this beta

My iPhone 6s Plus does not ring on incoming call, it just vibrate. Sent from the iMore App

If someone from iMore is monitoring the comments could we please get them reset? Now that the conversation has been moved to the pre-release of 10.1 there is no need to have to scroll through all the pre-10.0 comments. I'm sure it is not a big deal for most however people such as myself that rely on screen readers this takes quite a bit of time. Lastly could we do the same when the public beta comes out for that topic as well? Sent from the iMore App

Agree Sent from the iMore App

Is this update will going to fix the issue with the "no name" on contact list?.?.?. Sent from the iMore App

Wow, I thought I was thr only one with the no name issues, anyway I just deleted the no name contacts. Sent from the iMore App

Anyone know what the timeline is for 10.1 to be released to the public? I only have one device, so I can't load the betas. Or won't. : )

Its public now as well (beta 3 that is).

Beta 4 is live now. Sent from the iMore App

The public one. Sent from the iMore App

not sure why making a big article about it because people they run a beta should know how. even people reading the side will know...

Clicks? Also, not showing for me...interesting.

Not showing for me iPhone 6+ Sent from the iMore App

The forums are saying it is only for the 7 and 7 Plus.

Same build number as Beta 4. Explains why Beta 5 came out so fast.

Do you have any idea of why some people including me are not getting the OTA? Sent from the iMore App

Why I didn't get the OTA of beta 4? Sent from the iMore App

It hasn't shown up for me for OTA either, watch neither. Sent from the iMore App

Maybe this is an iPhone 7/7+ only update? Sent from the iMore App

No it isn't I got both of them including 6s, 7 and 7+ Sent from the iMore App

So did you get OTA for any/all your devices? Sent from the iMore App

Yes I did but not when they posted this Sent from the iMore App

Maybe it got pulled for a glitch? Sent from the iMore App

Or a problem with the OTA servers. Still shows as an available IPSW file on the developer portal. Sent from the iMore App

Just showed up for me but as a 2GB install. Giddyup! Sent from the iMore App

Serenity, the OTA of the PB is out now too.

This is one that makes me wonder...2 beta updates in a week. Team just working really hard or the previous update that was down for a bit OTA (and 2GB!) was a rollback of sorts or just really buggy. 🤔 Sent from the iMore App

Why did they remove Emergency SOS from iOS 10.2 but was in the Betas?

Weird. I never did the update and my phone says it already has 10.2.1 installed. Sent from the iMore App

Got it. I had to download the profile as it got deleted somehow off my phone. Sent from the iMore App

how to update ios 10.3beta1

10.3 beta gave my iPhone 7 cancer Sent from the iMore App

iOS 10.3.2 Beta1 being released just the next day after 10.3 production was released.... What's going on :-O
And why is it 10.3.2 and not 10.3.1 is again confusing. Moderetors should probably mention at the top what new is found in the Betas that get released rather than just copying the same old generic statement that Apple has released xxxxx @Serenity Caldwell

You are completely right! Sent from the iMore App
Thank you for signing up to iMore. You will receive a verification email shortly.
There was a problem. Please refresh the page and try again.