Things I hope to see at the Apple Silicon Mac event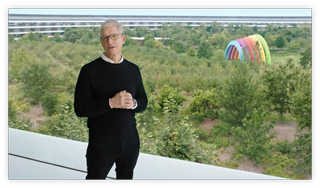 (Image credit: Apple)
Next Tuesday, November 10, Apple's holding its third online-only press event in as many months. Everyone assumes the event will largely focus on the world's first Apple Silicon Mac, which the company promised would arrive before the end of the year.
And yet, this being 2020, has me convinced Tim Cook and company might unwrap some secrets that could overshadow the company's latest computer reveals. Here's what I want to see at next week's event.
macOS Big Sur Max
My 2018 MacBook Pro is really getting tired of using a beta version of macOS. And yet, since June, when the new version of macOS was announced, my laptop has been living in various stages of the macOS Big Sur beta. After Tuesday, I have no doubt the first public version of macOS Big Sur will arrive for most Mac users on the planet. For those eyeing a soon-to-be-announced Apple Silicon Mac, I expect we'll be seeing a souped-up version of macOS Big Sur, also making its debut.
Ever since Apple announced it would begin transitioning away from Intel-based chips on new Macs, I've been wondering what the company would do to sell the new Apple Silicon architecture to the masses. The switch will eventually mean developers can create software that works across all Apple platforms, including macOS, iOS/iPadOS, and tvOS. That fact alone will be enough to make all Mac users celebrate, especially since it means buying and downloading one app for use across multiple platforms. And yet, Apple Silicon probably will need other high-profile tools and features to convince the everyday Mac buyer to make the switch.
I have no idea or insight on what these goodies exclusive to Apple Silicon might be. However, I expect we'll be hearing a lot about them during the Tuesday event.
The new Macs
In June, Apple promised the first Apple Silicon Mac would arrive before the end of the year. As I've noted often in recent weeks, I expect we'll be seeing at least two or more of these computers announced at the Mac-focused event. One of these is likely to be a new MacBook Air, while a new 13- and 16-inch MacBook Pro could also get revealed.
No doubt, the new computers will quickly be added to our list of the best MacBooks of 2020.
The biggest question heading into next week is whether a new Apple Silicon Mac means the current Intel model's retirement. For example, a new Intel-based 13-inch MacBook Pro launched earlier this year. Does this Mac get its walking papers if an Apple Silicon-based model gets announced? I'd say yes, although I wouldn't be pleased with this type of decision if I had only recently purchased a 13-inch MacBook Pro.
Entertainment
Apple TV+ is celebrating its first anniversary this week. Though COVID-19 no doubt slowed down production on many of its series and specials, the streaming service has a lot going for it heading into its second year.
First are the 18 Emmy nominations the upstart service received just nine months after its debut. Though it only received one win (for best supporting actor in a drama series for Billy Crudup in The Morning Show), more are probably coming in future years given its growing list of content.
New titles from Seth Rogen, Naomi Campbell, Oprah Winfrey, Billie Eilish, and Patricia Arquette are launching, and that says nothing about the returning content, including new seasons of the previously mentioned The Morning Show, Dickinson, and surprise of the year, Ted Lasso, which recently received a two-season renewal.
All this suggests Apple might use next week's event to reveal something new on the entertainment front. Perhaps this will be new content or the unwrapping of a sixth-generation Apple TV.
AirTags, finally
Rumors about Apple releasing a Tile-like device-tracking tag go back almost a year. However, we have yet to see the new product launch at a press event or through a release. I'm somewhat confident in predicting AirTags will make their big reveal next week. And yet, I wouldn't put money on it any more than I would place a bet on who will win the presidential election in the United States.
Apple probably won't replace Beats ... yet
In recent months, we've heard rumors that Apple might soon retire the Beats Electronics name and release new audio products under the Apple name. This will probably happen, although I'm not yet convinced it's going to occur in 2020. Instead, I think Cupertino will wait until spring 2021 to announce the long-rumored AirPods Studio over-ear headphones alongside the new generation AirPods and AirPods Pro. A next-generation full-sized HomePod could also be in the offering next year to serve next to the recently announced HomePod mini.
A surprise
The late Steve Jobs was notorious for announcing "one more thing" at the end of many of Apple's special events. I think we'll be seeing something similar revealed next week, if only because the invitation to the event includes those words in big letters.
The "one more thing" could be something we've already heard much about, like the AirPods Studio. Or it could be something much more significant that won't make its actual debut until 2021, such as Apple's long-rumored AR glasses product or a foldable iPhone. Regardless, let's hope the final product announced in 2020 is something huge that will allow this eventful year to end on a high note.
Thoughts?
What new products do you want to see on Tuesday? Let us know in the comments below.
Get the best of iMore in your inbox, every day!
Bryan M. Wolfe has written about technology for over a decade on various websites, including TechRadar, AppAdvice, and many more. Before this, he worked in the technology field across different industries, including healthcare and education. He's currently iMore's lead on all things Mac and macOS, although he also loves covering iPhone, iPad, and Apple Watch. Bryan enjoys watching his favorite sports teams, traveling, and driving around his teenage daughter to her latest stage show, audition, or school event in his spare time. He also keeps busy walking his black and white cocker spaniel, Izzy, and trying new coffees and liquid grapes.
My hope for the one more thing at the end will be them announcing touchscreens for Apple silicon MacBooks. If they don't announce this, I'm staying with a windows laptop and my iPad and iPhone. If they do announce it, I'll sell my laptop and get a 16 in touchscreen MacBook. But either way I'll still keep my windows desktop for gaming.

Why do you want fingerprints all over your screen?

If you've ever used an iPad you'll realize that touchscreens look just fine when they are tuned on - you don't notice fingerprints at all unless your hands were smeared with food. Same thing for Windows laptops that have touch - when the screen is on you don't see the fingerprints at all. I have a Dell XPS 15 with touchscreen, and a 2019 13 Inch Macbook Pro (obviously non-touch). When they are turned on the Dell screen is actually a lot nicer than the MacBook Pro.
When the screens are off I can see the fingerprints on my Dell and the MacBook screen looks prettier. But how often do I use either device with the screen off? Never. A touchscreen on my Macbook would allow me to lay on the couch and scroll the screen with my hand, which is a lot more comfortable than folding my arm to get to where I can scroll on the touchpad. And some things just work a lot better with touch - so much easier to sign documents than the crap I end up with signing on the touchpad. Same goes for drawing which I can't use my Mac for at all. And then you have all the iPad games that will supposedly be able to run on the MacBook - a touchpad will be crap for navigating those. There is no downside to touchscreens except for added weight and reduced battery life. And if Apple Silicon is efficient enough I'm more than willing to trade those two things. Other people aren't and that's fine. But I'd like the option. Right now I pretty much always use my XPS over the Mac unless there is some particular thing that can only be done on a Mac (generally for me comes down to iMessage and better movie watching through the Apple system).

This is right up there with the "gorilla arms" argument. Touch is incredibly useful on a laptop - faster scrolling, target selection, pinch to zoom - it is NOT a replacement for your trackpad or mouse, but another useful input method. If you don't want to use it, fine. If you don't want to pay for it, then Apple could make it a separate SKU, but if using iOS apps on your Mac is going to be a "thing" that will not work from the trackpad. Love or hate Windows, it is one place where Microsoft has kicked Apple's backside, and I don't care if we even have to listen to Apple crow about how they have reinvented touchscreens and "done them right" - JUST DO IT.

Same reason he wants fingerprints on his iPad and iPhone screen?

Rumors point to all MacBooks getting updated at once. Make sense actually. First logical step from "mobile" to "desktop" would be laptops. Since they share the same finite resource; battery. Also looks like the performance of the A14X, will rival, if not best, the Intel 8-core i9 in the MacBook Pro 16". And that'll be in a passively cooled iPad Pro! Now, imagine what a Mac SoC will perform like?!

And then quietly people started to walk back the predictions about the 16 inch MBP (the speculation being that the 16" has a discrete graphics card which isn't ready yet). I'll be very disappointed, I must admit, if the only thing Apple is able to launch with is their lowest end. I know some people get useful work done with them, but in my eyes, the 13" machines are toys. My workflow needs documents side by side; I've tried it with a 13" screen before and it's simply not doable.

"one more thing"
It slays me that you're reading so much into this. I think you're talking some of your readers into being disappointed. As though new Apple Silicon Macs aren't big enough news. Apple had their yearly September event, and then they had their October event (which isn't a given from one year to the next). And they KNOW people are clamoring for the Apple Silicon Macs. So Apple gives us an extraordinary 3rd Fall event. The "one more thing" line is them being playful. Why would they introduce something shocking and unexpected, taking attention away from the Apple Silicon Macs?