Three things I want to see in the 2017 iPad Pro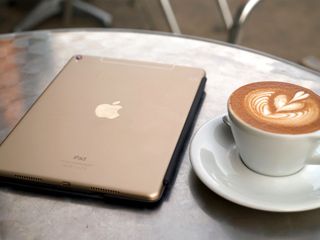 As someone who's used a 12.9" iPad Pro as my primary computer since its release in November 2015, I've spent more than enough time with the device to know what I'd like in a second version. Thus, the recent buzz around a refreshed iPad lineup is welcome news and I'm excited to see what happens.
With this sentiment in mind, here are three things I'd like to see from the reportedly forthcoming iPad Pros.
A True Tone display on the Big Pro
Like with Apple Watch Series 2, I never reviewed the 9.7" iPad Pro released last spring because I was content with what I had. That said, the tablet's True Tone display has intrigued me from an accessibility perspective.
Having played with the smaller Pro at Apple Stores, I find True Tone technology makes the screen easier to read and more pleasing on my eyes.
On the big Pro I use, I employ such tricks as Reduce White Point and especially Night Shift during evening hours to adjust the display's appearance for the simple reason that it mitigates eye strain and fatigue.
Given how much we all stare at screens all day, it's important for me as a visually impaired person to conserve as much visual energy as I possibly can. Both Reduce White Point and Night Shift help me do so with aplomb, but True Tone would be a great addition. Not only would it make the screen look nicer, it'd be another tool with which I can save precious energy to work every day.
A Caps Lock indicator light on the Smart Keyboard
Contrary to a lot of people I know in the Apple journalism racket, I actually like Apple's Smart Keyboard. It's a great all-in-one solution that has some distinct advantages over something like the Magic Keyboard (also great) for typing.
Alas, the biggest bugaboo with the current iteration of the Smart Keyboard is its lack of an indicator light on the Caps Lock key. It's highly annoying, and I'm hoping Apple can find a way to put one in the next edition of the Smart Keyboard.
Having a Caps Lock indicator light is more than just convenient. In terms of accessibility, the light is an important secondary cue that (a) I hit the key; and (b) caps are either on or off. I can feel when I hit Caps Lock, but the fact a "traditional" keyboard (like the Magic Keyboard) has a little light indicating status is a crucial visual aid. The double dose of sensory input goes a long way in helping me ensure I'm doing the right thing. For me, that's a big deal.
Accessibility concerns aside, another reason I'd love a Caps Lock light is it'd sure help me cut down on typos. I use the Smart Keyboard often, and I've lost count at how many times I inadvertently write something liKE THIS because I can't tell whether Caps Lock is engaged or not. Even Caps Lock on the iPad's virtual keyboard goes from gray to white when in use. Put simply, the lack of a Caps Lock light on the Smart Keyboard is the bane of my writing-on-the-iPad existence.
A Big Pro in a Small Package
The rumor Apple will introduce a 10.5" iPad Pro is the one I'm most hoping becomes reality.
For as much as I adore the 12.9" iPad Pro for its giant screen, I admit the device's physical size makes it somewhat unwieldy to hold. Obviously, its ginormous size isn't a deal breaker for me, but there's no getting around the fact the Big Pro is a beast.
A big-screened, thin and light iPad is incredibly appealing.
I would love to have a big screen iPad in a form factor more akin to the 9.7" Pro. To me, such a device would be the "Goldilocks iPad": just right. Theoretically at least, a 10.5" iPad would combine the Big Pro's screen size and resolution with its little brother's form factor. It sure seems like it would be the best of both worlds, and the next iPad Pro I would most likely switch to. I'd be delighted with this device.
Of course, this 10.5" iPad isn't a real thing today—at least to people not working at One Infinite Loop. But if reports are indeed true, I'll be very excited to see the thing and test it.
Fortunately, March is here. We may not have to wait long until Apple shows us what's next with iPad (and the software it runs).
Get more iMore in your inbox!
Our news, reviews, opinions, and easy to follow guides can turn any iPhone owner into an Apple aficionado
Steven is a freelance tech writer who specializes in iOS Accessibility. He also writes at Steven's Blog and co-hosts the @accessibleshow podcast. Lover of sports.