iTunes is celebrating America's independence this 4th of July with tons of discounts on digital HD films, including deals on classics like Forrest Gump, Top Gun, and Independence Day.
Showtime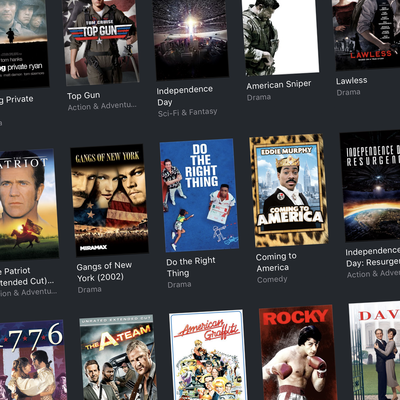 With prices as low as $5 each, now's the time to add any of these discounted films to your digital library. Even buying a couple of them is less than the cost of a movie ticket.
Prices Vary
American Pie is the quintessential raunchy American teen movie, and today the full four-film saga (minus all the random spinoffs) is down to $19.99. Meanwhile, options like Saving Private Ryan and Gettysburg at $10 each would be a fitting watch this weekend as we commemorate the freedom of our country.
July 4th is about fun, too, which is why there's also a good mix of hilarious films in the sale, like Team America World Police and Beavis and Butt-Head Do America. There's also a whole section of 'Feel Like A Kid Again' films priced at $10 or less, which includes favorites like Willy Wonka and the Chocolate Factory, Space Jam, and Harry Potter and the Sorcerer's Stone.
For more stellar iTunes deals, finish off your search by browsing through these digital HD films for $5 and up and you'll have movie night all taken care of.
We may earn a commission for purchases using our links. Learn more.