Daily tip: How to send data from your desktop with Chrome to iPhone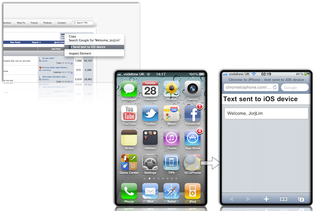 Use Google's Chrome browser on your Mac or Windows PC and wish you could easily transfer data on to your iPhone, iPod touch, or iPad? Well thanks to a Chrome Extension you can and we'll show you how after the break!
Chrome to iPhone is a little extension that sits in the upper right hand corner, and sends the page you are currently looking at to your iPhone.
Download the Chrome Extension, Chrome to iPhone
Install the plugin onto Chrome.
The options page should automatically open (if not right click the "iPhone" next to your address bar and select options)
Copy the link onto your iPhone (this is the one bit of manual typing you'll have to do)
Follow the instructions on your iPhone to add the extension to your iPhone home screen.
Once you've done this you are ready to start using "Chrome for iPhone"
When you are viewing an ordinary website, press the extension on your Chrome browser and open the home screen icon on your iOS device, it will redirect you to the same website you were looking at on your browser.
If you are viewing a YouTube video, when you press the extension, it will open the YouTube application and play the same video you were watching.
Unfortunately due to Google's Maps restriction, there is an extra step to get this working with Google Maps, however it still works great if you need "directions" on your phone.
After setting your route, be sure to click "Link" located on the right hand side of the map, and copy that back into your address bar before pressing the extension.
Finally if you highlight any piece of text, you can right click and copy the text straight to your iPhone. This will open a "clipboard" with the text there ready to be used.
A great thing about this extension is that it works over 3G so your iPhone doesn't even have to be connected to the same Wifi as the Mac/PC.
If you give it a try let us know how it works for you and if you have any questions, fire away in the comments!
Tips of the day will range from beginner-level 101 to advanced-level ninjary. If you already know this tip, keep the link handy as a quick way to help a friend. If you have a tip of your own you'd like to suggest, add them to the comments or send them in to dailytips@tipb.com. (If it's especially awesome and previously unknown to us, we'll even give ya a reward...)
Get the best of iMore in in your inbox, every day!
Writer for iMore, YouTube Vlogger, and Host for [TEChBrits]
Apparently this works with all browsers and a lot of different OS's

Is there a way to go from iPhone to chrome? That would be more useful.

What's the best way to do it the other way?
I often have tabs open on my iPhone that I'd like to pull up in a full desktop browser later when I get home... I use Chrome and Firefox. Anyone know a good way to do this?

@ryan and @ rob, in Safari the "+" button at the bottom of the browser give you an option to "mail link to this page". I hit that and send it to my gmail acount and since I always have my gmail up on my desktop the link is on my desktop in about 2 seconds. hope that helps.

@justin
thanks that sounds reasonable

what's a good way to send chrome bookmars to the iphone? something akin to firefox home.

This is great. I will no longer need to keep sending my self e-mails with links and such.

@frank : u can try to sync your bookmarks with xmarks and then acces your xmarks account using your iphone browser.hope that helps

Thanks for the tip. I used to use this kind of thing with my last android phone and didn't think it would work with iOS

Pastebot is brilliant: http://itunes.apple.com/us/app/id344614116?mt=8

@frank. I find MobileMe great for syncing bookmarks for Safari. I have the same links on my iPad, iPhone and iMac. Cloud syncing works like a charm :)

This chrm extentions is great.
The google maps link will make stuff so much easier for me.
Thank you for signing up to iMore. You will receive a verification email shortly.
There was a problem. Please refresh the page and try again.