TodoMovies for iPhone review: Get notified of releases, track watched movies, and more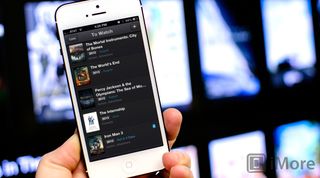 If you're a movie buff and enjoy going to movies often, you can of course use services like Siri to look up movie times and even buy tickets but what if you want more information or to keep track of movies you've already seen? TodoMovies offers just that straight on your iPhone. Not only can you view trailers, ratings, and more on movies, but you can choose to save movies to your watch list and be notified when they come out in theaters.
I've always had a hard time finding an app that manages movies well. Services like Fandango and some others allow you to track movies, like them, and watch trailers but it requires another account login for me to remember. TodoMovies doesn't require me to do any of that or log in with a social service. I can just start adding movies the minute I launch the app. Not only that, native iCloud sync keeps your movies backed up and synced across all your iOS devices.
When looking for movies to add to your watch list, you can view movie trailers, gallery photos, ratings, and even App Store recommendations. This is one thing that really intrigued me since I typically do like to take a look at movie soundtracks or iBooks occasionally. While viewing any particular movie, just tap on the shop bag and you'll be shown any relevant iTunes or App Store items that TodoMovies can find based on that movie. I have found some quirks and things that may not necessarily belong but overall, it does a pretty good job at filtering in relevant soundtracks and books.
TodoMovies can notify you when a movie releases in a theater if you add it to your watch list. By default you'll be asked if you'd like to receive notifications for each and every movie that isn't out yet but you can easily remedy this by hopping into settings and disabling the notification prompt. You can either tell it to remind you each time or you can turn notifications off completely for TodoMovies in settings.
Once you've watched a movie, tap on it from your watch list and tap the check mark which will move it from your watch list to the already watched section of TodoMovies. This is a great place to keep track of all the movies you've seen.
The good
Ratings from both Rotten Tomatoes and Movie Database
High quality trailers built right in
App Store recommendations including albums, books, and apps that may be relevant to that particular movie
Notifications for movie release date reminders
iCloud sync
The bad
No ability to rate movies within TodoMovies
Sometimes App Store and iTunes recommendations can be a bit flaky and produce irrelevant results in some situations
No showtime support with local theaters
The bottom line
If you're looking for a movie tracking app that allows you to keep track of your personal watching experiences, TodoMovies is it. There aren't any pesky signups to complete or social network requirements. Your movies are just that, your movies.
With the added benefits of being able to view ratings, photos, trailers, and extras, TodoMovies is one of the best options available, especially if you don't fancy creating new accounts or sharing with your social networks. The only thing I'd really like to see in an update is the ability to view showtimes at local theaters without having to open a separate app.
Master your iPhone in minutes
iMore offers spot-on advice and guidance from our team of experts, with decades of Apple device experience to lean on. Learn more with iMore!
iMore senior editor from 2011 to 2015.