Tumblr is building theme customization into their app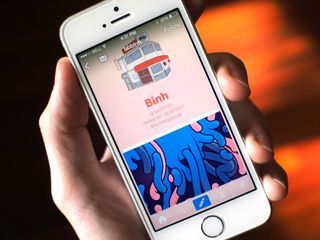 A new Tumblr app is on the way to Android and iOS devices, bringing a new level of blog customization to your mobile device. Previously, there was no built-in way to make edits to your Tumblr blog when mobile, but now users will be able to change things up on the fly, whether at home or on the go.
The Tumblr app is adding a feature called Appearance — essentially a new way to customize the crap out of your Tumblr blog from your smartphone. Rather than just having a cookie-cutter layout that looks like everyone else's page, you can change up anything and everything including your header photo, avatar, colors, fonts and more. Choosing an accent color even changes up the look for anyone who visits your blog. Tumblr creative director Peter Vidan says "There are 3.3 billion combinations, [but] the biggest part of this is that we're using it everywhere."
Users will appreciate the new features of the mobile app as it means you no longer have to use a PC to change up your page. Tumblr says that 80% of active users have customized their blog pages in some way. The updated Tumblr app for Android and iOS will be launching soon, though you can download the current version now (opens in new tab) if you want to be ready when the update hits.
Source: The Verge
Get the best of iMore in your inbox, every day!
Editorial Director - High Yield
Getting his start writing about BlackBerry in 2008, Adam is the Editorial Director of High-Yield content at Future. Leading an outstanding team, he oversees many of the articles the publisher produces about subscriptions and services – VPN, TV streaming, and antivirus software. From buying guides and how to watch content, to deal news and in-depth reviews. Adam's work can be seen on numerous Future brands including TechRadar, Tom's Guide, T3, TTR, Android Central, iMore, and Real Homes.
I HATE the boarder/header feature. Twitter recently added it and now Tumblr is adding it. I don't personally care for it on Facebook, but I'd rather it stay there than migrate like it's doing. Please stop this! Sent from the iMore App