Turn your Mac or PC into an AirPlay device with AirServer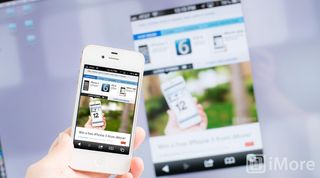 AirServer is a very simple Mac and PC app with a very useful purpose -- sharing your iPhone or iPad's screen to your computer with AirPlay mirroring. Once you install AirServer, your computer will appear in the list of devices available for AirPlay on your iPhone or iPad and when you select your computer, your iPhone or iPad's screen will pop up on your computer screen, just like it would on your television with Apple TV.
I am very impressed with how good AirServer works. There is virtually no lag time and I haven't run into any issues. It does what it claims to do and does it well. You can even adjust settings for audio, which display to use (if you use multiple displays) and optimize for a specific device.
There a 4 different licenses available for AirServer: a 7 day free trial, a standard license for 5 machines, a student license for 3 machines, and one for up to 15 computers. The Mac version includes audio support, but the PC version does not (yet).
If you download the free trial, AirServer will send you a referral link to share with your friends. When someone installs AirServer via your unique link, your free trial will extend by 3 days. (The download link below is my referral link.)
If you pick up AirServer, we'd love to hear what you think. AirServer can be helpful for sharing photos and videos stored on your iPhone or iPad with friends, playing AirPlay compatible games like Real Racing 2, a teacher giving a presentation to his/her class, and much more.
Real Racing 2 for iPhone, $4.99 - Download Now

(opens in new tab)

Real Racing 2 HD for iPad, $6.99 - Download Now

(opens in new tab)
Source: AirServer, thanks @matthewmspace for the tip!
Get the best of iMore in in your inbox, every day!
Former app and photography editor at iMore, Leanna has since moved on to other endeavors. Mother, wife, mathamagician, even though she no longer writes for iMore you can still follow her on Twitter @llofte.
What's with the price differences between Mac & PC? geez...

I think that the note at the bottom of the pic tries to explain the reason for the price difference.

But it also states free updates in the note.

Do you have to have AppleTV? I can't find Airplay on my 4s.

AirPlay will only appear on the 4S (and other iOS devices) if there is an AirPlay device or server on the same network. You wont see the icon at all until the AirServer is running. I am not too happy with the PC version due to the lack of audio support. Music and podcast apps just stop playing as soon as they attempt to start, and videos wont play at all. The Mirroring aspect works great though, as long as there is no audio involved. Hopefully they will get that feature in there soon.

Wouldn't my iMac be an Airplay device? I installed Airserver.

I purchased the pc version 4 months ago. Unfortunately they have not pushed out any updates. I also contacted support asking if there were going to be updates and have not received any responses. It's a great idea but not sure if the pc version is being focused on.

Shairport4w - airplay app for Win/OSX (only audio)
simple.

I think Shairport4w is only for Windows...?

Reflection App offers similar functionality at a bit higher price. does anyone have a suggestion for a fast (lag free) way to share the desktop over the internet. for example: training or sales demos of an app. I tried GoToMeeting and found it lagged screen refreshes by 15 seconds which is just way too slow when trying to demonstrate smoothly.

Just tried to download this for PC but got an error that said "vertex shader compile error." Have to wait to hear back from the site. I hope it works. Really need this in the classroom for the smartboard! oh well...another excuse to drop the coin on that new macbook pro ;)

http://www.airserverapp.com/en/Support/D3DXCompileShader

It doesn't work on my windows 7. It connects for several moments & then disconnects. During the few seconds it does connect, it does not work correctly. I've been waiting a long time for something like this. Too bad it doesn't work.

mikehunterz - it sounds as if you have a firewall or antivirus issue. it fired up perfectly on my win7 laptop as did the competing product I mentioned in an earlier comment.

I have used Air Server for a while and love it. I use my 27" iMac as my TV, and this lets me run iOS games and apps on the larger screen.

I am unable to mirror my ipad (IPAD2) to my laptop (Windows 7 Enterprise). Have tried all the settings but dont get the icon in the iPAD. Bonjour services is running. Firewall are switched off.
Help would be appreciated.

If you built this into a Roku, there would be no reason to buy an apple TV :)

Great app. Functions great with my iPhone 4S. Very little lag/delay. I run this off my Mac in a robotics class where students connect to the AirServer using the iPhone. They then mount the phone to their robot and have to navigate a room with obstacles to rescue survivors using only the image they get from the phone via AirServer. Challenging for the kids, but they love it. Thanks.
Thank you for signing up to iMore. You will receive a verification email shortly.
There was a problem. Please refresh the page and try again.