TV on the iPhone? Patent Says Yes!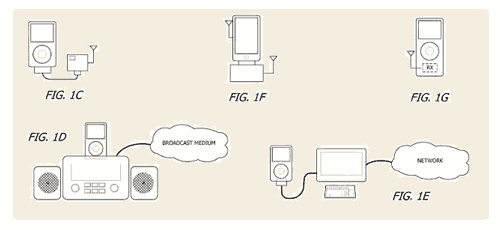 Patent filings sometimes clue you in to the direction a company is headed with their devices. Sure, some are crazy and others are ridiculous, but you can get a general sense of what the company is trying to accomplish in those stencil-like drawings and comic-like blurbs.
Well, Apple has filed a patent that strongly hints toward developing an add-on/dongle/hub/dock-type device that will accept AM, FM, HD, or satellite radio along with cable TV, satellite TV, antenna, or IPTV. The multiple connecting devices, as shown in the patent filing, could range from being a dock, a stereo, or even a computer.
What makes this Apple patent unique is its ability to "tag" information about the current movie, TV show, or song, allowing you to save the information presumably to let iTunes develop a list of movies, shows, and music you might be interested in.
Honestly, I'm lukewarm about this "media extender" device coming into fruition partly because I would hate to have a dongle attached to my iPhone and more importantly, can't imagine Apple pushing media that isn't sold through their iTunes pipeline.
Either way, this patent filing makes for good conversation. What do you think?
ReadVia
Get the best of iMore in your inbox, every day!
Man I hope this is true. This is one of the features that the iPhone was lacking in order to claim the PMP (Portable Media Player) crown and if it gains this ability then that will sit it on top of the other smartphones that double as PMPs.

FYI: You can get "ANY" song on your mobile phone, with Dizzler Mobile (iPhone App), it's free!!! DIZZLER MOBILE

want to watch satellite TV live shows world wide with Iphone 3G and listen to radio broadcast

Aw, this was a very nice post. In concept I would like to put in writing like this moreover – taking time and actual effort to make a very good article… but what can I say… I procrastinate alot and in no way appear to get something done.