Twitter adds iTunes App Store integration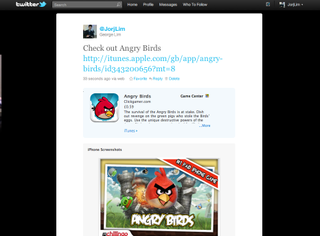 Twitter have added iTunes App Store previews to their integrated services. Previously, Twitter had added Apple's Ping service to their integrated services, to allow you to preview songs before opening iTunes. It seems that Twitter have now added App Store integration as well. When someone tweets an App Store link, you will get a similar preview pane, which will show you, what app the link goes to, the price, a description and screenshots
This will only work on the new twitter website, won't work on the old website or on the official apps. Interestingly this new App Store integration only works with the iOS App Store and doesn't show any previews for Mac App Store Links right now.
Anyone appreciatin
[MacGasm]
Writer for iMore, YouTube Vlogger, and Host for [TEChBrits]
NICE! always great when a social networking site works hand in hand with apple. ahem

Nope, I hate New Twitter and would sooner use one of the thousands of Twitter clients out there, App Store integration or no.

I'm glad that you posted an interesting article, but proof reading it once won't hurt anyone...

It's really a great and helpful piece of information. I'm happy that you shared this helpful info with us. Please keep us up to date like this. Thank you for sharing.
Get the best of iMore in in your inbox, every day!
Thank you for signing up to iMore. You will receive a verification email shortly.
There was a problem. Please refresh the page and try again.