Twitter cracks down on people being jerks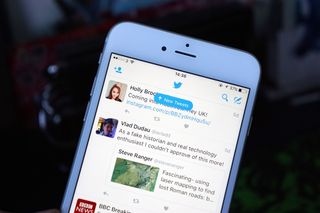 Using thousands of behavioural signals while combing through searches, replies, and conversations, Twitter will now begin to push your Tweets down and away from larger audiences if you're intentionally being a jerk.
The news was announced on Tuesday, with Twitter saying that the social media app will not only focus on individual Tweets, but a person's engagement and use of the app as a whole.
Twitter has of course been plagued with issues in the past regarding hate speech, bullying, and harassment, but the company believes that these new changes could be effective and be the beginning of change that Twitter's users are looking for.
Users will be able to toggle their behavioural filters on and off depending on the content they want to see. The changes will begin to appear by the end of this week.
Get the best of iMore in in your inbox, every day!
Cella writes for iMore on social and photography. She's a true crime enthusiast, bestselling horror author, lipstick collector, buzzkill, and Sicilian. Follow her on Twitter and Instagram: @hellorousseau
I hope this doesn't close down the POTUS' entertaining rants! 😉

As if. This will apply to everyone except POTUS, he will have special permissions as always

"Among the signals Twitter will use: whether you tweet at large numbers of accounts you don't follow, how often you're blocked by people you interact with, whether you created many accounts from a single IP address, and *whether your account is closely related to others that have violated its terms of service*." This is not at all in ANY way what your title says. They may have said that was the result, but this is not how you do that. People block people for WrongThink(tm) with auto block lists, while it says interact with, there's no way to verify this and I doubt it. This new thing means that if you're on one of those, you're gone. Large numbers of accounts you don't follow? There goes using it to complain to a company that's doing something wrong. And the last part... If the account violated the ToS why're they still there? As bait? Why not just filter it into groups. If you do above, you only see people who do above. This will cause an echo chamber like the one that had people thinking Bill's Wife had a 99% chance to win and would get over 320 electoral.
Thank you for signing up to iMore. You will receive a verification email shortly.
There was a problem. Please refresh the page and try again.